Oh my gosh–I'm so so excited to share this post with y'all today!
Not only is Nocturna one of my most anticipated releases for this month, but Maya has also written up such an awesome and genuine guest post and I'm totally in love with her thought process that led to the creation of Nocturna.
Today, I have Maya guest posting on my blog about five inspirations for Nocturna that she wrote when first drafting it. I totally love it, and I hope it gives you just a little taste of what Nocturna is like.
Because oh my gosh, I'm SO ready. Library, please bring this book to me faster! I want all the thieves and beautiful worlds and awesome chemistry, please!
(Plus, stay tuned for something that rhymes with "libertay" lol)
Five Inspirations for Nocturna by Maya Motayne
When I first decided to write a book, I opened a Google Doc and wrote down a list of ideas, inspirations, movies and stories/tropes that I loved as a child. My goal was to pinpoint the things I wanted to include in this nameless story that would one day, unbeknownst to me, become Nocturna. After all, what's the point of writing a story if it isn't full of elements you've loved since you were little? So for my guest post, I wanted to show you all a bit of this list with explanations of some of the items!
When I started this list, the first movie I thought of was Disney's Aladdin. I spent some time thinking about why I grew up loving that film so much. There were the obvious reasons—Jasmine was a brown princess who wore my favorite color, 'A Whole New World' is one of the greatest Disney duets of all time (I challenge anyone to fight me on this), and I love characters who come from nothing only to prove that they are more than anyone expected they could be—a diamond in the rough. But there was one thing I'd wanted to change about the movie. As a child, I'd wanted to have Aladdin's backstory—a rough around the edges thief with a sense of justice and a heart of gold—but I wanted to look like Jasmine. Thinking of that now as an adult, I realize that what I wanted was to have a complex backstory, but to still get to be a girl—I wanted Jasmine to play the thief. I've read so many stories with a female and male lead, and the former are usually made to be more passive and given less fun roles, while the male leads get to be the mischievous thieves, swaggering pirates and dashing con men. I wanted to undo that stereotype. So, on the Google Doc I typed "Pull a Reverse Aladdin", in which the girl is the street-smart thief and the boy is the sweet but sheltered royal. That defined the dynamic between my two leads, Prince Alfie and Finn, and I began building the rest of the story around them.
An important part of my book is the magic system, through which each person has a different color magic. I got this idea while at a graduate program at Columbia University's School of Journalism. As an icebreaker exercise, every student had to get up and awkwardly say their name and an interesting fact about themselves. My fact was that I still have a baby tooth. Weird, I know, but that's a story for another blog post! One girl in my class said that she had synesthesia. She explained that this meant that when she looked at each of us, she could see a color that represented us, almost like an aura. I remember her saying "So if you want to know what your color is just ask and I'll tell you!" But I completely forgot to ask. To this day I'm annoyed that I didn't get to find out what my color was (I hope it was blue!). But what she described really stuck with me. It became a major inspiration for the book and how the magic works. The idea of looking at people and seeing different colors fascinated me and I had to make it a key part of the book.
Another huge influence for me was Hamilton (the musical, not the man). I'd hit a wall in writing this manuscript and had nearly given up when a friend offered me a ticket to see Hamilton with her. And so, for my first ever Broadway experience, I got to sit in the orchestra section and see the most amazing, groundbreaking show on Broadway. I was blown away by how Lin Manuel Miranda could take something so steeped in whiteness (the story of the founding fathers) and infuse it with black and LatinX culture, as well as the story of immigrants the world over. I was absolutely astounded by it, and it made me want to take fantasy, another genre that tends to focus on white narratives, and infuse it with my culture, my story. I want more than anything to leave my mark in the same way that he has.
'Fantasy but make it Dominican'
*Insert gif of Tyra Banks going "Hoe but make it fashion"*
This goes without saying, but I went into writing this story knowing that I wanted to bring elements of LatinX culture into the worldbuilding. Don't get me wrong, I love Game of Thrones, Harry Potter and the million other Euro-Centric fantasy worlds I've lived in, but we're long overdue for more diverse universes. So I worked on making sure the culture of the kingdom of Castallan was full of images I remember from my summers in the Dominican Republic. I wanted my world to be full of vibrant colors. I wanted the characters' mouths to water at the thought of pernil, fried plantains and fresh mangos. I wanted Spanish to be the language of magic to remind readers that their connection to their ancestors and their heritage is its own form of magic.
Not to be dramatic, but I've been a Peter Pan stan since day one and I will be til the day I die! As a child, I would re-watch the scene where Wendy sews Peter's moving shadow to his feet over and over again. It was such a fantastical but creepy image that has stuck with me for life. When I saw Peter's shadow, it made me think about the duality of a person—the image of yourself that you project to the world versus what's really going on inside your head. I wanted to give my characters a physical manifestation of that kind of duality and emotional vulnerability. So, some of my characters have moving shadows that betray their emotions. When they're excited, their shadows zoom around their feet like a dog fresh from the bath. If they're sad, their shadows drag behind them like the train of a dress. If they're ill, their shadows lighten to a sickly gray instead of a healthy black.
So that's a quick look into what I was thinking about when I first started brainstorming Nocturna. If you ever find yourself reading the book, you'll see all of these pieces and inspirations come together to form a real, full-fledged story. A story I couldn't be prouder of.
oKAY UMM SO WOW.
I'm so ready. I love all the inspirations so like NOCTURNA IS PERFECT FOR ME YESSS.
I love all of these elements so much and am quite excited to grab my copy from the library! I'm so very excited to meet the characters, and have heard that they have wonderful chemistry.
Nocturna is already out, and if you enjoyed this guest post, make sure to let Maya know on her social channels which you can find below!
(Also look at this trailer OMG!)
More About the Book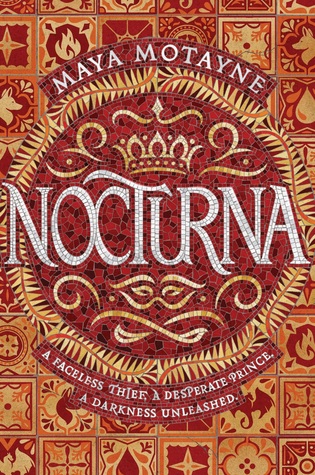 Nocturna by Maya Motayne
Hardcover, 480 pages
May 7th 2019 by Balzer + Bray
Set in a Latinx-inspired world, a face-changing thief and a risk-taking prince must team up to defeat a powerful evil they accidentally unleashed.
To Finn Voy, magic is two things: a knife to hold under the chin of anyone who crosses her…and a disguise she shrugs on as easily as others pull on cloaks.
As a talented faceshifter, it's been years since Finn has seen her own face, and that's exactly how she likes it. But when Finn gets caught by a powerful mobster, she's forced into an impossible mission: steal a legendary treasure from Castallan's royal palace or be stripped of her magic forever.
After the murder of his older brother, Prince Alfehr is first in line for the Castallan throne. But Alfie can't help but feel that he will never live up to his brother's legacy. Riddled with grief, Alfie is obsessed with finding a way to bring his brother back, even if it means dabbling in forbidden magic.
But when Finn and Alfie's fates collide, they accidentally unlock a terrible, ancient power—which, if not contained, will devour the world. And with Castallan's fate in their hands, Alfie and Finn must race to vanquish what they have unleashed, even if it means facing the deepest darkness in their pasts.
Goodreads | Amazon | Barnes and Noble | Book Depository
More About the Author
Maya Motayne decided to be a writer when she was four years old and hasn't stopped writing since. She lives in New York City where she pursues her passions of petting as many dogs as possible and buying purses based on whether or not they can fit a big book in them. Nocturna is her first novel.
Website | Twitter | Instagram | Goodreads
Giveaway!
Maya is the coolest and so we're also giving away a copy of Nocturna! You can enter through the Rafflecopter below where one lucky winner will receive a copy of Nocturna! (US Only)
I mean–I'm just so in love with the mosaic patter of the cover I can't imagine how pretty it must be in person! (I'll definitely be hunting a copy to pet in my bookstore…)
Good luck! You can also buy a copy through the buy links in the "More About the Book" section.
Have you heard about Nocturna? Are you excited for it–because I definitely am!