Welcome to my stop on the blog tour for The Heart Forger, the sequel to The Bone Witch by Rin Chupeco! There's a ton of fun things in this post, such as that giveaway at the end!
There are no spoilers for book one in today's post, so you're free to read on even if you haven't read The Bone Witch yet, which I do recommend you do because it is an awesome fantasy that's a little dark and a little chilly and a lot magical.
In The Bone Witch, Tea discovers and masters her powers of resurrection and controlling the beasts that will only submit to her elemental magic, all while war brews throughout the seven kingdoms.
But now, in The Heart Forger, Tea continues her journey, now seeking revenge through the control of the mighty daeva beasts against the royals who wronged her and murdered her one true love. Yet, others plot against her, hoping to sue her power for their own purposes.
The magic in this series is so vivid and rich and I had a great time reading. There's a lot of Southeast Asian influences in the story which I definitely caught onto when reading The Bone Witch, and I got Rin to talk about some of the Southeast Asian (SEA) influences in the story:
RIN: I had so many sources of inspiration for The Heart Forger that I couldn't always list them all! Daeva were heavily based on the demons of Zoroastrianism, for example, and a lot of the traditions/practices in Kion stem from this. Asha are quite obviously based on geisha with magical abilities, but what a lot of people overlook is that the Dark asha / bone witch is actually inspired by the Filipino witch doctors, called mangkukulams. Like bone witches, they're greatly feared by the locals, but they're also highly sought after for medicines / curses on enemies / etc. a contradiction similar to how Dark asha are feared and also revered. Mangkukulam actually enjoy the notoriety, and that's something Tea is slowly struggling to learn as well.
As someone with SEA heritage, it's really reassuring to see this representation in literature because a lot of time when stories have Asian influences, it's Japan or China or India and some of the smaller countries are looked over. So, I also asked Rin to talk about SEA writers and literature: 
RIN: We're actually starting something up for SEA lit! Hanna Alkaf, Gail Villanueva, and I are starting #SEAcritterspub to help SEA authors with the querying/publishing process, with promoting SEAlit books, and with helping them look for agents who are interested in SEA lit! We'll be conducting Twitter chats where SEA authors can ask questions, where we'll offer query critiques, and also where we'll also blog about the process!
Plus, because it's not enough to just know about this, I asked Rin to list some of the awesome books by SEA authors or about SEA characters for us to support through reading (and reviewing!):
RIN: There are actually a lot of book deals just recently announced with a lot of SEA lit, and I'm hoping we can drum up more support for these books as their release date approaches. For those already out, I highly recommend Hello, Universe by Erin Entrada Kelly, The Astonishing Color of After by Emily X.R. Pan, and The Weight of Our Sky by Hanna Alkaf!
These all sound like awesome books (and I've read some and can verify that they are awesome books) so definitely be sure to check these out, along with the ones Rin missed: The Bone Witch & The Heart Forger!
More about the Books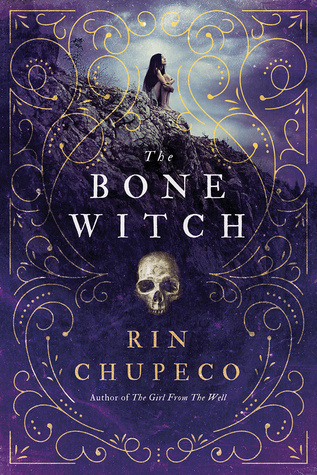 The Bone Witch (#1) by Rin Chupeco
Publisher: Sourcebooks Fire
Release Date: March 7, 2017
Genre: Young Adult, Fantasy, Paranormal
The beast raged; it punctured the air with its spite. But the girl was fiercer.
Tea is different from the other witches in her family. Her gift for necromancy makes her a bone witch, who are feared and ostracized in the kingdom. For theirs is a powerful, elemental magic that can reach beyond the boundaries of the living—and of the human.
Great power comes at a price, forcing Tea to leave her homeland to train under the guidance of an older, wiser bone witch. There, Tea puts all of her energy into becoming an asha, learning to control her elemental magic and those beasts who will submit by no other force. And Tea must be strong—stronger than she even believes possible. Because war is brewing in the eight kingdoms, war that will threaten the sovereignty of her homeland…and threaten the very survival of those she loves.
Goodreads | Amazon | Barnes and Noble | iBooks | Book Depository
The Heart Forger (#2) by Rin Chupeco
Publisher: Sourcebooks Fire
Release Date: March 20, 2018
Genre: Young Adult, Fantasy
In The Bone Witch, Tea mastered resurrection―now she's after revenge…
No one knows death like Tea. A bone witch who can resurrect the dead, she has the power to take life…and return it. And she is done with her self-imposed exile. Her heart is set on vengeance, and she now possesses all she needs to command the mighty daeva. With the help of these terrifying beasts, she can finally enact revenge against the royals who wronged her―and took the life of her one true love.
But there are those who plot against her, those who would use Tea's dark power for their own nefarious ends. Because you can't kill someone who can never die…
War is brewing among the kingdoms, and when dark magic is at play, no one is safe.
Goodreads | Amazon | Barnes and Noble | Book Depository | Kobo
More about the Author
Despite uncanny resemblances to Japanese revenants, Rin Chupeco has always maintained her sense of hummus Raised in Manila, Philippines, she keeps four pets: a dog, two birds, and a husband. She's been a technical writer and travel blogger, but now makes things up for a living. The Girl from the Well was her debut novel.
Website | Goodreads | Twitter | Tumblr | Instagram | Pinterest
Giveaway
Enter through the Rafflecopter button below for a chance to win a signed hardback of The Heart Forger, a signed hardback of The Bone Witch, or three crocheted dolls of the characters (INTL)! Or, if you're not willing to leave it up to chance, you can check out the buy links in the "More about the Books" section!
Thank you so much to the Fantastic Flying Book Club for hosting this tour and for Rin Chupeco for answering all my questions! Don't forget to check out the rest of the blog tour below!
March 20th
March 23rd
Have you read The Bone Witch? What did you think? I had an awesome time reading and would love to chat about the book!