As I start to write this post, I'm anxiously waiting for my dream college decision (t-minus 7 minutes).
SUPER HUGE ASIDE TIME (for life updates):
I got in, y'all!!! I'm going to college next year which is something that I feel like has dominated my life for so long, and now I finally got in to my dream college? And I get to go? I'm just so happy

😭

I didn't want to say anything unless it got to the final round, but I was nominated for Book Nerd of the Year in the Epic Reads Book Shimmy Awards!

📚

And not only was I nominated, but I made it past semi-finals (somehow?) and am in the final round? I'm so surprised but really thankful to everyone who voted! So if you didn't know, but wanted to vote for me (only if you want to!!!) you can vote (in the final category) here: https://bookshimmyawards.com/
I get to go on winter break soon and am so looking forward to read more!

❄

I've read so many amazing books and am extremely excited for a bunch of YA releases from next year!!! So look forward to a bunch of posts on that.
What's been getting me through one of the most stressful time of my life (college applications!) and has gotten me through other stressful times of life are books that make me feel good and happy and like the world won't completely combust.
Books like this are not only super important for anyone who cannot read really sad or drastic books for a variety of reasons, but they just make you feel really really good and uplift you, and that's what I love so much about them.
I think more sad books are really important and do have a huge place in literature, but I also think we shouldn't discount the books that bring us pure joy. These are the books that make a lot of us turn into readers. These are the books that pull us out of reading slumps. These are the books that remind us that everything will be okay.
So for today's recommendation post, I have a list of some of my favorite books that just left me happy and hopeful and feeling good at the end, even if I was stressed out of my mind about college and life and everything around me.
It's like getting a really nice hug, and what's better than that?
(Also, they are in no particular order & you can click on the title to be taken to the Goodreads page!)
I stand by this: Jenn Bennett's books make me so hopeful and happy and I just feel so wonderful by the end of it that I absolutely cannot talk about these enough!
I think they're super fun and a little bit quirky, but not in a bad or over-the-top way. Her recent books have been fluffy romances (and I use this in the absolute BEST way possible). They not only make me happy, but they also give me hope and let me have a whole bunch of fun with really relatable characters!
I'm so happy that I get to read an ARC of Serious Moonlight and I 100% saving it for that moment when I need a wonderful, feel-good book to get me through my day! (my preciousssss)
And I'm SO FREAKING EXCITED for The Princess and the Fangirl to come out next year–AHHHHH.
I love love loved reading Geekerella last year (so excited my copy is on its way!!!) and I absolutely cannot wait for the sequel to come out! Ashley Poston is so amazing at the whole fluffy contemporary mixed with amazing tropes and all the fangirling, and her books make me so happy? (Ok, except for the ending of Heart of Iron because that was just cruel.)
So yeah!!! Geekerella will always be a favorite & I can't recommend it enough!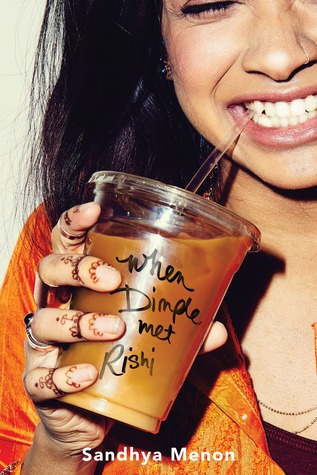 Can we talk about a book that completely revived my love for contemporary romance?
When Dimple Met Rishi is not only the desi romance you all have been waiting for, but it's also just so freaking cute. I love it. So much. The characters were adorable and awkward in all the perfect ways and I just can't get over how much I love them!!!
This is such an amazing series and From Twinkle, With Love was so good and There's Something About Sweetie is a book I'm so looking forward to next year! All the love to Sandhya Menon!
Always Never Yours by Austin Siegemund-Broka & Emily Wibberley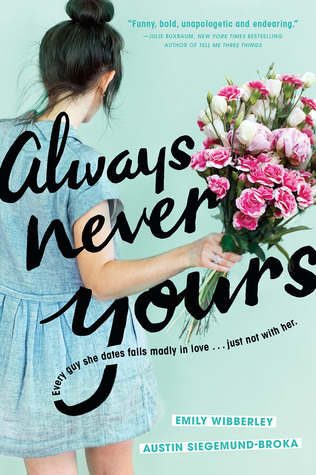 Ask about a YA author power couple, and Austin & Emily are at the top of my list!
Their debut, Always Never Yours, was so fresh and fun and sex-positive and just a complete blast in the park feat. theater and Romeo & Juliet and I just loved reading so much! Plus, it's a book that I completely devoured and had such an amazing time reading!
I definitely cannot wait until their sophomore novel, If I'm Being Honest, comes out next year! The Taming of the Shrew meets Mean Girls sounds amazing and I have such high hopes for this book! Fingers crossed!
This is the only graphic novel on this list (sad) but I had such an amazing time reading!
I absolutely gobbled this up (and in ebook format, no less) and it was so cute and fun and amazing I want to read everything Jen Wang has made. It not only was absolutely gorgeous in its luscious illustrations and attention to detail, all complemented by a gentle color palette (that is totally my style, as you can see by the cover), it also is super fun and diverse and amazing?
The prince likes to dress up in dresses and I just found this whole book to be soft and pure and sweet and something that I think questioning queer tweens/teens would love. It's adorable and you have to read it!
Okay, so I admit that basically any contemporary romance from Swoon Reads has a good chance of being a fun + light + feel good read, but Match Me If You Can especially has completely captured my heart!
Not only is it super high school and fun in the way that you get to see other people suffer with embarrassment and not you, but there's a love triangle that's actually good, swoony love interests, well-developed best friends, and a bunch of embarrassment.
I LIVE FOR THE SECONDHAND EMBARRASSMENT. As you can tell, Match Me If You Can was fantastic and I definitely recommend it to be on your TBR for when it releases in January!
Pride by Ibi Zoboi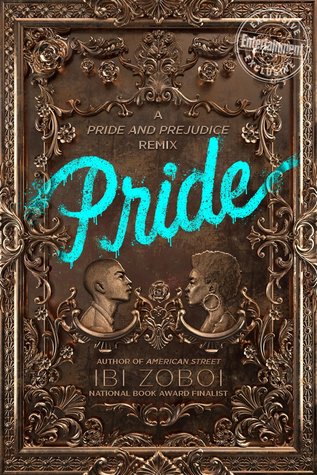 I 100% admit that this is partially because black joy books are so few and far between (but I am so excited for Kristina Forest's debut, I Wanna Be Where You Are, next year!), but Pride was also just flat out amazing?
I loved Pride for Zuri and her wit and snap and pride in who she was, but also because I love love love the romance and how real Pride was. I 100% suggest you all check this out to read because it is amazing and Ibi Zoboi is now on my list of authors I must read more from!
(Seriously, a modern Pride and Prejudice retelling that is fresh and relatable and oh so real. Add it.)
I love Maurene Goo's books so so so much!
Like Jenn Bennett, Maurene Goo has consistently put out amazing romances that I absolutely adore? I mean, not only do they have the greatest aesthetic of all time, but I also just love how fun and real they are!
Maurene Goo knows how to make her books unique without being too quirky, and her characters are all dynamically different and not just carbon copies of each other. ALSO ALL OF THE ASIAN GIRLS ON COVERS I CRY.
I Believe In A Thing Called Love brought all the secondhand embarrassment feels that I love, and The Way You Make Me Feel brought in all the friendship vibes and angsty angry teen girl feels that I love. And I'm so excited for Somewhere Only We Know which is basically a Roman Holiday genderbent feat. a K-Pop star? I know. I cry.
Okay, I know this book gets recommended wayyy too often and there are a bunch of other queer titles out there that exist, but I admit that it was such a fun and fluffy read that just makes my heart fill up with cotton candy.
That being said, I do know it's overhyped and there are a bunch of amazing queer fluffy books that aren't boosted far enough, but please let me have a moment to revel in how much I love Simon Spier.
I think Simon vs. is super important in the way that it opened up channels for other authors on a wider spectrum to publish their stories, and although this is something that largely is a result from her being privileged enough to have the power to do this, I still find what she's done in publishing this important.
Onto the SFF portion off the show!
I was raving about this like, a week ago, but I still can't get over how amazing Fire & Heist was? It is sooo underrated and that book was so much fun and great for relieving my stress. I loved Sky's voice so much and I found this book to be like a cheerful romp through the woods that I can't get enough of.
I 100% recommend you pick this one up, and it's totally going on my Hidden Gems list for this year because wow I enjoyed this a bunch and think more people need to read this fun fantasy!!!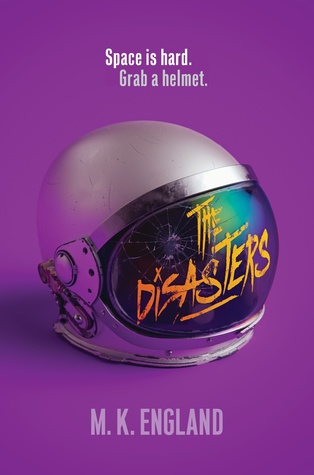 Space! Queer teens! Found family! Villainous opponents that want to kill a bunch of people!
What's more fun than the space adventure that is The Disasters, which is out today! You not only get a gorgeous book to add to your purple shelf, but you also get to enjoy the sheer pleasure and fun that is this book!
I had an amazing time reading and it was a found family space adventure that kept the atmosphere light (there is no atmosphere in space!!!) while still having real stakes and not just people gallivanting around.
I totally recommend you pick this one out, at your library or elsewhere, and wholeheartedly recommend it! So. Much. Fun.
My Lady Jane by Brodi Ashton, Cynthia Hand, and Jodi Meadows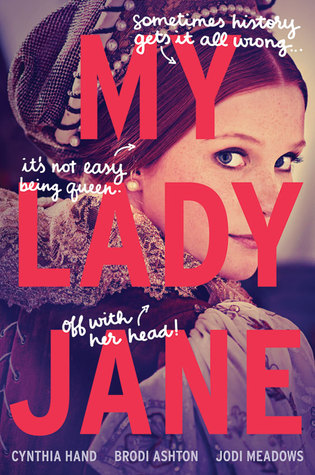 If author duos aren't cutting it for you, how about author trios?
This book was so perfect.
Comedy meets historical fiction meets fantasy and magic in this romp through the woods (and part of Europe) that I completely devoured in two days. I just–wow. These three remind me of like those fun narrators who make things actually fun instead of more drab (horrible comparison, I know) and just trust me that this is the perfect mix of magic and comedy that you didn't know you needed.
There are people who turn into horses and fun takes on history and queens and succession and lots and lots and lots of fun and I wish I could read it for the first time all over again!
I love this series. So much. Buy it. Borrow it. READ IT.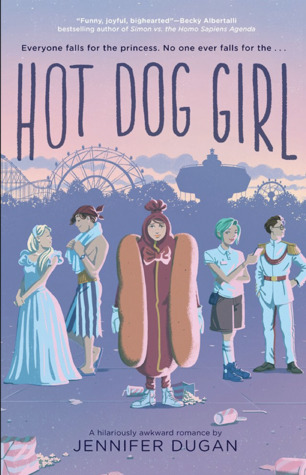 This list is fully composed of books I read, but then I remembered this book (THIS BOOK!!!) and I had to add it on.
Because remember how I raved about secondhand embarrassment earlier in this post? Well, meet SECONDHAND EMBARRASSMENT TO THE EXTREME.
Hot Dog Girl sounds like so much fun and I want all the awkward feels and it's probably one of my most anticipated reads of 2019 and I've been following it since before it had a cover and wow I just want to read this so badly.
I can't wait for 2019. This is going to blow our socks off, I'm calling it. I just want all the bi girl feels and fun, awkward romances that feel so high school? Please bring them to me? Please?

I haven't had so much fun writing a post in a while! What are some of your favorite feel-good reads?