It's been 200 years since the iconic piece that *basically* started science-fiction was written. And Kiersten White's The Dark Descent of Elizabeth Frankenstein was such a perfect retelling commemorating this work!
Not only do you get to read all of my gushing thoughts in this post, but there's also a giveaway and a bunch of ways to win your own copy of The Dark Descent of Elizabeth Frankenstein.
I totally adored this book and wasn't expecting to love it this much, but this ended up being the perfect atmospheric read for me. So go forth and read on to find out just why I loved this so much! *major heart eyes*
4.5 stars
The Dark Descent of Elizabeth Frankenstein is a lush, atmospheric retelling of Frankenstein told from a feminist perspective that I absolutely adored!
I have to preface this with the fact that I haven't physically read Frankenstein (it's part of my AP Lit reading list for later this year, though!), but I still really enjoyed reading The Dark Descent of Elizabeth Frankenstein.
What stood out to me the most was how desperation can push people to the extremes, and I think White explored this really well. It's not just in Elizabeth Lazareva in this book, although her own desperation was very prominent with the extremes she went to in order to establish a place for herself outside of destitution. It's in Victor himself and his mad desire to defeat death and keep Elizabeth with him.
The whole subtext of this novel was really well developed, although I can't say if that's of White's own genius or Shelley's, but either way, stubtext wasn't lost in translation during the retelling, and I love the amount of nuance White added to this story.
The themes were really prominent–desperation, survival, family–and that's largely why this felt so atmospheric to me. It was not only the obvious spooky and chilling, something White has done really well in her other works, but in the buildup of the novel.
Because the foreshadowing was top notch. I loved the subtle hints throughout the first two hundred pages of the book–the mysterious figure, signs of Elizabeth's desperation, hints towards Henry's disappearance–and all of this not only added to the theme and atmosphere, but really helped shape the novel and its subtext and make it more than just an entertaining read.
I do think a large part of why I enjoyed this was because I was in the mood for this book. I didn't know it when I started, but I craved a dark, eerie, but female-centric read with Halloween. I definitely think some people won't like this if they're not in the mood for something a little more character-based and foreshadow-heavy, but I loved reading this book!
I admit that not a lot of very action-heavy scenes happen in the first 2/3 of the novel, but they're all very meaning-heavy, and I found that to be valuable in its own way.
I definitely could have 3 starred this in a different mood, which goes to show how important it is not to force yourself to read this one! It can be such an amazing read, like it was for me, if you approach it right with the proper expectations, so don't spoil this for yourselves!
And anyways, the book really picks up in the last 300 pages with some shocking twists (especially for someone who hasn't read the original Frankenstein, aka me) and a lot of action scenes and reveals that kept me on the edge of my toes. I could feel the tingles as the book built up to the climax, and I loved that!
Overall, I totally adored this dark, female-centric retelling of Frankenstein and believe White did an amazing job with this book! I wholeheartedly recommend you read this, especially if you're looking for a great, atmospheric read (that is perfect for Halloween)!
More About the Book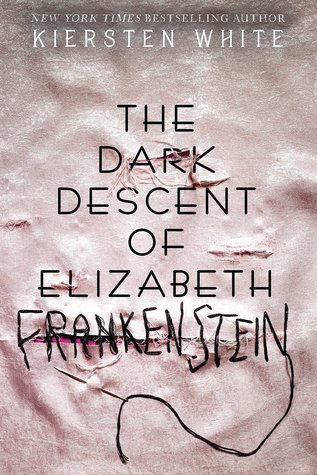 The Dark Descent of Elizabeth Frankenstein by Kiersten White
September 25, 2018
Delacorte Press
Hardcover, paperback, eBook, audiobook
304 pages
Elizabeth Lavenza hasn't had a proper meal in weeks. Her thin arms are covered with bruises from her "caregiver," and she is on the verge of being thrown into the streets . . . until she is brought to the home of Victor Frankenstein, an unsmiling, solitary boy who has everything–except a friend.
Victor is her escape from misery. Elizabeth does everything she can to make herself indispensable–and it works. She is taken in by the Frankenstein family and rewarded with a warm bed, delicious food, and dresses of the finest silk. Soon she and Victor are inseparable.
But her new life comes at a price. As the years pass, Elizabeth's survival depends on managing Victor's dangerous temper and entertaining his every whim, no matter how depraved. Behind her blue eyes and sweet smile lies the calculating heart of a girl determined to stay alive no matter the cost . . . as the world she knows is consumed by darkness.
Goodreads | Amazon | Audible | Barnes & Noble | iBooks | Book Depository
More About the Author
KIERSTEN WHITE is the New York Times bestselling author of The Dark Descent of Elizabeth Frankenstein, the And I Darken series, comprised of And I Darken, Now I Rise, and Bright We Burn; the Paranormalcy series; Slayer, and many more novels. She lives with her family near the ocean in San Diego, which, in spite of its perfection, spurs her to dream of faraway places and even further-away times. Visit her at http://www.kierstenwhite.com.
Website | Twitter | Facebook | Instagram | Goodreads
Giveaway!
Want to try your luck at winning a copy of The Dark Descent of Elizabeth Frankenstein? Click on the Rafflecopter button below to enter in a giveaway where three lucky winners will receive a hardcover copy of The Dark Descent of Elizabeth Frankenstein! (US only) Or, use one of the buy links in "More About This Book" to purchase your own copy!
Thank you so much to RockStar Book Tours and Random House for sending me a copy in exchange for an honest review! Don't forget to check out the rest of the tour stops below!
10/15/2018- Under the Book Cover– Review
10/16/2018- Simply Daniel Radcliffe– Review
10/17/2018- Novel Novice– Review
10/18/2018- My Fangirl Chronicles– Review
10/19/2018- Pandora's Books– Review
Week Two
10/22/2018- Jessica Writes– Review
10/23/2018- Tween 2 Teen Book Reviews– Review
10/24/2018- Here's to Happy Endings– Review
10/25/2018- Savings in Seconds– Review
10/26/2018- Vicky Who Reads– Review
Week Three
10/29/2018- Smada's Book Smack– Review
10/30/2018- YA Books Central– Interview
10/31/2018- For the Lover of Books– Review
11/1/2018- Malanie Loves Fiction– Review
11/2/2018- Oh Hey! Books.– Review
Week Four
11/5/2018- The Hermit Librarian– Review
11/6/2018- Tales of the Ravenous Reader– Interview
11/7/2018- BookHounds YA– Review
11/8/2018- Eli to the nth– Review
11/9/2018- Portrait of a Book– Review
Have you read Mary Shelley's Frankenstein or Kiersten White's retelling? What did you think?