It's a two-in-one kind of day, and not only do I have my review of Mary Fan's Stronger Than a Bronze Dragon (out today!) but also I have five similar fantasy recommendations for y'all!
If I had to describe Stronger Than a Bronze Dragon, I'd say
Historical-set adventure with fantasy/steampunk elements.
And so, I have five similar book recs for this ~semi-niche category~. And also my review! Let's dive right in . . .
This one is the first book in a similar vein that I felt people would love if they like this premise!
For a Muse of Fire has a Southeast Asia & France inspiration, features magic shadow puppeteering, and a swooping adventure story!
I definitely recommend–especially with the writing styles that both work in a lot more subtle ways, like the way that each author builds the characters is very similar in their subtle, nuanced additions.
But yes! Definitely recommend this if you like any of the following or Stronger Than a Bronze Dragon!
This one was my second comp I thought of, and for good reason! A nineteenth-century Italian mafia story with magic, shapeshifting, and two teens setting out on a quest together!
Besides the Italian inspiration, what made me feel like this shared a similar premise was the distinct quest-like element to the story. Both Stronger Than a Bronze Dragon and The Brilliant Death have a strong motivation for the protagonist, and subtle revenge/murder vibes!
The classic sort of adventure narrative is a strong draw for both books, and a huge reason why I'd recommend them together!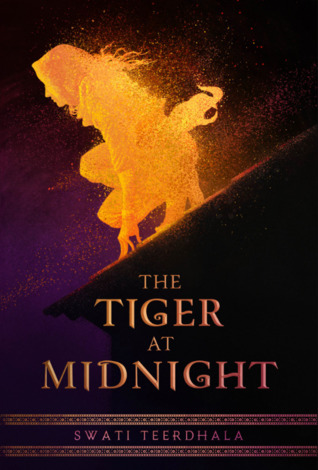 This one might be a tiny bit of a stretch, but also I think the romances in both have super strong appeals!
Inspired by Ancient Indian history & Hindu mythology, The Tiger at Midnight features a cat-and-mouse enemies-to-lovers romance with lots of banter, and I feel like that's such a good feel for Stronger Than a Bronze Dragon? Anlei & the love interest have a lot of banter going on–as they're working together temporarily, but aren't the happiest about it (for now).
I definitely feel the similarities in the romance, which might not be the main part of each story, but still play its own role!
THE QUEST!!!
I really love how each book has its quest of sorts–in Kingdom of the Blazing Phoenix, the protagonist sets out on a quest for relics, while in Stronger Than a Bronze Dragon, the protagonist sets out on a quest with a relic to destroy a demon (and do…other things).
Plus, the way they mix gods, demons, and magical creatures into the story is very cool. They each play around with the idea of good and bad creatures and different spirits and the way they affect people, and I think their magical elements have a lot of similarities!
5. Nocturna by Maya Motayne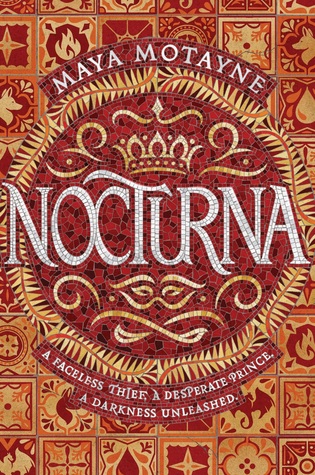 This one is the biggest stretch on the list–especially being the only one I haven't read (I checked it out from the library, though!)–but fantasy! Dominican inspirations!
The real draw between the two is the ~powerful evil~ that they have to defeat–for Nocturna, it's one they accidentally unleashed. In Stronger Than a Bronze Dragon, it's the demon who's trapped a group of people (or maybe someone else?!)
Ancient powerful evils are such an interesting topic, and honestly I'm ready! Very excited for Nocturna, hehe! (There's also faceshifters in Nocturna!)
Not enough people are talking about Stronger Than a Bronze Dragon, but it deserves a good solid look.
A well-developed fantasy set in Qing dynasty China—but with magic and spirits and steampunk dragons—sets up a world where a peasant girl can fight her way to victory. Great for fans of Heidi Heilig's For a Muse of Fire, Stronger Than a Bronze Dragon mixes a well-developed world, a protagonist with an itch for fighting, and a villain (or three?) to create this vast fantasy.
Although the start was slow for the first 200 pages, it began picking up pace in the last half and really made the story worth it. For a fantasy, it was surprisingly light in the way that one didn't need to focus too much on the worldbuilding to understand what was going on. Worldbuilding was happening—but the signals are pretty clear to the reader about the Qing dynasty (or, at the very minimum to readers unaware, the historical-China setting), its interactions with other countries, and the dispersal of cultures—as well as the magic and spirits and dragons.
From the beginning, Anlei is a compelling main character, with her fierce desire to fight and willingness to defend her town, even if it ends up being in unexpected ways. Her own stubbornness stays with her throughout, but subtle decisions indicate character growth in nuanced ways, such as the way Anlei approaches a fight in the beginning and end of the novel.
The action is further heightened by the looming, mechanical bronze dragons and contraptions the Viceroy enacts, and it creates a subtle steampunk feel to the story. But it mixes in myth and legend to create a fantasy-type element with its demons and spirits that play an important role in the story.
The pace picks up in the last half as the action scenes grow tighter and the banter dips further and further into something more. The protagonists are not only hindered from their goal by physical barriers, but by their own flaws as well, which sets Stronger Than a Bronze Dragon up for further character development. The two protagonists' dynamics play off of each other, their banter providing well needed moments of relief and respite from the fighting and the chase.
A satisfying ending brings the story to a close, with the mystery solved and a few reveals that may surprise the reader—but leave them realizing what they missed in hindsight. Looking at the story reveals a classic swooping narrative arc that satisfies with its traditional structure.
Stronger Than a Bronze Dragon could have used a tighter beginning, but overall, the reading experience is worth it for its adventure and action of the second half. The characters flaws and development are subtly added in and may be unrecognizable as an active part of the story, but play an important role in complementing the fast-paged movements of the story in the easily recognizable historical-China setting.
This is a great read for anyone who enjoys a classic-style fantasy—with an adventure, interesting elements (steampunk dragons!), and a bit of a genre mix. I would definitely recommend fantasy-lovers to pick this up.
4 stars
Liang Anlei has been fighting the shadowy demons that plague her town since she was young—when they killed her father. The arrival of the Viceroy and his mechanical fleet of bronze dragons brings reprieve, but at a cost.
Anlei is chosen to be his bride, with a dowry of the River Pearl relic of her hometown. Understanding that defending her hometown would include this sacrifice, Anlei agrees, and her hometown is promised protection.
But all this changes when the River Pearl is stolen and Anlei chases the thief and then joins him on his journey as darker forces stir and a larger conspiracy is revealed.
Thank you so much to Page Street for sending me an early finished copy & ARC in exchange for an honest review!
Are you excited for Stronger Than a Bronze Dragon? Did any of the comps sound interesting?