I'm so excited to scream even more about this amazing book to you, because today I have Nina Moreno on my blog talking all about her debut, Don't Date Rosa Santos!
I was very fortunate to be ale to read it already, and I'm swooning over this fun romantic comedy! Rosa is such an exciting main character who crushes easily, loves hard, and is at a point where she doesn't know what to do.
Oh. And she's cursed.
This hit really close to home for me because I too am in dual enrollment, am a high school senior, live in Florida, and literally get crushes if someone holds the door open for me no joke. Rosa is just amazing, so I'm so glad to have Nina talking about all this and more in her interview–and you should definitely stay tuned for an international giveaway . . .
Hi Nina! Thank you so much for chatting with me today–I'm so excited to hear more about Don't Date Rosa Santos! Would you tell us a little bit about the book, but only through using dialogue from the novel?
(Hi! I love this question!)
"I just need to burn that root, toss the ashes into the sea, and then I should be good and ready to know what to do about college."
Benny raised his brows. "You are really intense about school."
I absolutely love how you're writing a Latinx love story and we totally need more books showing diverse readers that the stories worth telling aren't only painful ones. What made you choose romance and what are some of your favorite romantic moments from Don't Date Rosa Santos?
I love romance, have always read it, and am so excited about a lot of the romance being written right now. As far as Rosa, I wanted to tell a fun Latinx love story with familiar romance beats, and use them to explore diaspora, memory, and a doomed crush. There's a meet-cute I still laugh about, and a dreamy scene in a bakery I worked really hard to save. Also the final moment is my ode to my favorite rom-com scenes.
Also, Rosa being cursed by the sea so that "dating her is bad news" is such a fun element of the premise, and I'm really excited to read more about this! Has Rosa ever ended up in a sticky dating situation, and how does she deal with people believing that she's cursed?
Rosa has had a lot of crushes. Her friends tease her that if someone stops to hold the door for her, Rosa will walk away scribbling their name in her notebook. But dating has been tougher. She's been so busy working at the bodega and doing dual-enrollment and…that's what she tells everyone. She'd love a good, fun date, and has plenty of ideas, but because of the curse and her mother, a relationship terrifies her.
I love seeing a Florida setting in a novel and am so excited to read more about it! South Florida has such a fun and unique atmosphere–what are some of Rosa's favorite things about Port Coral, and were they inspired by anything in real-life?
Rosa loves Port Coral and it loves her back. I had a friend describe it as "Tropical Stars Hollow" and that was the goal. Rosa loves the bookshop, the busy square, and all their festivals, but most of all she loves the sense of community. For a family that has dealt with so much loss, the sense of place that Port Coral gives her means everything. As far as real life, I took a lot of inspiration from coastal towns on the Gulf.
Lastly, something fun! I know Rosa has the whole not-so-hot dating record thing going on, but if she could go on a ~perfect date~, where would it be, who would it be with 👀, and what would they do?
Rosa gets to go on her perfect date in the book! I won't spoil it, but a quiet sailor tattooed with the sea and delicious baked goods are involved.
Benny is iconic & Rosa is TOTALLY super intense about school and this is another reason why I love her. It gives me so many strong Miami vibes too and I love Miami ahh. (We love Florida for being exceedingly hot.)
This Latinx love story is just so much love and fun and I really really REALLY hope you pick it up. Please?
If you enjoyed reading this, make sure to let Nina know on her social channels & wish her a happy book birthday!
Content Warning: grief and family death
More About the Book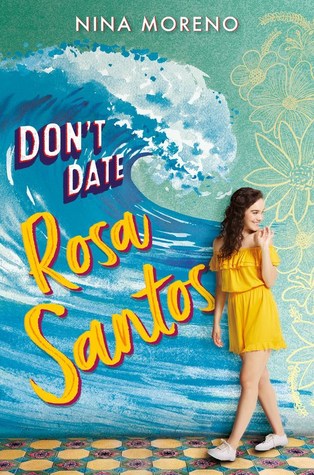 Don't Date Rosa Santos by Nina Moreno
Hardcover, 336 pages
Published May 14th 2019 by Disney-Hyperion
Rosa Santos is cursed by the sea-at least, that's what they say. Dating her is bad news, especially if you're a boy with a boat.
But Rosa feels more caught than cursed. Caught between cultures and choices. Between her abuela, a beloved healer and pillar of their community, and her mother, an artist who crashes in and out of her life like a hurricane. Between Port Coral, the quirky South Florida town they call home, and Cuba, the island her abuela refuses to talk about.
As her college decision looms, Rosa collides – literally – with Alex Aquino, the mysterious boy with tattoos of the ocean whose family owns the marina. With her heart, her family, and her future on the line, can Rosa break a curse and find her place beyond the horizon?
Goodreads | Amazon | Barnes and Noble | Book Depository
More About the Author
Nina Moreno is a YA writer whose writing is somewhere between Southern fiction and a telenovela. She graduated from the University of Florida and writes about Latinas chasing their dreams, falling in love, and navigating life in the hyphen. She lives by a swamp outside of Orlando where she enjoys listening to carefully curated playlists, hunting through thrift stores, drinking too much Cuban coffee, and walking into the sea every chance she gets. DON'T DATE ROSA SANTOS is her first novel.
Website | Twitter | Goodreads | Instagram
Giveaway!
Umm so gaspity gasp but Nina and I have an international giveaway for you! So you can win a copy of Don't Date Rosa Santos for yourself, leaving me eternally jealous of your good luck!
Enter through the Rafflecopter button below where one lucky winner will receive a signed copy of Don't Date Rosa Santos and a postcard! (Open INTL). You have until Tuesday at midnight! Good luck (let's hope you're not cursed like Rosa!)!
Ahhh! I can't get enough of this book, and really hope you'll pick it up! It's close to home for me–
What rom-coms feel close to home for you?