I didn't read all of Don't Date Rosa Santos.
But it's not what you think. The first page of each chapter was missing in my eARC, and this ended up meaning I missed out on reading like, 25 pages of the book. Oops.
I didn't think it would have affected my reading so much, but I kept getting jerked out of the story with each chapter because of the cutoffs. Because of this, I feel like my rating for Don't Date Rosa Santos could have been way higher–maybe even a full five stars–but because of the first chapter thing, I couldn't accurately judge the pacing.
So just know that this was four stars or better, depending on what those first pages might have been like.
Still, Don't Date Rosa Santos was a book that hit really close to home and featured so many fresh and fun themes, that I still managed to have a blast reading.
I loved Rosa and Port Coral so much.
Gosh, I love Miami.
It's so vibrant and rich and Port Coral felt so so real and 100% like a place that existed. I wouldn't be surprised to find Port Coral somewhere a little bit south of Coral Gables.
It's such a lively community and Moreno really builds up the community and all the people in it, especially given that the characters are all working to save the harbor and keep it from being bought.
Plus, the reader can see how enmeshed Rosa and the community are and I love seeing how it shapes Rosa and how she shapes her community. You can see how much Rosa cares and she's such an awesome protagonist.
She's 100% a chaotic bisexual and I totally loved her romance! Plus, she's going through a lot of growth throughout the book as she struggles with deciding where to go to college. I loved how her character was developed in multiple ways and really found her to be the star of the story.
The romance was adorable! And all the character relationships.
AHHHH. Rosa and Alex are such a cute couple and I totally love their chemistry!
They work so well together and I love the like soft bad boy that's not too angsty. And Rosa is such a cutie and I love how we got to see her thought-process of sorts as she was crushing on Alex, because it was so real and totally true to see that whirlwind of thoughts happening.
(P.S. Please don't invalidate Rosa's queerness just because she's in a straight-passing relationship! Thanks!)
Plus, the other relationships were so complex and I loved reading the multigenerational relationship between Rosa, her mom, and her grandmother Mimi. Their bond was a huge part of this story and I loooved reading their relationship. It was really layered and complex and insightful and I love how Moreno examined the generational relationship.
This book hit really close to home, being a Floridian.
One of the things that made Don't Date Rosa Santos so enjoyable for me, even despite the missing pages, was the fact that it felt so close to home and so Floridian.
We don't get a lot of Florida books, but Moreno really captured the atmosphere with Don't Date Rosa Santos, and I love that a lot. We don't get a giant number of Florida books, but Moreno really created something special with this and I loved reading Don't Date Rosa Santos because of this.
Overall, such an original and great read which I'd wholeheartedly recommend (the full).
I can't imagine having the full copy would make the book any worse, so like, seriously, pick this up! I know I can't speak about the pacing, but from the 90% of the novel that I read, it was great and well worth the read.
Definitely would suggest you pick this up if you like cute romance, bi girls, and a wonderfully built Florida atmosphere!
4 stars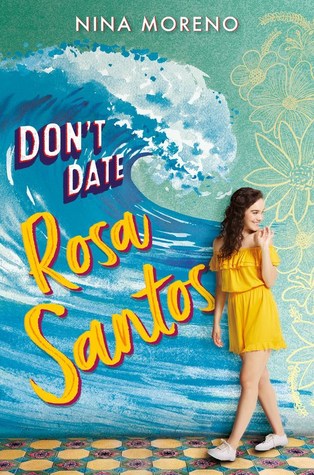 People say Rosa is cursed–especially to boys with boats.
But Rosa feels caught between so many things–her life in Port Coral and a potential collegiate future getting to see Havana, where her grandmother immigrated from; her abuela Mimi and her mother; her commitments, and the new boy Alex Aquino.
Rosa is trying to keep her community's harbor from being privatized as well as find herself in order to choose what she really wants to do, both now and for her future.
Thank you so much to Disney-Hyperion and Netgalley for providing me with a digital review copy in exchange for an honest review!
Are you excited to read Don't Date Rosa Santos? I really loved it!