I love Maurene Goo's romantic comedies, and if you haven't checked them out yet, you need to!
They're absolutely adorable and so cute and fun and bubbly, and I love all of her heroines! So I was very excited to get a chance to read Somewhere Only We Know, and even preordered a copy for myself! (Which I'm rarely able to do, but I just had to for this!)
I was definitely really excited for this Roman Holiday inspired novel, and Somewhere Only We Know was a sweet and fun 24-hour romance that builds a romance through sight-seeing around Hong Kong.
However, there were a few parts that didn't click with me completely, and I did want a little more from Somewhere Only We Know.
By the end, I found Lucky and Jack to be adorable!
I admit that I wasn't entirely sure if I liked them and their relationship in the beginning, but by the end, I thought Lucky and Jack were really cute and definitely a good fit!
They're one of the couples that grow on you—you have to spend more time to decide whether you're going to like them. I did end up liking them and finding them endearing, and the ending is just as cute as you'd expect!
Goo does a good job of not pushing them too quickly, and it didn't seem like insta-love or rushed, despite this being a 24-hour novel (okay, not exactly 24 hours, but close!).
Stakes mixed in with all sorts of amazing sights and experiences.
This was probably my favorite part, but Goo does a really good job of building the tension, given the fact that Jack is secretly a paparazzo who needs this scoop in order to keep doing what he loves, photography.
I thought the way Goo mixed in Jack's building betrayal was done really well, and it helped balance the story and keep it from giving you a toothache because it was sweet.
Plus, all the amazing sights and delicious food? Lucky can EAT and we get to read about so much—bao buns and stinky tofu and so much more. I was practically drooling the whole way through and wished that I was eating everything along with them.
Such a lovely setting, and it helped develop that slow romance that made this so sweet.
I wanted a little more questioning and analysis about the K-pop aspect.
Okay, this is one of the things that I actually was kind of so-so on about this.
I wanted Goo to dive a little further into the world of K-pop, and although she mentions some elements, I thought a lot of it was glossed over. Particularly the way K-pop can appropriate black culture, as well as other elements in the industry that aren't perfect.
Although Lucky is primarily pop and doesn't rap etc., I think that was still something that should have been addressed in a book about K-pop, and I was kind of looking for more from the story and how it dealt with this element.
K-pop is definitely complex, and it just felt like Goo skimmed over some parts of it, which wasn't what I was hoping for. She still mentions things like eating disorders and other issues, but I think Goo did give a very light + glossed over portrayal of the industry. It was meant to be fluffy and light, and for me, it ended up coming across as a little bit false.
I wasn't entirely hooked on Lucky & Jack.
This was the main part of why this isn't my favorite Goo novel. Although I loved Lucky and Jack in the end, it took me a while to warm up to them. At first, they felt a kind of underdeveloped, and remained that way for a large chunk of the book.
I just wasn't as invested as I wanted to be.
Overall, a cute read for Maurene Goo fans!
I was definitely really excited, and although this was not my favorite Maurene Goo book, I'm still really excited for whatever she writes next!
I'd recommend if you're someone who's interested in (1) fluff, (2) a really light & sweet & diverse romance, or (3) all the Maurene Goo books. It's a good read to decompress with, despite some of my issues with it.
3.5 stars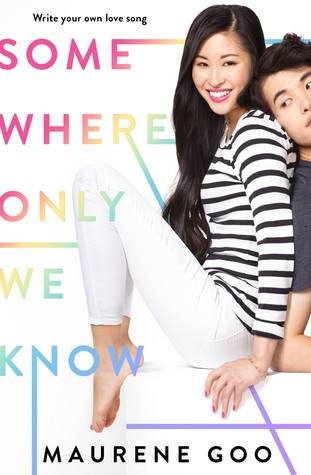 A K-pop sensation, Lucky is about to make her American debut that will make or break her international career, but in the nights before her debut, she goes out on a wild adventure across Hong Kong, all because she wanted a cheeseburger.
In the process, Lucky meets the charismatic Jack and pretends to be just a regular girl, but Jack has his own secrets. He works to photograph famous people as a paparazzo, and although Jack doesn't know it's Lucky at first, he eventually finds out that it's her as they spend more and more time together, and starts to take pictures of her to sell once they part ways.
Seeing the sights of Hong Kong brings Lucky and Jack closer together, but with Jack's secret and Lucky's need to leave, their budding love might blow up in both of their faces.
Content Warning: slightly-extreme dieting (no stance taken, although this book mostly shows Lucky getting to eat & she doesn't have an ED, her manager does kind of limit what she's eating & she's just kept on a specific diet, so something to watch out for if you have an ED)
Thank you so much to Nikole @ A Court of Coffee & Books for sending me her ARC to honestly review!
Have you read any of Goo's novels? What did you think?