Wow! I have such a fun post to share with you this Wednesday, and Jenn and I had a blast writing up this character interview!
One of my absolute favorite parts of Jennifer Dugan's debut, Hot Dog Girl, was how complex Elousie and all the characters were. They're so dynamic and fun, and although they have their highs and lows, they really end up pushing through.
So, I'm really excited to share this character interview with Elouise and so many other characters from Hot Dog Girl! Plus, stay tuned for an INTL giveaway of a copy of the book, as well as more Hot Dog Girl fun . . .
Vicky was at the Magic Castle Playland. She'd heard it would be closing soon and thought she'd go and enjoy the park before Mr. P closed it.
After seeing some petitions to keep it open, she wanted to go and talk to some of the kids behind the petition–Elouise Parker, or something? And it didn't hurt that she could go and have a mini vacation on the budget of her school newspaper from the town over.
It was no Disney World, but from the children on the rides and the families watching the diving show, it was busier than Vicky expected. She would be sad to see it close, but was hoping to make the most of her time here.
She walked over to the concessions area, hoping to sneak in a small cup of fries–ketchup on the side, of course–as well as ask for directions to her first interviewee. Vicky wasn't sure which way to head to find Elouise Parker, but spotted what looked like the back of a giant hot dog suit a few steps away, and approached.
VICKY: Um, hi?
The person in the hot dog suit turned around, with a forced smile on their face.
HOT DOG: Oh! Hi! Do you want something? I mean– She waves her arms dramatically. Welcome to Magic Castle Playland. I would relish the opportunity to be of assistance to you.
Vicky let out a hesitant chuckle at the pun.
VICKY: Do you know which way to the fry stand? She laughs nervously. I forgot to pick up a map. I was also looking for a, um, Elouise Parker?
HOT DOG: She's me! Well, I'm her. Both? She shakes her head. Sorry, it can be hard to think in the bun, what with the whole always being on the verge of heatstroke thing. But I'm Elouise. Call me Elle, though. Please.
Vicky looked her over. Huh. She didn't realize that the girl behind the petition was working in a hot dog suit–she imagined the princess of the castle or something. Elouise must really love her job to want to keep working under the summer sun as a hot dog.
VICKY: Oh, great! I was wondering if I'd be able to ask you some questions about your petition to keep the Magic Castle open? It's for my school newspaper.
ELLE: Yeah, totally. The more people that know the better! We can talk on the way to the Fry Shack. It's right over here.
Elle starts walking to the Fry Shack.
VICKY: I know the Magic Castle has been an important part of the town for a while, but what pushed you specifically to decide to push to keep it open? Do you have any special memories or experiences here?
ELLE: Definitely, it's basically my favorite place on earth. I mean, I've been coming here since I was super little. I even came here with my dad right after my mom—well, let's just say this place holds a lot of memories for me. There's absolutely no way I'm letting it close.
It would be nice if I could get a little more help from the community though. It just feels like most of the adults in this town are more worried about getting in their final "nostalgia visits" then actually saving it. She sighs. But even from a practical standpoint, don't they realize that half the kids in town work here? Would you want to compete with ten zillion out of work kids for a job next summer? Me neither.
Plus, think about it. Where are we gonna go? If this place closes, we'll probably just end up taking over all those quiet, little, boring adult spaces. Next thing you know, you're trying to mail a package at the post office and I'm there, hanging out in my hot dog costume with a bunch of diving pirates, because we've got nothing else to do. See what I mean? Clearly, saving this park is best for everybody, not just me.
Vicky takes Lou's response in, jotting it down on her notepad.
VICKY: Hmm, but what about Mr. P? Have you talked with him to see why he's closing it, and whether the closing of the Magic Castle would actually be for the best?
ELLE: I'm pretty sure I know what's best for this place. Elle laughs nervously.
Vicky nods and snaps her notepad shut.
VICKY: Thanks so much for taking the time to speak with me! Do you know where I might be able to find a–
She squints down at the sticky note attached to the cover of her notepad.
VICKY: –Nick Mulholland?
A weird sort of blush spreads across Lou's cheeks, although it could just be from the heat of being in the giant hot dog for too long.
ELLE: Yes! I mean, well, only 'cause we both work here. Obviously. Why? Did someone tell you I would know? Because I swear, I only have his diving schedule memorized because people ask all the time. Her blush intensifies.
But um anyway– She blows out a deep breath while gesturing vaguely back the way they just came. –just follow this path back down and hang a right. He's at the pool. Can't miss him, he's the blond kid with all the mus— The high diver, I mean. You can't miss the high diver… 'cause he's… the highest… diver? Yeah. She points some finger guns at Vicky. You're not gonna print this part, right? You know what, I'm gonna go back to work. She walks backwards away from vicky. Have fun. Good luck! Bye! Elle turns and runs.
VICKY: Great! Thank you so much, Elle!
Vicky turns and walks away, heading for the fry stand first to pick up those delicious fried potatoes. Mmm.
With her fries in hand, Vicky heads over to the diving pool, following Lou's directions. She catches the last part of the diving show, impressed by the types of maneuvers they were doing. The Magic Castle might not be huge, but they had some great shows, nonetheless.
As people filed out of the stands, Vicky went over to wait by the staff entrance and exit, leaning against a rock and flipping through her notebook as she waited.
Someone emerged, fitting Lou's description of Nick, and Vicky stood up hoping to catch them.
VICKY: Hi! Are you Nick Mulholland?
NICK: Yeah, hey. Do I know you?
He turned towards her, and Vicky realized now why Lou was blushing. Nick Mulholland was really, really cute. Damn.
VICKY: Uh–could I ask you a few questions about the petition you're part of to keep the Magic Castle open?
NICK: Sure. Anything for the cause, right?
VICKY: Great!
The smile on Vicky's face brightened.
What keeps you working at the Magic Castle year after year, and what types of relationships have you forged with people while working?
Nick runs a hand through his hair, pausing for a second before he responds.
NICK: I started working at Magic Castle on a whim when we moved here last year. I'd already been diving for a while and thought 'how hard could it be to add a pirate suit to the mix?' Turns out, it's pretty hard but also lot of fun.
But anyway, yeah, I figured out pretty quick that the people who work here are more than friends. It's a sort of a family. I know that sounds cheesy, but it's true. There was no question that I was coming back this summer. So many people I care about work here. He smiles. I even met my girlfriend here. She's plays the princess. So, yeah, I want to do whatever I can to save it.
Vicky writes this down.
VICKY: Okay, and how has working with the other organizers been? Do y'all have anything else planned besides the petition?
NICK: Working with everybody has been a blast. Sure, some of Elouise's ideas can be… a bit much, but she just gets really passionate about things. It's who she is. *laughs*
In terms of other plans, I know Elouise set up some fundraising stuff online. She can probably get you all the links. And it's early stages still, but I've been trying out some pretty epic cupcake flavors that I'm hoping I can sell to help raise money and spread awareness. Everybody loves cupcakes, right?
Vicky nods as he speaks.
VICKY: Great! Thank you for the help. Do you know where I might be able to find Seeley Jendron?
Nick gives her directions, pointing her towards the carousel and letting her know that Seeley (she/her) operates it, then waves as he walks away.
Vicky looks around as she approaches the pointed top of the carousel, spotting someone in a fluffy rabbit suit, walking around, as well as a fuzzy cat chatting with some kids. Compared to them, being a hot dog doesn't look half bad.
She stands in line for the carousel, deciding it to be the easiest way to chat with the operator, and spots a person with dark purple hair, at a stand with different buttons and levers in front of them.
When she reaches the front of the line, Vicky lets other people pass her to reach the carousel, and then leans on the bar to chat with the operator.
VICKY: Hi! Are you Seeley Jendron?
The operator barely looks at her.
SEELEY: Yes?
Seeley didn't look to interested in Vicky, focusing on making sure the carousel didn't crash, Vicky figured.
VICKY: I was wondering if I could ask you a few questions about that petition to keep the Magic Castle open? I'd heard that you were involved a bit with the organization.
Seeley glances at her.
SEELEY: Sorry, but I'm a little busy right now trying to make sure none of these kids fly off or scratch up my horses. If you want to ride though, that I can help you with.
VICKY: Oh, okay.
Vicky could tell that Seely didn't want to talk about this.
Well, thank you for your time.
Seeley didn't look at her, just leaned over to push open the gate so Vicky could ride the carousel.
Although her round of interviews ended on a low note, Vicky had a lot of great information to write about for her newspaper. She could tell how much the Magic Castle Playland meant to these people, and hoped everything would turn out okay.

Please tell me you found that as amazing as I did. And ISN'T LOU ICONIC? What a rambly, chaotic bi. I love her.
And omg these characters!!!! I want to bundle them all up in fluffy blankets (not suffocating ones) and squeeze them because I love them so much! Even if they are a little misled sometimes!
If you enjoyed this character interview, you should definitely check out Hot Dog Girl, because it's this and so much more! Plus, please let Jenn know on her social channels if you enjoyed reading! I'm sure she'd appreciate it ❤
More About the Book
Hot Dog Girl by Jennifer Dugan
Hardcover, 320 pages
April 30th, 2019 by G.P. Putnam's Sons Books for Young Readers
Elouise (Lou) Parker is determined to have the absolute best, most impossibly epic summer of her life. There are just a few things standing in her way:
* She's landed a job at Magic Castle Playland . . . as a giant dancing hot dog.
* Her crush, the dreamy Diving Pirate Nick, already has a girlfriend, who is literally the Princess of the park. But Lou's never liked anyone, guy or otherwise, this much before, and now she wants a chance at her own happily ever after.
* Her best friend, Seeley, the carousel operator, who's always been up for anything, suddenly isn't when it comes to Lou's quest to set her up with the perfect girl or Lou's scheme to get close to Nick.
* And it turns out that this will be their last summer at Magic Castle Playland–ever–unless she can find a way to stop it from closing.
Jennifer Dugan's sparkling debut coming-of-age queer romance stars a princess, a pirate, a hot dog, and a carousel operator who find love–and themselves–in unexpected people and unforgettable places.
Goodreads | Amazon | Barnes and Noble | Book Depository
More About the Author
Jennifer Dugan is a writer, geek, and romantic who writes the kinds of stories she wishes she had growing up. In addition to being a young adult novelist, she is also the writer/creator of two indie comics. She lives in New York with her family, dogs, and an evil cat that is no doubt planning to take over the world.
Website | Twitter | Instagram | Goodreads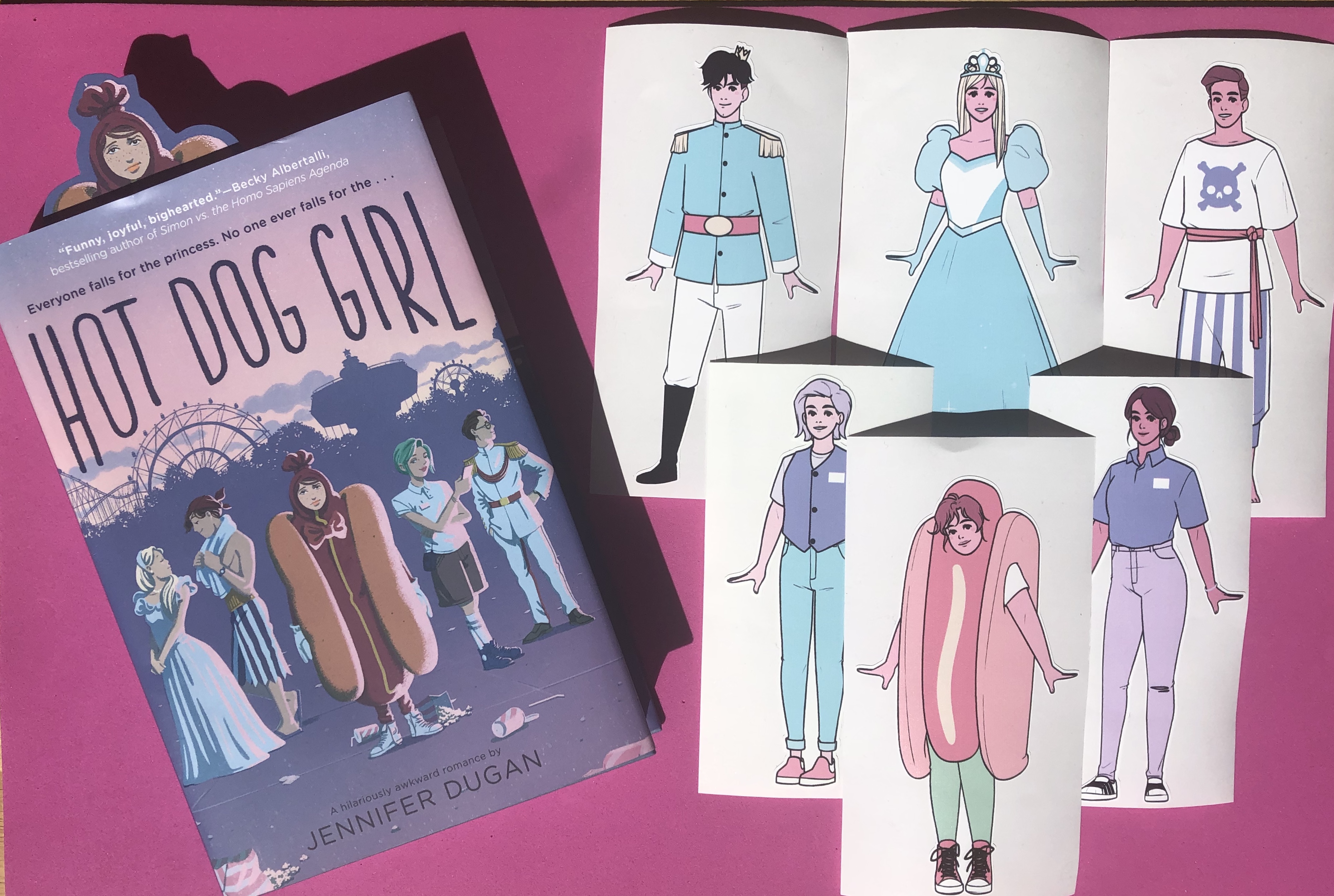 Preorder Gifts!
Are you excited for Hot Dog Girl and all of its amazing characters?! Well, you can get one step closer to hugging them all to your chest by preordering Hot Dog Girl or requesting it from your library to receive six vinyl character wall stickers!
For more information about how to submit to the campaign, check out the official details here! This campaign is open till 11:59 PM EST on May 6th, so you still have time! You can find Hot Dog Stores at any major retailer right now!
Seriously! Aren't they the cutest?! I wanna make them hold hands ❤
Giveaway!
I promised a giveaway, didn't I?
Well, click the Rafflecopter button below (or enter on Twitter) where one lucky winner will receive a hardcover of Hot Dog Girl! This is open internationally until next Tuesday at 11:59 PM EST!
Or . . . you could always buy a copy of Hot Dog Girl with one of those buy links, if it tickles your fancy!
Good luck!
All the screams about this! Do you like Elouise? Who's your favorite character so far?