AHHHH?! I know I don't talk a lot about genres other than YA on my blog, but I'm really really excited to hype up two (non-YA) romance novels that I adored!
I'm sure you've heard a decent amount about The Bride Test by Helen Hoang and Red, White & Royal Blue by Casey McQuiston, but I am just ALL THE SCREAMS about these two books! AHHH.
These are adult fiction and new adult fiction respectively, and they're two diverse romance novels that I totally want to shove in everyone's faces! So, I'm really excited to share with you what I thought (aka all the screams) about these two books!
Let's start with . . .
The Bride Test by Helen Hoang: Modern Mail-Order-Brides, Mishaps, and Love
Okay, so I was totally in love with Hoang's The Kiss Quotient from last year and was sooo excited for The Bride Test.
So, when someone told me that it was Read Now on Edelweiss, I downloaded it, snuggled into bed, and read it for 2.5 hours cover to cover.
IT WAS AMAZING. I just have so much love for this book and Helen Hoang's writing. Plus, I'm so excited that we have SIX more romances on the way—one for Quan, Michael's other friend, and five for Michael's five sisters. Yessssss.
But, back to the actual book.
I definitely adored this—although YA readers beware that there is considerable amounts of steam. Choo-heckin-choo.
Esme was such a fresh character to read about—she immigrates to America to live with Khai per the request of Khai's mother. But wooing Khai is hard, especially because Khai think's he's defective (even though his autism means he just processes emotions differently), and this leads to all sorts of endearing scenes, ranging from the funny to the sexy.
I totally love Esme and Khai themselves, and Esme and Khai together and think they had such awesome chemistry (something Hoang really excels at!) Plus, this book explored so many other interesting topics, from Esme's immigration, her daughter, and so much more.
I really want to bundle all the characters in a big blanket of love.
Hoang's books just make me so happy, and I'm totally rereading The Bride Test in a moment where I feel sad and need a pick-me-up. It's definitely a lovely read and I would wholeheartedly recommend.
I'd recommend The Bride Test to anyone who wants an amazing romance novel—and a wonderfully diverse one at that! I had such an amazing time reading and am anxiously awaiting all the upcoming Helen Hoang novels!
4.5 stars
When Esme meets a woman in the hotel bathroom who invites her to come to America and woo her son, it's an opportunity that she can't pass up—not if it means giving her family the break they need.
But wooing Khai Diep is a lot harder than Esme first thought. Khai believes he has no feelings—no important ones, anyways—even though his family knows that his autism just means he processes things differently. And Khai very much is not looking for a wife.
As Esme's time in America shortens, both will have to confront what they want and what it means to love.
Red, White & Royal Blue by Casey McQuiston: A Queer Royalty Romance that Gives Me Hope
If you're like me, you're already anxiously giving some of your attention to politics, hoping that we don't end up with Trump winning the 2020 election.
And I'm already a ball of stress. I want good things to happen, but I'm also keeping my hope close to my chest.
However, Red, White, & Royal Blue was like a perfect future and a wonderful alternate world. Not only is there a biracial First Family with a female president, but everything is going pretty darn well (except for a few mishaps, here and there).
In general, Red, White & Royal Blue gave me so much hope. It made me happy and bubbly inside—not just about politics, but also because of Alex and Henry's romance.
It was just such a fun and feel-good book and that's ultimately what I liked most about Red, White & Royal Blue. It made me feel happy.
I totally adored the slow burn between Alex and Henry—the flirtationship and texting and Alex being both oblivious to Henry's feelings and unsure of his sexuality. I was all for the wait even though I was cheering them on!
And I like how McQuiston played around with not just that, but also so many other themes—they write about Alex's family and his parents' divorce and being first son and so much more. This book isn't just romance, it also has a lot of other things going on with international relations and PR stunts and family and much more.
I had so so much fun with this and loved the slow burn and the chemistry. I'd totally recommend to anyone who wants a book that instills hope, although I want people who fetishize m/m fiction to stay the hell away and let everyone else read this in peace.
I'll know if you're that person when you diss McQuiston's upcoming f/f book. I'm watching you. If you aren't hyping up that f/f book as much as you do this m/m book, I'LL KNOW.
Anyways, READ THIS TO FEEL SO FLUFFY INSIDE AND SO HOPEFUL AND SO JOYFUL. Totally recommend to everyone who wants a great slow burn romance!
4.5 stars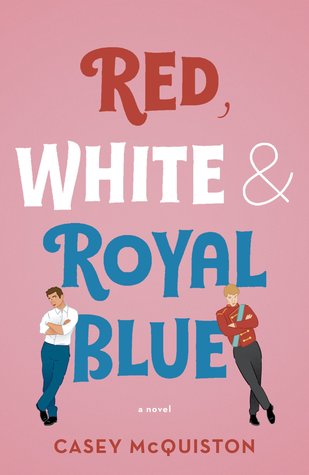 When First Son of the United States Alex knocks over the $75,000 wedding cake for the Royal Wedding, damage control must be done.
Namely, Alex resolving his long-standing feud with Prince Henry in a very public manner. AKA spending a lot of time with him. But as their fake friendship turns to a real friendship and their time in the spotlight ends, Alex and Henry still keep in touch. And maybe something's growing in between them.
But with Alex's mother up for reelection soon and a possible international relations scandal, Alex and Henry's secret romance could derail both Alex's mother's campaign and so much more.
Thank you so much to Berkley Romance and Edelweiss for providing me with a digital review copy of The Bride Test in exchange for an honest review! Thank you so much to Wednesday Books and Netgalley for providing me with a digital review copy of Red, White & Royal Blue in exchange for an honest review!
Are you excited for either of these romances?