I've been so so excited about this book all year and I'm so thankful I had a chance to devour it!
I feel like I need a word cloud to describe this book so I ACTUALLY MADE ONE.
These are some of the adjectives that sum up how I feel about this book, but if I had to pick my top three, it would be ADORKABLE, SWEET, and REAL.
Ugh. So much love for this book. There are so many reasons why I loved this, and here's just a few!
(Plus, I buddy read Hot Dog Girl with Lili @ Utopia State of Mind, and you can check out Lili's review here!)
Lou was so real & she learned so much throughout the novel!
Definitely my favorite part of Hot Dog Girl was Lou herself.
But, I know that for a lot of other people, she was the worst part. Lou can be selfish, a little blind & oblivious, not always the best friend, but I think in the scope of her whole character arc, she learns and grows a lot throughout.
Lou is super dynamic, and by the end of the novel she's figuring things out, not stumbling around when she was in the beginning. Yes, she might not have been the most likeable person to start with but that's what makes her such a great character.
I loved Lou for her faults and successes, and I think she's such a genuine and real character. She's 110% awkward and a bit of a chaotic bi mess at times, but I think she's a wonderful protagonist, especially because of her character arc.
The secondhand embarrassment was just as great as I expected!
I was totally excited to read some of the super awkward encounters in the story, and Hot Dog Girl totally pulled through with this!
I definitely felt the secondhand embarrassment and was able to enjoy it without feeling cringe because ultimately a lot of it was harmless embarrassment, not like super serious type embarrassment.
It lightened the story and made it fun and contrasted some of the more serious moments with what was going on with the amusement park closing.
It also felt very real and genuine in the way Lou was sort of stuck in her head sometimes and moments that were super embarrassing for her might have been a little less to everyone around her, which is how these things always feel. Dugan really captured that feeling of embarrassment so well, and I loved that about Hot Dog Girl.
I thought the atmosphere was so lovely—worldbuilding in contemporary at its finest.
The Magic Castle Playground and the entire town, too, is just so developed!
Definitely a bit of a rural feel, I'm placing the Magic Castle Playground as like somewhere in between Disney World and a town fair. It's definitely pretty local town-like, and I like how Dugan really built up the whole area. I have this visual map in my head which I kind of love and wish I was able to draw, ahaha.
Dugan built up the world in a way that highlighted Lou's journey and also added a special type of charm to the book (which I adored!).
ROMANCE. ALL THE ROMANCE.
I mean, I know who I wanted Lou to end up with, and I think most people know that she's not going to end up with Nick, the handsome pirate who she has a ginormous crush on.
I honestly think this book is very well balanced in between being a Lou coming-of-age story as well as a romance, and it's partially because of romance that she manages to come of age.
Dugan integrates romance in very well and Lou is a wonderful character for this type of storyline, and I just enjoy how it all came together in that aspect!
Overall, I really enjoyed.
I can't really say where I'm taking the half star off, other than how I feel like this book still had a little more potential. Definitely a cute one, and I totally recommend people pick up if they like
secondhand embarrassment
awkward chaotic bi girls
romance! + fun
a bit of a rural pastel aesthetic, if that makes any sense?
theme parks!
hot dog suits
4.5 stars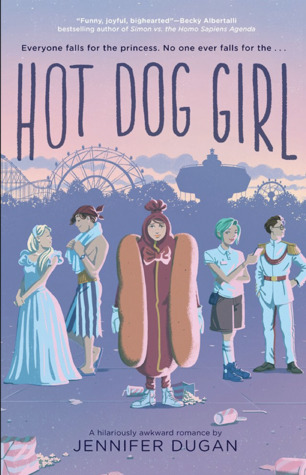 Elouise (Lou) Parker wants to have the best summer ever, but when she discovers that the Magic Castle Playground—the amusement park she works at over the summer—is closing soon, Lou's summer starts to go rapidly downhill.
The Magic Castle Playground isn't just an amusement park she works at, albeit as a Hot Dog, but it's also a place where she grew up and somewhere that lets her see her crush, Nick, everyday. Lou is determined to fix her summer, which means setting up her best friend Seeley with a new girlfriend, finally getting to know Nick better, and saving the park.
Thing might not go her way, though.
Thank you so much to Penguin Teen and Jennifer Dugan for providing me with an advance reader's copy in exchange for an honest review!
Are you excited about Hot Dog Girl?! What other bi romances would you recommend?