Sometimes I run out of ideas for possible recommendation posts. I mean, there are only so many contemporary romances I can recommend until people get sick of them.
So, today I thought I'd leave my recommendations truly in fate's hand by using a Random Noun Generator to choose 10 recommendation topics for me to go off of.
And it certainly has been A Time™, as I now have 30 themed recommendations based off of foods, places, items, and other nouns!
I hope you enjoy these truly random topics, haha, and let me know if you want to see more posts like this (a part 2, perhaps?). I definitely loved trying to find books that fit the topic!
(Also, if you wanna try this yourself totally feel free! Send me the link so I can see what you come up with <3)
Below is what the generator came up with as my 10 nouns:
And without further ado, let's begin!
Barbecue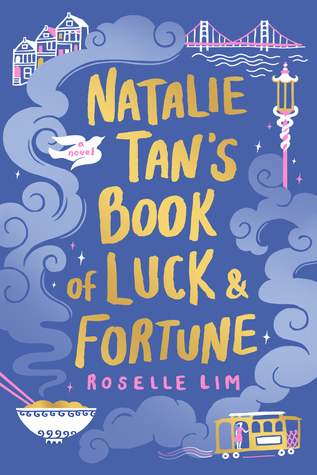 This one is tough because barbecue is so obscure in YA? This is the hardest one on the list, so I've gone very very vague with this prompt and decided that "barbecue" to mean "books with mouthwatering food," which in that case means you should totally check out:
Small Town Hearts by Lillie Vale is FULL of all the delicious food. I'm talking baked goods and ALSO some barbecue I believe, plus all the outdoor grilling (there's this sort of small business/food festival in the book and I drooled). It's such a sweet contemporary romance and full of bi baking baristas named Babe, summer romances, and small Maine towns. I'd 100% recommend!
Natalie Tan's Book of Love & Fortune by Roselle Lim (not YA) is a book that I have not had a chance to read yet, but my mother actually stole & read my ARC of before me? (Rude.) Anyways, she said one of her favorite parts was the food so like, please scream with me because my mother is ridiculously hard to please!!!
Hungry Hearts edited by Elsie Chapman & Caroline Tung Richmond has SO MUCH FOOD. This anthology is based around food and culture and love, and I'm so excited to dive in. I love so many of the contributors' other work, and so I'm really excited for everything from soup dumplings to pan to so much more!
Bean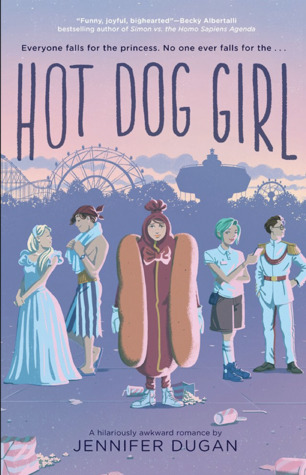 I don't know any books with beans (the "barbecue" prompt already killed me) so let's interpret "bean" to mean "smol bean"!!! Here are some of my favorite books with smol bean, cinnamonroll characters:
Hot Dog Girl by Jennifer Dugan is FULL of the secondhand embarrassment, and I just want to bundle up Lou, the somewhat dense disaster mess that she is, in a cinnamonroll suit instead of a hot dog one. Her journey in this story is both funny, fresh, and adorable and I love Lou so much (cinnamonrolls are not just guys THANKS).
In Other Lands by Sarah Rees Brennan has one of my favorite precious persons ever, Elliot. Part of the reason why I love Elliot so much is because of the fact that you get to watch him grow up over a long number of years (I think he starts at like age 13 all the way to 18 or something?) and we really go through the highs and lows with him, and I adored him. He's a bit of a disaster BUT DESERVES TO BE PROTECTED.
Once & Future by Amy Rose Capetta & Cori McCarthy is not only iconic for the super queer cast of characters and female King Arthur, but also for GRUMPY TEEN MERLIN. Merlin is curmudgeonly and grumpy, but he's so precious and he gets the job done when he needs to and so YES he belongs on the cinnamonroll list.
Bookend
This is an easy one! I'm interpreting "bookend" to mean "bookish romance novels" (somewhat a stretch, but bear with me!), so I'm recommending:
The Library of Lost Things by Laura Taylor Namey, about a literary genius named Darcy who works in a bookshop and falls in love with Asher, a former teen pilot. I'm SO excited to read this one! (P.S. I'm hosting the cover reveal for this book TOMORROW MORNING so get hyped!!!)
Serious Moonlight by Jenn Bennett, about a mystery novel lover Birdie who works to solve a case on a mysterious man's identity with her ex-fling Daniel. I just finished this, and it's super bookish so I think a lot of people can enjoy!
Words in Deep Blue by Cath Crowley, a novel full of love letters and centering about Rachel and Henry, ex-best friends who are reunited in a bookstore that might close soon. BOOKS. ALL THE BOOKS. There's even a bookshelf where you leave notes to other people inside of the book, and I absolutely adored that element!
Contrary
For this prompt, I interpreted "contrary" to mean "books with prickly/unlikeable protagonists"! And I have three amazing books which I've read & loved who have main characters that might be a bit (or a lot) unlikeable!
If I'm Being Honest by Austin Siegemund-Broka & Emily Wibberley was the first book I thought of upon hearing this prompt. I mean, Cameron is the definition of contrary: she's brash and a bit rude but she knows what she wants and she chases after it. Although she still has things to learn, I love how throughout If I'm Being Honest, Cameron will ultimately learn to stay true to herself, even if that means being a little bit of a bitch.
The Way You Make Me Feel by Maurene Goo is a book that I ADORED, but I know so many people didn't like. Clara can 100% come off as rude and entitled, but she learns throughout the story and that's what I love about her. She's a prankster and she might not realize what she has right now, but she will at the end, and I think that's what makes The Way You Make Me Feel such a great book.
Pride by Ibi Zoboi might not seem immediately contrary, but Zuri has so much going on in her life that I can't help but feel like she's contrary to all the change happening around her. Which is understandable. I mean, not only did two cute boys move in across the street and she is very much trying to resist the pull, but things might be changing for her family, and Zuri isn't ready for that change yet and will do whatever she can to resist.
Desert
At first I started writing up a bunch of recommendation for "dessert," until I realized that this said "desert." ☹ But it's okay, because I still have awesome recommendations for books set in the desert!
We Hunt the Flame by Hafsah Faizal has the series title of "Sands of Arawiya," so like…yes. Hello desert. I'm so excited to continue reading! I read a few chapters and had to set it aside for a little while because of life, but ahhh I'm so ready to get back into this book!
An Ember in the Ashes by Sabaa Tahir is an obvious choice for this list, because I mean SO MUCH YES. I haven't had a chance to read A Reaper at the Gates yet but I am 100% screaming at everyone to go and read this book series because it's amazing and desert-y and full of spicy politics!
The Wrath and the Dawn by Renée Ahdieh is such an exciting series and 1001 Nights retelling, and I absolutely love Shahrzad and her fierceness throughout this story. (Plus, the endpapers are so desert-y and themed and you should absolutely take a peek if you see them in person because they are GORGEOUS).
Ignorant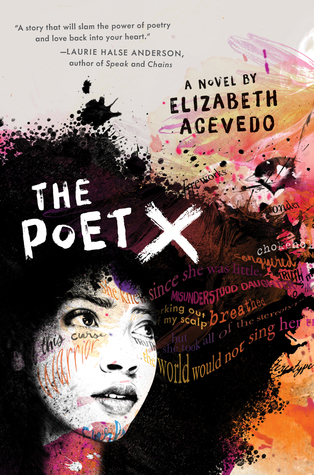 This one was hard because I didn't want to just recommend horrible, ignorant books, so I chose to interpret this title as "books that fight ignorance." These books aren't and shouldn't be intended to teach, but they have helped carve the way for YA to be more inclusive, which is really important!
The Hate U Give by Angie Thomas is an obvious book for this list, both because of the huge amount of attention it brought back to YA post-Twilight, and also how it's forged the way and helped show publishing that we want more diverse books. I think THUG has been such an important novel for this, and believe it should be on all the required reading lists.
What If It's Us by Adam Silvera & Becky Albertalli is a bit more modern, but I wanted to pick something that was more fun + fluffy yet still important, which What If It's Us does wonderfully. I love how Adam Silvera is so much more mainstream after They Both Die at the End, and how much Albertalli's Simon vs. the Homo Sapiens Agenda did for YA and opening up space for queer books in publishing.
The Poet X by Elizabeth Acevedo is just AHH. I mean, it's an NBA winner but I also love how it feels like we're getting more books in verse (which I am LOVING) and how authentic and emotional this book is. It's so wonderful and I would wholeheartedly recommend you pick this one up.
Mantua
I had to look up what this was, but apparently Mantua is a city in Italy, so let's call this topic "European vacations"! Here are some books that take place abroad in Europe:
Love and Gelato by Jenna Evans Welch takes place in Italy and features a fun romance and LOTS of gelato. Plus, Welch recently published a spinoff taking place in Ireland, titled Love and Luck!
Love à la Mode by Stephanie Kate Strohm is such a cute one, taking place in a culinary school in France where teens are going to improve their culinary skills. From delicious foods to culinary superstars to sweet romances, Love à la Mode really pulls through!
The Summer of Us by Cecilia Vinesse features queer romance and spicy friendship dynamics in the summer before college, and I love how this book explores both of those across a European vacation setting! Definitely a fun friendship book.
Misfit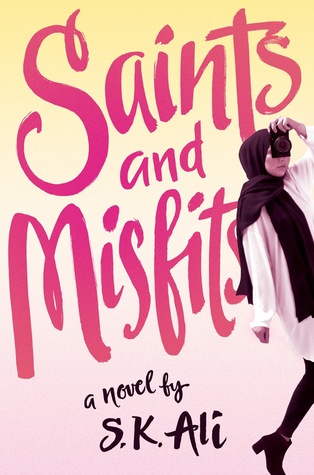 "Misfit" was a pretty simple prompt, so here are some books that feature characters who don't fit in with the norm and who defy expectations!
Saints and Misfits by S.K. Ali was obviously the first that jumped to mind (I mean, look at the title!) and I can't recommend this wonderful book enough. Plus, Ali's next novel (coming next month!), Love from A to Z, also would fit this prompt with its characters who have Marvels and Oddities journals. Both are amazing reads.
The Beauty of the Moment by Tanaz Bhathena is one of my favorite rom coms ever and I absolutely adore this book! Susan and Malcom are both a little bit of misfits, not entirely fitting in the boxes society wants to put them in. I absolutely adore how they come together and this book is so sweet and wholesome I love it T_T
The Dead Queens Club by Hannah Capin is such an obvious one. I mean, YES FOR OVERTURNING HISTORY and make a fierce novel about the ex-wives (girlfriends) of Henry VIII. Cleves isn't perfect (and neither are her fellow ex-girlfriends), but she learns and grows throughout the book and is such a unique individual, I love her.
Peony
Peonies are flowers, so I'm so excited to recommend some of the most lush, flowery books (not just in writing, but also literal flowers) to devour!
This Time Will Be Different by Misa Sugiura has magic and flower shops and family and I am so so ready. It sounds so lush and gorgeous (did I mention magic and flower shops???) and I can't wait to dive into my ARC because AHHHH.
Wild Beauty by Anna-Marie McLemore is such an obvious one, and the lyrical story telling in this book makes me swoon. I love the story and it feels like a fairytale (the flower magic is totally helping that come true). It weaves a history and family together so well and I'd wholeheartedly recommend!
Wintersong by S. Jae-Jones is a bit of a stretch, but it does have a flower on its cover and also some of the most icy, beautiful writing I've seen! I absolutely adore the magical lyricism in this novel and would wholeheartedly recommend this series!
Wool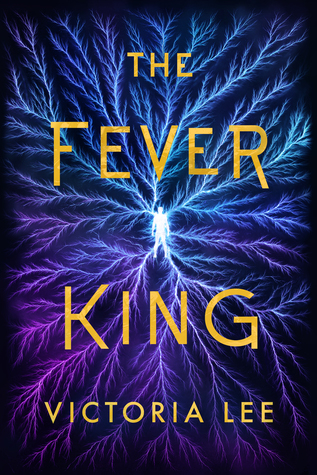 I don't know about actual wool in YA, but I'm going to interpret "wool" as "pulled the wool over my eyes" aka "had fantastic twists"! (I could have interpreted it as "books that are cold enough that you need some wool clothes" but nah). So, here are some books with some AMAZING, shocking twists!
Descendant of the Crane by Joan He (duh) is just me, screaming, for 10 hours straight. WHAT. HAPPENED. PLEASE INFORM ME.
The Fever King by Victoria Lee was super mean in the way that I just COULD NOT DECIDE IF I WAS SUPPOSED TO TRUST LEHRER OR NOT. And then that ending. It killed me. I can't look at cars in the same way ever again.
The Wicked Deep by Shea Ernshaw really did that. It did. I can't spoil it but OH MY GOSH. I am still !!! over that mid-book reveal and am here to scream about it with anyone else who wants to. (So spooky and witchy, I love!)
Did you like these recommendations? Should I try this again with new words?
It'd be really cool to see what other people come up with, so I'm dropping the link to the RANDOM NOUN GENERATOR here and if you do decide to write a post or tweet this, tag me so I can see what you recommend!