Cait is a blogging icon–not only is she one of the first bloggers I've ever discovered, but she gives back so much to the community, that I'm absolutely honored to be chatting with her on my blog today!
We're talking all about her sophomore novel, The Boy Who Steals Houses, which centers found family, love, and so much more. (Plus, it's #OwnVoices for autism and anxiety!) I AM EXCITED FOR PRECIOUS DISASTERS.
So, I really hope you enjoy what Cait has to say about The Boy Who Steals Houses! Enjoy!
Hi Cait! I'm so excited to have you on my blog this Friday, and pumped to chat about The Boy Who Steals Houses just after it's out! Can you tell us a little bit about The Boy Who Steals Houses–but only in one word sentences?!
Lonely. Searching. Protective. Intense. Brothers. Anxiety. Soft! Loving. Home.
The Boy Who Steals Houses is your second novel–your first was A Thousand Perfect Notes which published last year. For readers who have read and loved A Thousand Perfect Notes, what do you think they'll love about The Boy Who Steals Houses?
I'm so excited (and nervous haha) to know what readers of ATPN will think of my second novel! I definitely have some similar themes and styles that follow on from ATPN, including featuring characters with dark and tortured pasts and intense sibling relationships. There are also quite a few Easter Eggs in The Boy Who Steals Houses because it's set in the same town and school as ATPN. They were super fun to write so I hope readers catch the references!
I love found family stories a lot, and The Boy Who Steals Houses falls into that trope, with Sam being taken under the wing of a large, chaotic, loving family whose house he gets caught in, after breaking in when the owners were away. What made you choose to write about found family, and how does Sam's found family contrast with his real family (his older brother Avery)?
Found-family is also one of my most favourite tropes! I think it resonates with a lot of readers too — that longing to find people who fit with you and stick by you no matter what. It's a trope that centres on loyalty and love and vulnerability, which is also amazing and emotional to write. I also loved writing the contrast between Sam's true brother, Avery, who he has to take care of vs the De Lainey family who take care of Sam. Sam craves that, being seen and understood, but he also would do anything to protect his vulnerable brother. He has a lot of internal wars over this that make me cry…and make my editor cry…probably my readers will cry (shh I'm sorry in advance).
I also wanted to feature a big, chaotic family in this book because I have one! I have 5 siblings (I'm the second youngest) and my youngest sister and I used to get up to a terrible lot of shenanigans. (I may have cracked an egg on her head once…)
Something I know that is really important to you is great neurodiversity representation–and I'm really excited to read about the anxiety and autism rep you've written into the story. What books with similar rep would you recommend to readers who enjoy The Boy Who Steals Houses and want to see more of this on the page?
I am so passionate about neurodiversity in books! It's very near to my heart, as someone who also has an anxiety disorder and autism, and I'm keen to see more rep in YA that centres on supporting teens with disabilities instead of changing them. For autism rep: I recommend Kids Like Us by Hilary Reyl and When My Heart Joins The Thousand by A.J. Steiger. For anxiety rep: I recommend A List of Cages by Robin Roe and The Wicker King by K. Ancrum.
Finally, if you and Sam could break into an empty house together, what would you both hope to find inside? People? The secret to immortal life? Something else?
I would be absolutely down to find a room full of books to read. I think Sam needs to find a house with a bed so he can take a good long nap…this poor kid, I swear. He needs to catch a break.
I would probably want to break into a house with a giant, sprawling library of YA books too, ahahah!
This was wonderful to read and I'm so excited to pick up a copy of The Boy Who Steals Houses (also wanna know more about that egg story?!).
If you enjoyed this interview, make sure to let Cait know on her social media! (And ask for the egg story from me, k?)
Trigger warnings for: violence, child abuse, ableism towards disabilities (from antagonists)
More About the Book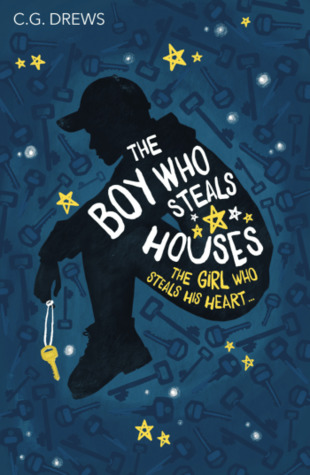 The Boy Who Steals Houses by C.G. Drews
Paperback, 347 pages
Published April 4th 2019 by Orchard Books
Can two broken boys find their perfect home?
Sam is only fifteen but he and his autistic older brother, Avery, have been abandoned by every relative he's ever known. Now Sam's trying to build a new life for them. He survives by breaking into empty houses when their owners are away, until one day he's caught out when a family returns home. To his amazement this large, chaotic family takes him under their wing – each teenager assuming Sam is a friend of another sibling. Sam finds himself inextricably caught up in their life, and falling for the beautiful Moxie.
But Sam has a secret, and his past is about to catch up with him.
Book Depository | Amazon US | Amazon UK | Waterstones | Booktopia

More About the Author
C.G. Drews lives in Australia with her piano and the goal of reading every book in existence. Consequently, her brain has overflowed with words and she spends her days writing novels to make you laugh or cry (or both). She never sleeps and believes in cake for breakfast.
She blogs at paperfury.com.
Website | Twitter | Instagram | Goodreads

Have you read any of Drews' work before? (Or visited the wonderful color explosion that is her blog?!)