I'm so so excited to share an interview about this sweet, summer romance, which I just finished reading earlier this week!
Jessica Pennington's sophomore novel, When Summer Ends, follows a summer full of chances and love, and it's such a light & fun read that I'd definitely recommend you pick it up if you want something sweet!
Today on the blog, I'm chatting with Jess all about romance, summer vibes, and degenerative eye diseases (say what?!)! There's a lot of fun stuff in here, so I hope you enjoy!
Hi Jess! Thank you so much for chatting with me on my blog today! As a little homage to your debut novel, Love Songs & Other Lies, would you describe your sophomore novel, When Summer Ends, using only lines from love songs?
I like me better when I'm with you / Strawberry wine, seventeen, the hot July moon saw everything
Two lines (from two different songs) that all give the vibe of this book!
Romance is one of my favorite genres, and despite being a large percentage of fiction published, a stigma still exists around romances. Despite this, you continue to write books that are unflinchingly categorized as romance, which I really admire. What makes this genre so appealing for you to write?
There's definitely a stigma with romance, unfortunately. That it's 'easier' reading, or it's just a love story. And that it's only for girls. Romance is my favorite to read, so of course it's my favorite to write. And I love mixing other dynamics into my romances–When Summer Ends is at its core a love story, but it's also about losing things important to you, self-discovery, and forgiveness.
One of the things I was really excited to hear about was that the male love interest, Aiden, has a degenerative eye disease. In YA, we rarely see characters with glasses–let alone degenerative eye diseases. As someone whose eyesight is Not Great™, this is a very real fear for me, and this element is one of the reasons I found When Summer Ends compelling. What influenced you to add this to your sophomore novel, and how does it affect Aiden throughout the story?
Aiden is probably the closest thing I'll ever write to an autobiographical character. Everything involved in the story of his vision loss is from my own high school experience, being diagnosed with a degenerative eye disease. Aiden is about one year older than I was, when I was diagnosed, but otherwise, pretty much anything that happens to him, or that he describes regarding his vision (right down to getting nailed in the face with a line drive) is my own personal experience. Except I wasn't a star pitcher, I feel like I need to get that out in the open…I was average at best!
As an adult now, almost twenty years after my diagnosis, I had been thinking a lot about all of the small changes I make every day, to accommodate for my decreased vision. And the changes it made to my personality. You want me to meet you somewhere? What if I can't find you? What if I can't read the signs directing me there? What if wherever we end up, I can't read the menu posted up on the wall. It's very strange to have a disability that is essentially invisible. No one can look at you and say 'oh hey, they can't see as well as they should.' Especially as a teen, when people just assume that your vision is corrected with contacts or glasses. So as an adult, I sort of wanted to look back at that experience, and then also add in the additional pressure of "what if it had stopped me from doing the one thing that sort of defined me as a person?" Which in Aiden's case, is baseball. So obviously Aiden, and everything that happens to him is fictionalized, but the idea of his vision loss, and the strains that puts on him was very personal. And I love that I got to share that in a book, and especially in a romance, where often the guys have to be 'perfect' to be desirable.
Summer is normally one of the most relaxing seasons for a teen, and the way they act in this environment vs. the way they act in the school year can be very different. How do you think the summer setting affects your protagonist's reactions and influences the storyline of the book?
You're so right about summer! I grew up in a small town, very similar to the one in When Summer Ends, and the one thing I remember about summer, was that I was always by myself a lot more than I was during the school year. I was working, and doing a little more with my family, and in general, I just didn't see my core group of friends as much. For Aiden and Olivia, summer–and their jobs at River Depot–gives them a chance to get to know someone they've always gone to school with, but really don't have any kind of relationship with. And without school, they don't have some of the baggage and expectations that would usually come with that. I think in the summer setting, they get to explore who they are a lot more than if the story took place during the school year!
Finally, something fun! If you could spend a day with any of the characters you've written so far, who would you spend it with, where would you go, and who would you spend it with? (If money & time was not a problem!)
Oh my goodness, this is the whole reason I only have one kid, Vicky–I feel like you're making me pick between my fictional children! If I must choose, I would probably say Aiden, just because we're coming up on summer and he's so adventurous, I feel like he'd introduce me to something new. Plus, he loves to be out on the water and I do too, so we could be canoe buddies!
After reading, I'd definitely pick to spend a day with Aiden too (no shame on Olivia though–she's awesome)! I've never canoed (is that a verb?) before, so I feel like he'd be a good teacher for that!
And I had no idea that Aiden's eye disease was such a prominent part of the novel when I picked it up, but it really is and hearing Jess talk about invisible disabilities was really moving.
Thank you so much for reading! If you enjoyed, make sure to let Jessica know on her social channels!
Plus, you can pick up your copy of When Summer Ends now in stores! Whoo!
More About the Book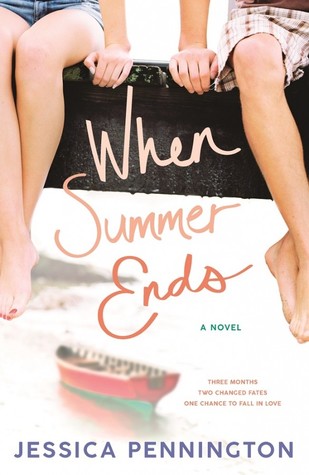 When Summer Ends by Jessica Pennington
Hardcover, 288 pages
April 9th, 2019 by Tor Teen
Aiden Emerson is an all-star pitcher and the all-around golden boy of Riverton. Or at least he was, before he quit the team the last day of junior year without any explanation. How could he tell people he's losing his vision at seventeen?
Straight-laced Olivia thought she had life all figured out. But when her dream internship falls apart, her estranged mother comes back into her life, and her long-time boyfriend ghosts her right before summer break, she's starting to think fate has a weird sense of humor.
Each struggling to find a new direction, Aiden and Olivia decide to live summer by chance. Every fleeting adventure and stolen kiss is as fragile as a coin flip in this heartfelt journey to love and self-discovery from the author of Love Songs & Other Lies.
Goodreads | Amazon | Barnes and Noble | Book Depository
More About the Author
JESSICA PENNINGTON lives in a Michigan beach town suspiciously similar to the one in this book, where she spends more time on her laptop than on the beach. When she isn't writing you can find her reading romance novels way past her bedtime, or curating the perfect Spotify playlist. Jessica owns more YA novels than many teens, is mildly obsessed with penguins, and probably laughs too much. When Summer Ends is her second novel, following Love Songs & Other Lies.
Website | Twitter | Instagram | Goodreads

Are you excited to read When Summer Ends?