I am absolutely overjoyed to have Lillie Vale on my blog today, talking about her debut Small Town Hearts!
I've been following this book for years now, and it's finally here and published and (almost) in my hands (I need to stop by my P.O. box, haha!) and I'm so happy everyone can experience the swoony romance between Babe and Levi finally!
Small Town Hearts is such a magical debut in the way that the town of Oar's rest is so enchanting–from its lighthouse to the bakery to the people in the town–and if you're looking for a sweet, summery read, what are you waiting for? Pick this book up!
But if you're not convinced, you can hear more about Small Town Hearts from Lillie herself! Enjoy!
(P.S. We have a fun mini-giveaway at the end, so stay tuned for that too!)
Hi Lillie! It's so great to have you on my blog today. Can you tell us a little bit about the characters in Small Town Hearts and how they all got there?
Hi, Vicky! Thanks for hosting me! It's so awesome to chat with you just one day after Small Town Hearts pubbed!
The story's protagonist is 19-year-old Babe Vogel, a Maine native who lives in the sleepy coastal village of Oar's Rest (in a freaking lighthouse!!! How cool is that?!) and works as a long-time barista at the Busy Bean, her neighborhood coffee shop. She's pretty averse to change, mostly because it always brings emotional (and geographic!) upheavals to the content life of work and play that she loves. Her mom began working as a hostess on a cruise ship after Babe turned 18 (during her senior year of high school), even resettling in the nearby Bar Harbor with a roommate to be closer to her work. We meet Babe around a year after her secret girlfriend, Elodie (who isn't out yet), dumped her to go to art school in California. Which, if you've looked at a map lately, is just about as far from Maine as you can get! So she's super super super not okay about her two lifelong best friends, Chad and Penny, breaking up right at the start of what she hoped would be their perfect summer—maybe the last one they'll have.
Penny's dealing with change, too, but for different reasons. She's vivacious and adventurous, and may want more for herself than a small town life and a small town boy. Then again, she might not. But she wants the space to let herself figure it out, and she can't do that right now unless something changes in the co-dependent trio relationship she has with her boyfriend Chad and their BFF Babe. While Babe nurtures the tangled roots the three of them share with each other and their idyllic beach town, Penny's not afraid to hack at them with scissors. She's looking forward to seeing who she is without Chad, and her deepest fear is looking down the barrel of her future and seeing that absolutely nothing changes. And, well, Chad's a messy dude and makes some questionable decisions because as much as Penny wants to embark on new adventures, Chad's like Babe and wants things to stay status quo because he's scared to know who he'll be without his girlfriend.
Levi Keller, the new summer boy in town, represents everything Babe wants but thinks she can't have. After all, the cardinal rule of beach towns is that locals do not get involved with tourists­—because tourists always leave. And Babe's pretty sure she can't take another person she cares about leaving her behind. Again. He's an artist running from his own demons—I mean parents—who are trying to capitalize on his Instagram superstardom because they think it's best for him. Like Penny, Levi doesn't want to sail the course that's already been charted for him. He's desperate to get into his dream school, RISD, because he wants to explore other passions and careers, even if that means doing something totally different than the watercolors and sketches he's known for. For him, this rebellion takes the form of "running away" (he's over 18 and he left a note for his parents!) from New York and taking inspiration and solace in the welcoming embrace of cozy, quaint Oar's Rest and its people. Namely our lovely Babe!
Real people are so complex and Small Town Hearts expertly portrays Babe and all the things she has going on in her life right now. (Which is definitely a lot!) What would you say are the top three concerns in Babe's mind during the novel, and how does she handle these?
The foremost concern in Babe's mind for the first half of the book is how to repair her friendship with Penny, which gets messy as all hell because of a certain ill-timed kiss between [REDACTED] and [REDACTED].
After a couple steamy smooches with [REDACTED], however, Babe's focus starts to shift. Is it possible to have the relationship, in the open, she always dreamed about with [REDACTED]?
Or will ex-girlfriend Elodie's reappearance in Oar's Rest for the summer, and the surprise that El wants her back, cause* some unintended consequences for Babe?
*not a love triangle!!! Wanted to clarify that!!! Babe is NOT romantically torn between Elodie and Levi.
Oar's Rest is such an amazing small town and you really bring it to life in Small Town Hearts. It reminds me of those quiet beach towns (albeit, less rocky than Oar's Rest and more beachy like the ones we have in Florida). I know you wrote a post about it on Swoon Reads (find it here!), but what did you love the most about creating Oar's Rest, and what do you think readers will love about this quiet town?
Ever since I was a little kid, I've loved the small towns that never felt small. The places that were larger than life, but still, everyone knew your name. You couldn't walk down the street without friendly nods and smiles, charming neighborly acknowledgements that this was your home, your community. For me, these places were best represented by these fictional cities: Arthur's Elwood City; Miss Marple's quaintly murderous village of St. Mary Mead; Father Brown's parish of Kembleford in the Cotswolds; Tree Hill of One Tree Hill fame; Mystic Falls from The Vampire Diaries; and SO MANY MORE.
Oar's Rest wound up being an amalgamation of several different beach towns I've been to, and because I am a person who can never have anything too sweet without a sinister underbelly (I am just Like That, apparentlyyy), there was also a tiny fantastical twist to this otherwise postcard-perfect village.
"I didn't need Levi to tell me that this town was special. There were many things you couldn't find elsewhere. Trees that seemed to whisper lost lovers' names when the wind blew just right, a beach that swallowed flip-flops and gave back books. Memories containing whole worlds.
That was what Levi forgot. Oar's Rest held on to memories. Every first kiss, every last kiss. Every tragedy, every miracle. It was greedy for them. We'd talked about it before, but I didn't think he realized that Oar's Rest would hold on to him, too. The memories he left behind would be there in every grain of sand, in every wobbly plank on the pier, in every corner of my world. Places like Oar's Rest were like that—they held on tight, tugged memories close, and gave life to the people who weren't there anymore."
Babe frequently mentions that Oar's Rest is a memory hoarder, greedy for everything it can snatch and snuggle close. It's a place where memories settle into cracks and crevices, where you can't walk two feet without being reminded of something or someone.
It also turned from the place that drew Babe and Levi together to the symbol of all the reasons he wouldn't stay, and why she felt she always would. And that tied into the theme of change, which is prevalent throughout the novel, especially Babe's fear of it. Oar's Rest became, kinda unintentionally, the third person in their relationship.
I think that tangible sense of place that Oar's Rest brings to the story is what readers enjoy most about this setting. It's not just a background Anytown, USA. It's atmospheric* in a way that not all contemporary settings are, and I think that slight hint of otherworldliness makes us all a little nostalgic, somehow. If Oar's Rest was a real place, I think its population would go waaayyy up if all the readers decide to up sticks and head over there! Almost everyone who's read the book has wanted to move there—at least, that's what folks tell me!
*You made my day when you included Small Town Hearts in this blog post of atmospheric reads, calling it "beachy, summery, and romantic and I get all the summer beach in Maine vibes and I LOVE it! Not only do we get the awesome bi main character we deserve and sweet summer romance, but it's just so atmospheric and Maine I can't get over how much I love this book?"

Babe is such a loveable character and I absolutely love her dynamic with Levi. What do you think makes them such a great couple, especially given how Babe isn't too into the idea of falling in love with a "summer boy" initially?
There is definitely resistance on Babe's part to falling in love with a summer boy! She knows that summer boys (and girls) are just visitors to Oar's Rest, transient as a passing fly; here one day, gone the next. This excerpt says it all: "At the end of summer, he'd go home, and I'd stay here. I was a perennial, an eternal summer girl year-round. Levi was as annual as they came. So I didn't kiss him then, even though I wanted to."
Babe is careful with her heart. For her, love, in all its forms, is for keeps. It's not something she can turn off and on, which is why she's sure she's not made for flings. Everything about her represents permanence, and it's something she values deeply in her relationships with others. Her father, who she never knew, was a summer boy, and while she didn't feel the lack of him growing up, it does inform another layer to why getting involved with a summer boy could be dangerous to her heart.
I think that's something Levi understands and respects, and for that reason, he lets her set the pace in their relationship. He doesn't give his heart away freely, either, and knowing where Babe's coming from, he's happy to take things as fast or as slow as she's ready for. They click in a way that goes beyond attraction, although there's plenty of that, too! And when you find someone who gets you, someone who isn't a lifelong friend, but someone new, that's really special.

Lastly, the friendship dynamics in Small Town Hearts are really complex and Babe and her friends have a lot of things to work through. In what ways would you say Babe learns about friendship and being a good friend in Small Town Hearts, and what advice would you give to teens who are being separated from their friends because of college, like Babe is?
I think a lot of Babe's struggles could apply to teens and young people today. Leaving high school, friends, and family for the first time can be terrifying. Home can provide stability and comfort, and the people and places that make up what "home" means to us are major cornerstones. Many teens, whether they go to college or not, may find themselves losing their support system. How do we hold on to friendships when we're miles apart? How do we know when to let go? Babe, for whom remaining in the work force is not only a pragmatic choice, but the one that will allow her to work at the coffee shop she loves, The Busy Bean, is terrified of the new changes that will affect her friend group. She's going to be the one left behind, and she has no idea how to deal. I hope readers can take away that change can also be an opportunity for growth, that friendship can be tested without breaking, and that sometimes, we may have to untangle ourselves from our comfort zone in order to become the person we're meant to be.
That last question really hit home, and I am so in love with this book. Babe and her struggles navigating friendship with Penny and Chad is such an important part of this book and one of my favorite elements.
I mean, yes for swoony romance but also HUGE YES for the complexity of life and friendships. I want to squeeze this book to my chest (also take it to college?). You can read my full review about how much I love this book here!
If you enjoyed reading this interview, make sure to let Lillie know on her social media below!
Also, for anyone interested in reading Small Town Hearts, please be aware of the following:
* manipulative friendship
* mention of casual drug usage (weed, not shown on the page)
* alcohol consumption (on page)
* alcohol abuse (a character drinks and parties to the point of dehydration and sleep-deprivation; two characters get wasted and are too drunk to fully consent to sex with each other)
More About the Book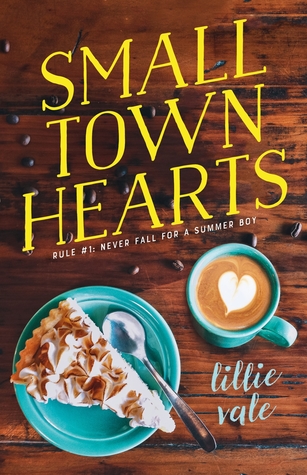 Small Town Hearts by Lillie Vale
Hardcover, 336 pages
March 19th 2019 by Swoon Reads
Rule #1 – Never fall for a summer boy.
Fresh out of high school, Babe Vogel should be thrilled to have the whole summer at her fingertips. She loves living in her lighthouse home in the sleepy Maine beach town of Oar's Rest and being a barista at the Busy Bean, but she's totally freaking out about how her life will change when her two best friends go to college in the fall. And when a reckless kiss causes all three of them to break up, she may lose them a lot sooner. On top of that, her ex-girlfriend is back in town, bringing with her a slew of memories, both good and bad.
And then there's Levi Keller, the cute artist who's spending all his free time at the coffee shop where she works. Levi's from out of town, and even though Babe knows better than to fall for a tourist who will leave when summer ends, she can't stop herself from wanting to know him. Can Babe keep her distance, or will she break the one rule she's always had – to never fall for a summer boy?
Goodreads | Amazon | Barnes and Noble | Book Depository
More About the Author
Lillie Vale, upon discovering she could not be one of Santa's elves or attend Hogwarts, decided to become a writer to create a little magic of her own. Enjoying the romantic and eerie in equal measure, she's probably always writing a book where the main characters kiss or kill. Born in Mumbai, she has lived in many U.S. states, and now resides in an Indiana college town where the corn whispers and no one has a clue that she is actually the long-lost caps lock queen. She can be reached on Twitter @LillieLabyrinth and Instagram @labyrinthspine. Small Town Hearts is her debut novel.
Twitter | Instagram | Goodreads
Mini Giveaway!
Are you as in love with this gorgeous art card for Small Town Hearts as I am? It shows Babe and Levi, the protagonists, taking part in the sandcastle competition featured in the book! (The real art card is soft and velvety feeling and I can't wait for y'all to hold it!)
And you can win your own! Lillie is giving away two Small Town Hearts art cards–one US and one INTL! There are two ways to enter (and you can do both!)
Retweet this post's announcement on Twitter & comment below with US or INTL!
Comment on this post with US or INTL and why you're excited for Small Town Hearts!
That's it! It's open till next Tuesday at midnight EST, open to 13+ with parental permission if you're under 18!
Which element of Small Town Hearts are you the most excited for?