It's been a few months since we've had a character interview as our Writer Wednesday feature, but I'm so excited to bring this super spicy one from the characters of Victoria Lee's The Fever King!
Seriously y'all, this book is now one of my all-time favorites and I CAN'T GET ENOUGH OF IT. You can read me scream about it in my review here (!!!), but if you're not ready for all the screeches on my end, enjoy this character interview feat. all the moody angst in The Fever King.
This book is honestly a masterpiece–intense, tightly plotted, and with so many relevant parallels and I cannot recommend it enough! So enjoy the interview with some of the awesome characters . . .

Vicky heard about the outbreak that devastated Ninth Street. It was a damn shame and she couldn't believe that they still hadn't managed to find a cure or preventative measure for the viral magic outbreaks besides quarantine.
Right now she was making her way toward the government complex training wing. They wanted her to talk with some of the Level IV witchings about their latest arrival, check up to see that they were acclimating properly.
The Carolinian government wasn't Vicky's first choice of an employer, but in times like these, you do what you have to. It was a bit awkward as she was hired more for her discretion than her expertise in the subject (she never did finish her degree), but if evaluations of witching government soldiers was where her bread came from, she'd do what she had to do.
Going through multiple security measures, she finally reached the room where she'd be evaluating the kids. Settling down, Noam–the latest arrival–was quickly ushered in. Pulling her notebook out, Vicky examined the new kid.
VICKY: Noam–I know you've been through a lot recently, especially with your father's death, but how are you dealing with being a witching? All of these changes must be really shocking for you.
NOAM: It's…different. I never thought this would be my life, I guess. I'm not the kind of person who graduates Level IV, you know? I don't really belong here. My test scores prove that. I still don't know why Minister Lehrer stepped in and offered private lessons to help catch me up. Seems like…well, it seems like a waste of his time.
Noam looked restless, and Vicky took note of this too.
VICKY: And what about the other Level IV kids? How are you getting along with them so far?
NOAM: They're fine. Bethany's pretty nice–she's really into medical stuff, but she's also pretty young. I think she's fourteen? Taye has some weird obsession with red candy and he's some kind of math genius. Ames is cool. As in, probably too cool for me. And she's best friends with Dara. So.
Dara was the other one who also had private lessons with Lehrer. Interesting. He was definitely one of the more special cases, and Vicky needed to reference some of her files.
VICKY: Alright, thank you Noam. Could you call Dara in now?
Noam nods stiffly and leaves his seat, opening the door and gesturing at someone in the waiting room. Vicky watches his rigid posture and makes a note of this as Dara enters the room.
Dara lounges in his chair like he has during all the past evaluations and stares right at Vicky with a nearly blank face. He unnerves her, but Vicky tries not to show it.
VICKY: It's good to see you again. How have you been? Anything interesting happen?
Dara shrugs, so Vicky continues with her questioning.
VICKY: Anyways, I wanted to talk with you about the new kid–Noam, right? How would you say he's been adjusting so far?
DARA: I wouldn't know. Lehrer has him doing remedial algebra. How hard of an adjustment can that possibly be?
Vicky blinks and redirects the conversation. Dara obviously isn't going to comment on the topic.
VICKY: Alright, back to you. I know you and Calix Lehrer have a complicated relationship and we talked a little about this last session. Has anything happened recently? I sense an underlying hint of resentment–
DARA: Is that so? I had no idea you were a psychologist now as well as a pencil-pusher.
VICKY: If that's what you want to call me, sure. Well, thanks for . . . the chat. Can you bring in Ames?
Dara stalks off, looking relieved to be done. The rest of the responses from the other students are pretty standard and they seem to be adjusting well enough to the new arrival.
Wrapping up her notes in longhand, Vicky snaps her notebook shut and exits to search for Lehrer to turn in her notes. With some directions from various guards, Vicky is able to reach his office–a trek she's made multiple times before, but can't seem to remember.
Knocking, she hears a gruff response and enters, fingers gripping the notebook tightly. Hesitantly, she talks to his imposing figure, which hasn't looked up.
VICKY: I have notes from today's meetings.
LEHRER: Fine. Just put them on the desk.
Vicky rips the sheets out with a yank and gingerly sets it down. Her voice quavers as she begins to ask a question–normally she leaves by now, but she's concerned.
VICKY: I wanted to ask–are you sure everything is okay with Dara? He seems a little . . . closed off.
Lehrer sets his pen down and finally looks at Vicky, steepling his fingers.
LEHRER: Dara is very busy with his training and curriculum work. I'm sure he was just eager to return to his work. (a pause–then Lehrer arches a brow) As am I.
VICKY: Oh. Alright.
She hurriedly exits. Vicky is never invited back to the government complex.

RIP Vicky. Somebody lost her job for being nosy . . .
I can't even be mad because I wrote that myself but like WASN'T THAT AWESOME AREN'T NOAM AND DARA THE MOODY BOYS OF THE CENTURY (and what is up with this Lehrer dude???)
I LOVE THIS BOOK SO MUCH. Hear all of my screams AHHH.
So yes. I hope you enjoyed this, because I had a lot of fun writing it (it was like writing fanfiction ahaha) and even more fun reading the final result! Don't forget to let Victoria know if you liked their post! You can find them on their social media below!
Also, don't forget to take a peek at some of the content warnings to check to make sure you're ready to read The Fever King! Find them here.
More About the Book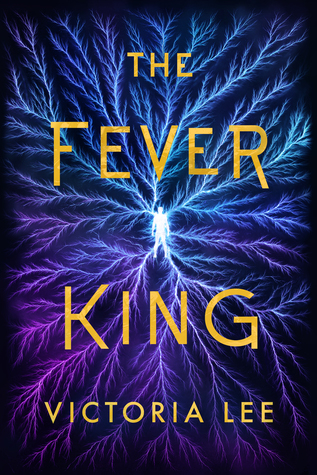 In the former United States, sixteen-year-old Noam Álvaro wakes up in a hospital bed, the sole survivor of the viral magic that killed his family and made him a technopath. His ability to control technology attracts the attention of the minister of defense and thrusts him into the magical elite of the nation of Carolinia.
The son of undocumented immigrants, Noam has spent his life fighting for the rights of refugees fleeing magical outbreaks—refugees Carolinia routinely deports with vicious efficiency. Sensing a way to make change, Noam accepts the minister's offer to teach him the science behind his magic, secretly planning to use it against the government. But then he meets the minister's son—cruel, dangerous, and achingly beautiful—and the way forward becomes less clear.
Caught between his purpose and his heart, Noam must decide who he can trust and how far he's willing to go in pursuit of the greater good.
Goodreads | Amazon | Barnes and Noble | Book Depository
More About the Author
Victoria Lee grew up in Durham, North Carolina, where they spent twelve ascetic years as a vegetarian before discovering spicy chicken wings are, in fact, a delicacy. They've been a state finalist competitive pianist, a hitchhiker, a pizza connoisseur, an EMT, an expat in China and Sweden, and a science doctoral student. They're also a bit of a snob about fancy whisky.
Victoria writes early in the morning, then spends the rest of the day trying to impress their border collie puppy and make their experiments work.
They live in Pennsylvania.
Website | Twitter | Instagram | Tumblr | Facebook | Goodreads | Newsletter
Some Cool Things Said:
"[A] standout. Diverse characters, frank discussions about sexual and mental abuse, and reasonably plausible science-based magic elevate this above many dystopian peers." —Kirkus Reviews
'My kind of sci-fi: sharp, smart and political, with something important to say about our own world. Lee offers a fresh twist on magic that makes The Fever King feel totally new and unique. I was absorbed in Noam's world from the first page – and was dreading leaving it by the last.' — Natasha Ngan, NYT bestselling author of Girls of Paper and Fire
'Brutal yet thoughtful, The Fever King is a nuanced, unblinking study of the complex structures of power in a world where magic itself is a disease that few survive. Lee's science-based, gritty world and sky-high stakes meld perfectly with the timely political intrigue of this book's twisting, devastating plot.' —Emily Suvada, author of This Mortal Coil
Giveaway!
UMM YES I can't even be jealous of everyone entering this giveaway because I ALREADY HAVE MY OWN COPY SAY WHAT (aka how I got all these nice bookstagrams).
BUT if you have not and you now have the relentless dying itch and need to read, fear not! Because you can enter the giveaway through the Rafflecopter button below where one lucky winner will receive a finished copy of The Fever King! (Open where Book Depository ships!)
Or, if you happen to not want to risk it (I obviously did not put my faith in luck), you can buy your own copy with one of the buy links in the "More About the Book" section! Good luck!
OMG The Fever King! Talk to me: thoughts? Excitement? It's finally out!!!