3 stars
I've never read a book by either Cast, so I jumped into reading The Dysasters with little background on the authorial style (although, my mother has read one of their past series and enjoyed it!).
I thought the concept was cool–I always dig a story about superpowered teens, and the execution was pretty good. But a few things just didn't entirely click with me.
First–the positives. The entire narrative speeds through pretty quickly–the action scenes flow decently well, the dialogue tags aren't clunky. It's readable, and that's one of this book's greatest triumphs. You can just kind of pick it up and read it and not feel like you need to put 110% effort into reading it, which instantly makes the reading experience more enjoyable.
And again, I enjoy superpower stories, so reading the intricacies of how the nature-based powers worked was fun! Elemental magic is always cool, and there are some scenes that let elemental magic really shine.
Plus, something I was not expecting at all was the very cool illustrations OMG. I was pleasantly surprised to find out that The Dysasters was illustrated in this line-drawing style (it could be different in the finished copies–I'm not certain). Alas, I was unable to locate the artist credit on the book, but if I do find it, I'll definitely add their info here, because I found the art to be very cool.
It helped the reader visualize some scenes anymore–kind of like looking at fan art while reading the book. I liked it. It was fun and the art was very comic-style with details, which I enjoy.
(I do want to note that some of the faces looked a bit off/silly, but I attributed that to the style vs. faults.)
But, I guess what brought me down from my excitement of illustrations (!!!) was that the characters didn't really look 18 or like teenagers. I mean, kind of, but the art style really kind of aged them up, even if that wasn't the intention.
Even outside of the illustrations, the characters honestly just felt like adults to me. They're both like, fully formed mature adults in teen bodies dealing with a crisis, so although I enjoyed the YA writing style, I felt no actual connection to the characters.
I think the Casts could have rounded this out by giving the characters greater, more personal struggles that weren't necessarily caused by outside forces, but I feel like we didn't really get that, unfortunately.
But honestly, this phenomenon of adults in teen bodies doesn't even faze me anymore and I feel like most YA readers won't notice or care. So take it all with a grain of salt.
The entire story has a bit of a 2008 YA vibe to it. It's hard for me to describe, but just elements to the story (a bit of a vague solution to the plot, the romance, the banter + writing style) felt kind of old-school YA from the Twilight days. Some people like this, some people don't. I ended up being mostly apathetic to this, although I would say that I kind of wish this was written in a more 2019 style especially with regards to the romance.
I mean, it wasn't like the romance was bad. I just wasn't into it. Tate was a decent love interest–"not your typical jock"–and Foster was your classic FMC. It feels a bit . . . done before? But if you like these types of characters and the romance they have (I did not feel the chemistry), then I feel like you'll enjoy this.
Ultimately, what I feel like is holding this book back is just that it reads like it belongs in YA from the late 2000s, early 2010s. It's not necessarily in line with the style of 2019, and I think it could have used some freshening up in both prose style and tropes to make it more applicable to the modern YA reader.
If you liked YA from the Twilight time, but don't want vampires–you want superpowers instead–definitely check this out! I think you'll like The Dysasters, if this is the case!
content warnings: animal abuse (not condoned) & transphobia (not condoned)
More About the Book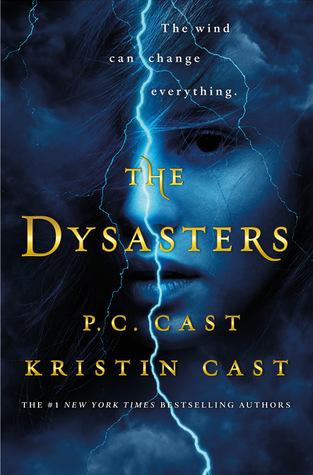 THE DYSASTERS by P.C. Cast and Kristin Cast
Wednesday Books
On Sale: February 26, 2019
Available in Hardcover, eBook, and Audio
Adoptive daughter of a gifted scientist, Foster Stewart doesn't live a "normal" life, (not that she'd want to). But controlling cloud formations and seeing airwaves aren't things most eighteen year olds can do.
Small town star quarterback and quintessential dreamy boy next door, Tate "Nighthawk" Taylor has never thought much about his extra abilities. Sure, his night vision comes in handy during games, but who wouldn't want that extra edge?
From the moment Foster and Tate collide, their worlds spiral and a deadly tornado forces them to work together, fully awakening their not-so-natural ability – the power to control air.
As they each deal with the tragic loss of loved ones, they're caught by another devastating blow – they are the first in a group of teens genetically manipulated before birth to bond with the elements, and worse… they're being hunted.
Now, Foster and Tate must fight to control their abilities as they learn of their past, how they came to be, who's following them, and what tomorrow will bring… more DYSASTERS?
Amazon | Audible | Barnes & Noble | Book Depository | Books-A-Million | Goodreads | Google Play | iBooks | IndieBound | Kobo
More About the Authors
#1 New York Times & #1 USA Today bestselling author P.C. Cast was born in the Midwest, and, after her tour in the USAF, she taught high school for 15 years before retiring to write full time. PC is a member of the Oklahoma Writers Hall of Fame. Her novels have been awarded the prestigious: Oklahoma Book Award, YALSA Quick Pick for Reluctant Readers, Romantic Times Reviewers' Choice Award, Booksellers' Best, and many, many more. Ms. Cast is an experienced teacher and talented speaker who lives in Oregon near her fabulous daughter, her adorable pack of dogs, her crazy Maine Coon, and a bunch of horses. 
Facebook | Twitter | Instagram

Kristin Cast is a #1 New York Times and #1 USA Today bestselling author who teams with her mother to write the wildly successful HOUSE OF NIGHT series. She has editorial credits, a thriving t-shirt line, and a passion for all things paranormal. When away from her writing desk, Kristin loves going on adventures with her friends, family, and significant other, playing with her dogs (Grace Kelly and Hobbs the Tiny Dragon), and is currently obsessed with her baby.
Giveaway! (20 copies!)
Want to try your luck at winning a copy of P.C. and Kristin Cast's The Dysasters?! Enter by clicking the photograph below (or this link) where 20 winners will received a hardcover copy of The Dysasters! (US & CA only)
Exciting, right?! Almost as excited as the electrons during lightning . . . (P.S. you can guarantee yourself a copy using the buy links in the "More About the Book" section!)
Have you read any of Cast & Cast's works before?