This is such a hefty post, so have Goodreads ready for the 6000+ words that are ahead of you and are filled with the YA (and a bonus NA+A) romance reading recommendations!
For Valentine's Day, I have all of these awesome romances I'm screaming about, and I hope you enjoy the recommendations! I wrote a paragraph about each one, so you can get all the tea on these sweet stories!
I don't ask this often, but I put a lot of effort into this post, so it'd be really cool if you let me know if the effort was worth it! 👀 These posts are monsters to write, but I wanted to bring the romance on the blog for the pinkest holiday of the year, so let me know in the comments or on social media if you liked reading!
The Goodreads links are in the titles (no joke this alone took me 2 hours to do) and they all should automatically open in new tabs, so don't worry about right clicking! For simplification purposes, I usually only talked about one novel by an author and shouted out other ones in the paragraph, so make sure you check for those mini side recs!
Anyways, enjoy! I'm going to take a nap now *laugh sob*
This section is all about one of my favorite tropes of all time (I could read 100 variations of this trope and not get bored): Cinderella, royalty, and "famous people" stories! I just love these tropes so much and the idea of them makes me all happy and gooey inside.
Geekerella by Ashley Poston – One of my all time favorites, Geekerella was just so cute and fun, I read it all in one night and could not put it down! If you're looking for one of the sweetest, Cinderella PLUS famous person (and allll the geekiness) stories ever, I definitely recommend this! Plus, The Princess and the Fangirl, a companion novel, is coming this year, which I'm very excited for!
Sometime After Midnight by L. Phillips – Sometime After Midnight is soooo underrated, and I think so many more people need to take a moment and check it out because it's adorable? It's m/m and it features these two boys who fall in love Cinderella style, but it also mixes in ANOTHER trope with the fact that one of the love interests is the son of a famous recording company, so you know this is spicy! I definitely recommend this!
Cinder & Ella by Kelly Oram – This is the third Cinderella rec I have, and although I think it's just not as good or fresh as the other two recs, it is really entertaining and I am literal trash for Hollywood Cinderella romances don't @ me. But yeah! This series is very spicy and I'd recommend in a mood for something more 2010ish.
The Royals by Rachel Hawkins (now titled Prince Charming) – The Royals was definitely really cute and I loved reading about the princes and royalty and definitely am excited for the spinoff to this! (And I love the cover change!) I think this was sweet and fluffy and not so angsty that I felt stressed reading it, so in the end it was a really nice and entertaining read!
Love Scene, Take Two by Alex Evansley – More Hollywood–but this time it's about a young adult author whose book is being adapted to a movie, and the author ends up falling in love with the star of her movie! I really enjoy Evansley's writing style and hope we get a lot more from her, because her books are always a delight to read, even when they were in their unfinished versions on Wattpad.
Queens of Geek by Jen Marie Wilde – Queens of Geek is the geeky convention romance of my dreams. Not only do we get queer and mental health rep, but the three main characters are all so awesome and I can't recommend this book enough! I definitely suggest you pick this up if you haven't already, and I'm really excited to read Wilde's The Brightsiders!
This Is What Happy Looks Like by Jennifer E. Smith – So, I don't actually like this book much anymore? But I LOVED it a lot when I was in 7th grade (so, 12 years old) so if there are any younger readers who are out there, I think you should defintiely try and pick this up! It's cute and sweet and even though my tastes have changed and I find this to be . . . not the greatest anymore, I really enjoyed it back then so I appreciate it for being there in that time of my life!
Say You'll Remember Me by Katie McGarry – Maybe not famous famous, but the daughter of a governor has a lot of influence, still! And Say You'll Remember Me is such an entertaining romance (also the cover is PURPLE!) and it was a lot of fun to read and speed through last year!
Just for Clicks by Kara McDowell – I just finished this last weekend, and the daughters of a mommy blogger end up having a lot more influence and fame–which is a large part of what Just for Clicks is about! The main character has to navigate the romance while also dealing with the negative effects of her mother's job, and I think anyone who is interested in the concept should pick this up!
This section is all about books that feature love interests who have actually known each other for a while–even if they may not have liked each other! From boys next door to enemies to best friends, these are all books about people who have grown up near each other!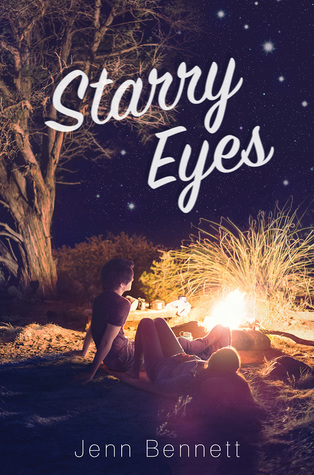 Starry Eyes by Jenn Bennett – This is one of my favorite enemies-to-lovers contemporary romances EVER and I just love Bennett's writing! The story is so fun and unique and the main characters end up getting lost in the wild together (in a fun, not that scary way) and the chemistry is off the charts that I was swooning the whole time! I definitely recommend Alex Approximately as well, and am excited to dive into Serious Moonlight!
This Is Kind of An Epic Love Story by Kheryn Callendar – I finished this a couple days ago and I just LOVE THIS BOOK AND THE CHARACTERS! Nate is the best and the romance (they used to be childhood best friends) is wonderful and it's #OwnVoices and I just want to hug Nate and Oliver to my chest because they're adorable ahhhh. This is so underrated, but deserves a bunch of hype so READ IT
To All the Boys I've Loved Before by Jenny Han – This book is basically a classic by now, and I think everyone knows how much I love this series! I've read it twice, and each time I read all three books in one day, so you know this story of Lara Jean and Peter just sucks you in (swoon!). I am desperate for more Jenny Han books in the future oh my gosh.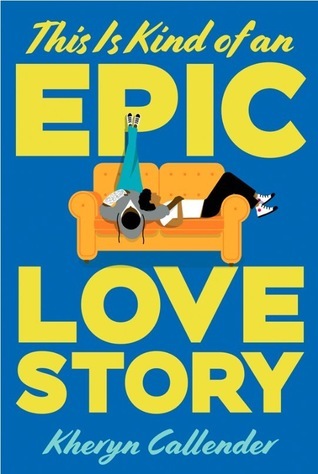 Lola and the Boy Next Door by Stephanie Perkins – Lola and the Boy Next Door is the only Stephanie Perkins book I've read because it's the only one with a summary that really calls to me, but I think Lola and Cricket (the whole boy-next-door trope is ahhh) are adorable and I definitely enjoyed this book a lot more than I expected!
Simon vs. the Homo Sapiens Agenda by Becky Albertalli – Another YA classic, Simon vs. is just so adorable and without spoiling who the mysterious Blue is (but if you don't know who Blue is, you must be living under a rock or something), this book is super sweet and Simon has one of my most favorite friend groups ever!
A Taxonomy of Love by Rachael Allen – I didn't expect to love this so much, but it is one of my favorite reads and I love how it follows Spencer (who has Tourette's syndrome) and him falling in love with Hope since seventh grade to high school, and it's just so much fun and way sweeter than I expected so I definitely recommend! (Also, yay neurodiversity!)
AHHH! These are all books that either take place (partially or fully) in another country, or have a significant influence about characters living in other countries that make these books part of the list.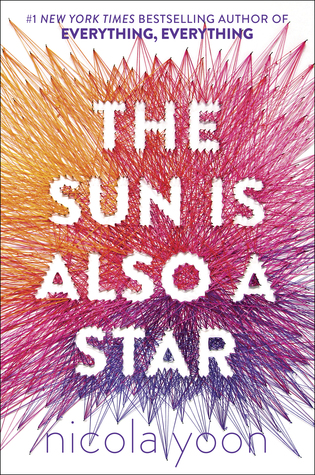 The Sun Is Also a Star by Nicola Yoon – The Sun Is Also a Star is the only book on this list that doesn't take place in another country, but I think with the female main character needing to go back to Jamaica, I think other countries play a big enough role in the plot that I can categorize it here! And oh my gosh I am SO excited, I loved reading this book AND WE GET A MOVIE SOON AHHH.
Love à la Mode by Stephanie Kate Strohm – Taking place in a baking school in France, this book is so sweet and cute and very lighthearted and fluffy, feat. lots of delicious food that made my stomach rumble as I read! I think Stephanie Kate Strohm writes some very fun and light books, so definitely check this out!
Love & Gelato by Jenna Evans Welch – Love & Gelato is one of the few YA books I read before joining the community, and it's so fun, taking place in a summer in Italy! I love all the gelato in this book, and the romance was very sweet.
29 Dates by Melissa de la Cruz – I'm actually in the middle of 29 Dates right now, and even though most of the book takes place in a US prep school, it starts out with the main character in Korea, and the culture shock is very interesting to read! I'm enjoying it so far (even if I'm not sure who I ship yet)!
The Summer of Us by Cecilia Vinesse – This book was a lot of fun when I read it, and it's about these teens on their last hurrah before college, touring Europe and going through all sorts of drama! If you like a little bit of spice as a friend group potentially fractures and a lot of touring Europe, definitely check this one out!
In a Perfect World by Trish Doller – This one takes place in Egypt (so yes, very fun and different) and I really enjoyed the romance in it? It's pretty short, but the main character falls in love with this one boy, but spicy things happen and being together might not be in the cards for them . . .
Summer romances are what I totally wish I had. If only I actually left my house, lol. But these are cute and (hopefully) not fleeting and something about summer can make a romance all the more magical!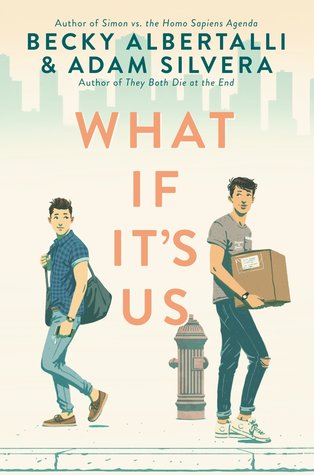 When Dimple Met Rishi by Sandhya Menon – I loved When Dimple Met Rishi so much–it totally was one of the books that made me hungry for more awesome romances, and it's one of my absolute favorites! Plus, it has one of the most adorable meet cutes ever (as seen by the back cover & the iconic iced tea spill) so if you haven't already, I definitely suggest you check it out!
Stay Sweet by Siobhan Vivian – Ahhh, one of my favorite parts of this book is the ICE CREAM. So much ice cream, I LOVE. Over the course of the summer, Stay Sweet is both sweet as well as heartwarming as Amelia tries to keep Meade Creamery afloat, all while falling in love . . .
What If It's Us by Becky Albertalli & Adam Silvera – Of course, who could have a summertime list without What If It's Us and the epicness that is an Adam and Becky crossover!? An adorable meet cute, all the NYC feels, and HAMILTON, this book was very sweet and adorable. But be warned, Adam Silvera still had his influences (brb crying)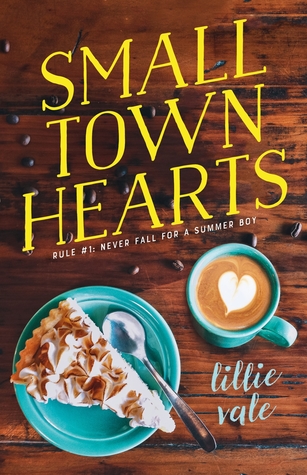 The Way You Make Me Feel by Maurene Goo – I love Maurene Goo's books (so excited for Somewhere Only We Know soon!) and The Way You Make Me Feel is probably my favorite book of hers (for now!)! I just love Clara and her witty brashness as well as the Korean Brazilian food truck and Hamlet (the love interest) and well, every thing about this book! Plus, Goo's other books are great as well–I still really love I Believe In a Thing Called Love!
Small Town Hearts by Lillie Vale – I've read a couple drafts of Small Town Hearts by now, and I'm really excited to start on the very final version after a very long wait! This book is just so much fun–the summery romance, the amazing bi protagonist, Babe, the Maine feels and cute coffee shops–and I definitely recommend you pick this up! Like, preorder it. Go.
High school romances are honestly what I would say are the most accurate depiction of teen romance. High school is honestly most of our lives (I know, we suck) and seeing romance happen here is definitely very very cute!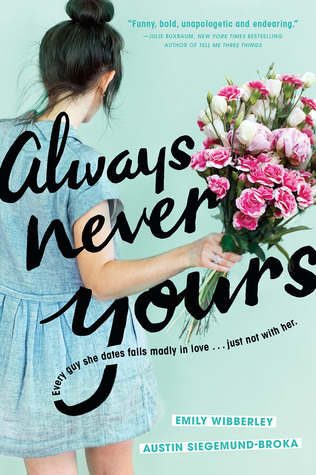 Always Never Yours by Emily Wibberley & Austin Siegemund-Broka – THIS BOOK! I love love love sex-positive romances and Shakespeare (okay, maybe I don't love Shakespeare that much, but still) and cute love interests and Always Never Yours did not fail to bring all of that along with so much more, so READ IT READ IT READ IT. Wibberley & Siegemund-Broka are also like, the cutest couple ever and I HAVE AN ARC of their next book which I took a peek of and then locked in a box so I wouldn't be tempted to read it before I should be T_T
Foolish Hearts by Emma Mills – Emma Mills books are so easy to devour, and I really enjoyed Foolish Hearts and its very "high school" feel! I appreciated that a lot and definitely enjoyed reading, and I'm also very excited to read Famous in a Small Town soon, because I have it checked out from the library!
Match Me If You Can by Tiana Smith – This book was so adorable with its journalist main character and a love triangle that was actually done well and all the swoony love interests (Logan, not Vince, lol)! It's short and sweet and a lot of fun, and I definitely recommend if you're looking for something in this genre!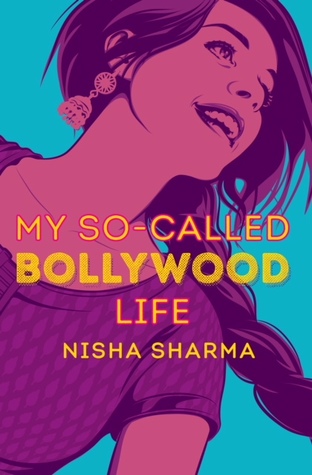 The Love Letters of Abelard and Lily by Laura Creedle – This book was so adorable, and partly inspired by the love letters between Abelard and Heloise (the former a monk and the latter his student and they ended up having this affair but let's not talk about that). It features two neurodivergent teens (ADHD and Asperger's, I believe) and was really sweet and honestly made me tear up! So I definitely recommend!
My So-Called Bollywood Life by Nisha Sharma – This book is so underrated but very cute! Winnie is such a fun protagonist and an aspiring filmmaker and I thought the romance and Winnie's journey were very sweet and cute, and I definitely recommend everyone to pick this up! I feel like it's so hidden, but I hope Sharma gets more exposure because I believe she's writing an adult romance novel . . .
A Very Large Expanse of Sea by Tahereh Mafi – I didn't realize this book would be so romance-oriented, but I can't say I was disappointed! I know Mafi's writing isn't for everyone, but I loved the romance between Shirin and Ocean and thought this book was very sweet and fun and honestly really entertaining! Somehow I just got sucked into the story, so I applaud Mafi for doing that!
COLLEGE! YA college romance is few and far between, but here are a few that I definitely found sweet and fun and YA even though the protagonists are at college (as opposed to the NA college romance feat. sexy times).
Emergency Contact by Mary H.K. Choi – I admit that I wasn't the biggest fan of this book (the style just wasn't for me) but it was a pretty decent read and I liked the story (and the fact that it's set in college ahhh). I know some people love it, and I think that if you like the premise (more texting based romance, very low key), then you might want to try this out! Also, Penny is my fave.
Let's Talk About Love by Claire Kann – YAY FOR ACE REP. I have ~secret things~ pertaining to ace rep coming hopefully later this week, but to tide you over, let's talk about Let's Talk About Love! This is another college YA book and I loved the romance between Alice and Takumi, part of it taking place in a LIBRARY, and found them to be so sweet and a very cute couple!
Fangirl by Rainbow Rowell – I know Rainbow Rowell has been a tad problematic in the past, but I love Cath and Levi and this book still holds the record for the book I've reread the most times. I think seeing that slice of college was really nice and I enjoyed Cath and related to her a lot, so I'm glad Rainbow Rowell gave this to us (and it has now evolved into its own thing, in a way).
This section is dedicated to books with very niche and cute settings that feel very distinct to me! From weddings to bookstores to that Texas flair, these are all books I've enjoyed!
Save the Date by Morgan Matson – Weddings! Chaos! Dogs! I so enjoyed Save the Date and it's probably my fave Morgan Matson book (admittedly, I've only read two). I think the wedding planning was so much fun and actually really enjoyed how there was way more family going on than romance, but the romance was still a defining feature. If you like that Morgan Matson chaos, I definitely suggest you pick this up!
Once and For All by Sarah Dessen – This is also another wedding-setting book, and also another book from a prolific author who I've only read two books from. But nevertheless, Once and For All was really sweet and I adore the cover and obviously you should pick it up!!!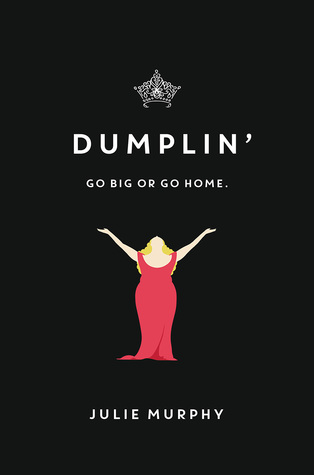 Words In Deep Blue by Cath Crowley – IT'S A BOOKSTORE ROMANCE SAY WHAT. Seriously. I just loved this book so much, and the setting was so sweet and fun and added a bunch to the story! I totally suggest you pick this up if you want something romantic and a little bit different than normal . . .
Dumplin' by Julie Murphy – Maybe it's just because I'm not Texan, but the Texas flair is very strong in Dumplin and I think that Willowdean is amazing and wonderful and she and Bo are so cute and I NEED TO WATCH THE MOVIE ASAP. Whew. Deep breaths. This was just so sweet and fun and I love love love the fat girl rep and I want to shove this book at everyone so READ IT
I admit that I'm bad a reading anthologies because I usually stop somewhere in the middle and never read to the end, but I am VERY excited to read some of these romance anthologies! They sound awesome, so if you're looking for a cute short story for Valentine's Day, well, here's your chance!
Hungry Hearts edited by Elsie Chapman and Caroline Tung Richmond – FOOD. DIVERSITY. ROMANCE. Seriously I'm dyinnnnng to read Hungry Hearts and CW and I are arranging a blog tour for it and we're just so??? excited??? I am so ready for all the amazing stories feat. food and romance and so much happy feels T_T GO ADD THIS TO YOUR TBR AHH
Three Sides of a Heart edited by Natalie C. Parker – This is for all of you love triangle fans out there–this is an anthology dedicated to love triangles and it sounds very cute and romantic, although I don't know if I could handle the angst of a love triangle, ahahah!
Meet Cute edited by Jennifer L. Armentrout – I do love meet cutes, and anthology all about the cutest meet cutes is just ADORABLE! I actually read a few of the stories in this when I had the chance to pick it up at the library, and it was really adorable and I enjoyed it a lot! So, I definitely recommend (from what I read so far!)
Summer Days and Summer Nights edited by Stephanie Perkins – There are actually two anthologies edited by Stephanie Perkins about romance–this one and the winter one! And both of them sound awesome; I only read one of the stories out of the two of them combined, but generally it's hard to find anthologies that are horrible, so definitely check this out!
Color Outside the Lines edited by Sangu Mandanna – This romance anthology about interracial relationships sounds so adorable and CW has been RAVING about it and I just can't wait to read it and the awesome character dynamics? So yeah! Very excited and the authors in the anthology are all awesome and I can't wait to read their stories!
I'm pretty bad at picking out romances that are non-contemporary, mostly because the plot & non-contemporary-ness is distracting enough that it feels like romance isn't the main focus. Nevertheless, I have a quick list of some non-contemporary books (sci-fi, fantasy, and one historical) that feel decently romance-centric for me to add to this list! Enjoy!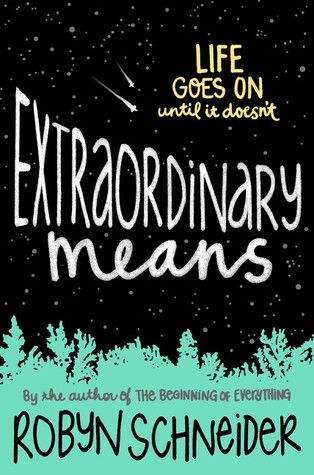 Extraordinary Means by Robyn Schneider – This is my favorite Robyn Schneider book, although all of her books are great. Extraordinary Means plays both with romance (no promises on a HEA, though) and the way the story teases with an almost sci-fi illness is really fun and interesting. I really enjoyed The Beginning of Everything as well though, and Invisible Ghosts is my second favorite of her books!
These Broken Stars by Amie Kaufman and Meagan Spooner – Although there is a lot of plot going on, I think the romance is a really defining feature of this book and I wasn't opposed to the romanticness of this book! Honestly, I'd call it a sci-fi romance rather than a romantic sci-fi, because I feel like the romance is just a major part of this book (and I like it that way in this book) so I def recommend if you're interested in this genre!
Hunted by Meagan Spooner – For a Beauty and the Beast retelling, this is obviously going to feature a decent amount of romance, and this is one of the Beauty and the Beast retellings that I don't not like! I think the romance was entertaining, and I'm really excited for Sherwood in a few months!
Shatter Me by Tahereh Mafi – Although there are a LOT of other things going on in the Shatter Me series, I think the romance between Juliet and [redacted] is a big defining feature (and v important to the fandom ahaha) and I definitely suggest you pick this up! (Although it gets a little explicit at times, though not SJM level, so be warned!)
The Selection by Kiera Cass – Even though I'm not a fan of this series, I do like The Bachelor inspiration (Eva, if you read this know this is because of you) and that's a big part of the plot, despite its fantasy dystopia-ishness. And the romance is a big part of the series, so if that sounds like your jam and you haven't read this, well, what are you waiting for?
The Raging Ones by Becca & Krista Ritchie – THIS BOOK! It was so entertaining and I definitely suggest you pick this up if you like sci-fantasy with a healthy dash of romance! It's m/m but they have this unique mind meld (not romantic though) relationship with a girl, and I found this to be so entertaining as well as romantic, so I definitely think you should check it out if you like romantic sci-fantasy!
Like a Love Story by Abdi Nazemian – Okay, so I admit that I don't know a lot about this, but I heard that it's about queer teens and centers around three teens in an sprawling story that features friendship and love in the 1980s, so I'm really excited! It's ownvoices for Iranian rep and I think (don't quote me, though) queer rep, as well!
I haven't read any of the books on this list, but can I just point out that there are SO MANY books out there (in just YA–that's not even talking about adult fiction) with the title that starts with "Love and Other"? Sometimes it uses an ampersand, but STILL! So many!
Love and Other Perishable Items by Laura Buzo – A coming of age love story about a 15 year old (!!!) that seems really cute with two juxtaposed timelines and commentary about age gaps (I hope). I've heard that it was popular back in the 2012ish time, so fingers crossed!
Love and Other Foreign Words by Erin McCahan – This seems like a light and really cute romance feat. a lot of different types of love (friendship love! family love!) and so it's been on my TBR for a long time.
Love & Other Carnivorous Plants by Florence Gonsalves – I'm not actually sure if this has a HEA, so if that's what you're looking for, it might be helpful to look into the reviews! Because although this looks AWESOME (college YA! queer rep!), it also potentially looks a little sad since Danny is drifting apart from her best friend and struggling through a tragedy.
Love and Other Train Wrecks by Leah Konen – This sounds really cute because I adore 24 hour romances and this one features train rides (which, according to my grandmother, have notoriously long waits if they're stopped) and two teens meeting in a train during a snow storm, so I'm EXCITED!!!
Love and Other Unknown Variables by Shannon Lee Alexander – Reading about kids who think they have their entire life planned but then somehow mess up the entire plan is just one of my favorite things ever? Maybe I'm just a horrible person to relish in their pain, but it's taught me a lot to not be too unmoving about my goals. And this book is about an MIT bound boy who ends up getting into a sticky situation feat. love!
Love and Other Theories by Alexis Bass – New boys! Girls trying not to fall in love but ultimately (?) do! This sounds really cute and I PROMISE IT'S THE LAST ONE ON THE LIST (though, Goodreads say way more "Love and Other" books exist…). I like the idea of a female protagonist staying unattached, not just male ones!
I have three (!) upcoming book sections, just so you know how long you may have to wait to read these incredible-sounding books. This first section (soon) is for upcoming books that come out before the end of June 2019 and I am sooo excited to get my hands on them!
Love from A to Z by S.K. Ali – Okay, you can totally be jealous of me because I HAVE AN ARC I AM SO READY. This sounds like such a cute novel–an airport meet cute? Umm, YES. And I loved reading Saints and Misfits, so I'm very excited for a new S.K. Ali book to be coming out! EEP!
Symptoms of Heartbreak by Sona Charaipotra – I admit that I am The Worst and have never read any Sona Charaipotra books yet, but she is wonderful and I bet this book will be awesome as well! Saira is a medical prodigy who is now working as a doctor and she falls for her teen patient and it sounds ADORABLE GIVE IT TO MEEEE
I Love You So Mochi by Sarah Kuhn – Have I ever mentioned just how much I LOVE mochi? I love it. Red bean is the best. (Followed closely by chocolate ice cream.) And food books are amazing and this sounds SO adorable and I am very very ready for I Love You So Mochi to come out!!! (Also, the pun!!!)
Fake It Till You Break It by Jenn P. Nguyen – We don't get a lot of Vietnamese rep in YA, but this book has me sooo excited for all the cuteness to come! This is the enemies-to-lover story of my dreams and Mia and Jake hatch a plan to get their parents off their backs, but as you expect . . . *wink wink*
The Beauty of the Moment by Tanaz Bhathena – I have this ARC and am very very close to the time when I get to read it, and I am so so ready for the new girl/bad boy trope! Even though I got WAY too much of that on Wattpad, I'm really excited to read a fresh new version of it with POC characters (and more editing) and can't wait to see what Bhathena does with this!
You'd Be Mine by Erin Hahn – I've heard that this book is actually darker than you might expect (because country music is darker than you expect) and so I'm saving it for that very special moment whne my mind is open to anything (but will desire some romance and a HEA, at minimum). But I'm really excited for You'd Be Mine and have been hyping it up n my head for quite a while now!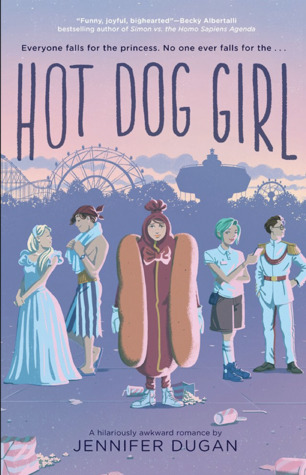 Hot Dog Girl by Jennifer Dugan – I admit that I am the worst buddy reading buddy and almost caved and devoured my whole ARC, but I'm waiting until exactly February 20th so I can dive in and read this with Lili! I'm so so so excited for all the awkward hot-dog-suit feels and romance and bi girls and just ALL THE SCREAMS AHHH
Don't Date Rosa Santos by Nina Moreno – This book sounds amazing because not only do we get a Cuban MC in Miami, but we also get falling in love and curses and all the amazingness Moreno has in store for us. I am so excited and I can't wait to read about Rosa and her family.
Tell Me How You Really Feel by Aminah Mae Safi – My hands have been itching to open up this ARC ever since it arrived, but we get f/f rep (AND LOOK AT THAT COVER) with an enemies-to-lover high school romance? I just–the summary sounds so awesome I want to cry Sana and Rachel sound so awesome and I ship them already.
Field Notes on Love by Jennifer E. Smith – This book sounds soooo cute! I love these sort of sweet romances and hopefully I enjoy Jennifer E. Smith's newer works! I like light, sweet romances a lot, so I'm hoping this is the fluffy sort of novel I'm hoping to read!
This Is Not a Love Scene by S.C. Meagle – I'm actually in the middle of reading this right now (I fell prey to the temptation) and it's about this aspiring filmmaker, Maeve, with muscular dystrophy and I'm enjoying it so far! I don't actually know how much I like the romance (ngl, I don't like the love interest), but I think Maeve is cool! (And it's #OwnVoices!)
I Wanna Be Where You Are by Kristina Forest – I am sooo excited for I Wanna Be Where You Are and can't wait to read about Chloe going on a road trip to apply to the dance conservatory she's been dreaming of! And it sounds so exciting when her neighbor Eli and his dog Geezer join the ride, so I'm hoping for all the swoons with this novel! (Also, yay for black joy novels!)
This second section (soonish) is all about books that are coming in the second, later, half of 2019! So you do have to a wait a while, but not as long as section three . . .
Truly Madly Royally by Debbie Rigaud – This book sounds sooo adorable, just from the cover! Not a lot of info has been released about it so far, but what I've seen (#OwnVoices black rep, PRINCES, royal weddings, romance-y cuteness), I'm so so excited to read Truly Madly Royally this summer! Sign. Me. Up.
Our Wayward Fate by Gloria Chao (formerly: Misaligned) – I loved reading Chao's American Panda, but I'm really really excited to read her upcoming contemporary romance feat. Taiwanese family in a midwestern town! And it's also supposed to be "weepingly funny" and so so excited! Plus, there's this underlying thread of mystery about family secrets and everything about this book just sounds amazing I CAN'T WAIT!
Full Disclosure by Camryn Garrett – First love! Queer black teens! Please applaud! Camryn is such an amazing person and I'm so so excited to read her book later this year! Seriously, it feels like it's been forever just waiting. And I'm very excited for all the realistic feels and first love stories.
Frankly in Love by David Yoon – You may know David Yoon as the husband of Nicola Yoon, but he has his own romancne novel about a Korean American teen coming out and I'm so so excited to read it! The cover reveal happened really recently and this book sounds so awesome both in the romance and fake-dating trope (cOUGH) and the way it deconstructs Korean parent expectations!
WHY ARE THESE BOOKS SO FAR AWAY it physically hurts me that I have to wait till 20-freaking-20 to read these, but whatever it's fine I'm fine.
A Pho Love Story by Loan Le – Another Vietnamese-American story about two teens who fall in love but their families have a feud about competing restaurants and like . . .YES GIVE IT TO MEEEE I AM SO EXCITED
Mad, Bad, and Dangerous to Know by Samira Ahmed – Samira Ahmed has written some AMAZING books so far, but I have to admit that I'm really excited for her romantic novel about a Muslim teen falling in love with a boy in France and it sounds sooo amazing? I am ready for Ahmed to kill us all with more awesome books.
Today Tonight Tomorrow by Rachel Lynn Solomon – Speaking of more contemporary authors who are tackling romance in 2020, Rachel Lynn Solomon has Today Tonight Tomorrow coming out in 2020 and I could not be more ready! I absolutely adore the sound of this 24 hour novel (that was pitched as The Hating Game meets Dazed & Confused) and I love the idea that they're falling in love on the last day of senior year like what T_T
What I Like About You by Marisa Kanter (previously titled To Be (Mis)Read)- Not only is this book about a teen book blogger (squee!), but it is also about the whole internet BFF is the same as the IRL boy she knows and it just sounds so cute and awesome and I NEED THIS AS SOON AS I CAN GET IT. Gosh. It sounds so cute and perfect for me.
Okay, I admit that there are a lot of backlist romance I haven't read–I didn't read a lot of YA before 2017, and I am generally not attracted to the covers of pre 2015 novels (oops), so finding backlist books are a little harder given the changing genres and my changing tastes. But here are some authors and books published before 2019 that I'm excited to read!
Katie Cotugno – Okay, so I know I own at least two Katie Cotugno books, I just haven't had the initiative to read them yet. I know. I'm the worst. I've heard really good things about her romances though (and I LOVE the new cover for Top Ten) so hopefully I'll finally give her books a try in 2019!
Kasie West – Kasie West is another YA romance icon, and I know her books are on so many peoples' favorites list! I just . . . where do I start, y'all?! She has so many books and everyone says you should start with different ones ashlkdfjslk. One day.
Diplomatic Immunity by Brodi Ashton – This actually sounds really cute and a lot like my jam? I like reading politician adjacent novels (think Say You'll Remember Me and The Unexpected Everything) so I'm actually kind of very excited to pick up Diplomatic Immunity ~one day~. It sounds really cute, looking at overprivileged students (too real) and cute ambassador's sons
Georgia Peaches and Other Forbidden Fruit by Jaye Robin Brown – I've been told so many amazing things about this book and I know I have to pick it up soon(ish). I mean, queer girls in the South and also that peach imagery [insert eye emojis]. It sounds like it has the perfect mix of angst and romance and I know everyone says it's amazing so like, SOON.

UPDATE 2/13/19: A few people have told me that readers have found the autism rep in this book to be bad, so I thought I would leave that note here as well!

Now A Major Motion Picture by Cori McCarthy – Remember how I said that I love fandom/famous people romances? Yeah, well Now a Major Motion Picture is at the very tippity top of this list! Gosh, I want to read this so badly and am still very sad that I wasn't approved on Edelweiss for it last year because I've struggled tracking down a copy at my library and bookstore. But no matter, because you bet I'm going to find a copy of this book and read it and I am SOOO ready.
Bonus! I know I said YA in the title, but look! I have some adult and new adult romance recs too, ones that I have read and loved or are on my TBR! Be warned–this isn't your less explicit YA romance, there are a few sexy times in here that may make you blush.
The Kiss Quotient by Helen Hoang – THIS IS MY FAVORITE ROMANCE EVER I LOVE HELEN HOANG SO MUCH. I mean, this book is spicy and it'll totally make you blush but Stella and Michael are awesome and Hoang writes really awesome chemistry between her characters? And The Bride Test (which I caved in and read) is also so awesome and so I'm just desperate for the Quan book now T_T
The Hating Game by Sally Thorne – The Hating Game has become like, the epitome of enemies-to-lovers in a contemporary setting, and I just loved this part of the story! The slow burn was so worth it as the characters took their sweet sweet time to realize that they actually do like each other, and it was so fun ahhh
Ayesha at Last by Uzma Jalaluddin – I finished this a week ago, and I loved reading Ayesha's story and some of the crazy drama going on with her life, particularly about how the guy she likes thinks she's a different woman . . . . This was really great though, and I thought the romance was sweet!
The Proposal by Jasmine Guillory – I enjoyed Guillory's The Wedding Date, but I have to say I loved The Proposal more as it was so much more streamliend and a lot more clear in its romance and story! Definitely recommend if you're looking for more diverse romances!
Natalie Tan's Book of Love & Fortune by Roselle Lim – I AM SO EXCITED FOR THIS BOOK!!! I have an ARC coming (cries) as well as MY OWN DUMPLING SQUISHY (squee) and I am so so ready for this romance debut feat. all the food and family and restaurant drama and I'm just so??? excited??? Someone hold me back or else I'm going to devour this the moment it arrives AHHH
Red, White and Royal Blue by Casey McQuiston – At this point I'm so tired of screaming about all the romances, but I can 100% muster up the energy to scream one last time about this queer rom com about the First Son Alex falling in love with Prince Henry (his longtime nemesis) and I'm just so excited? Casey McQuiston is awesome and I'm so excited for their book ahhhhhhhhhh
Whew! *wipes sweat off of forehead* Give me all your recommendations!!!