I love a good murder mystery, and Jodie Lynn Zdrok's Spectacle looks like it will not disappoint!
A mix of murder mystery, historical fiction, and a little bit of the supernatural mixed in, I'm so pumped for Spectacle to come out, and very excited to have Jodie Lynn Zdrok on the blog today!
Not only does Jodie talk all things Spectacle and its genre-mashing, amazing protagonist Nathalie, and tidbits from research, but we also have a very exciting giveaway!
So read on, and enjoy! I hope you love reading this interview as much as I did.
Hi Jodie! I'm so excited to have you on my blog today. Spectacle sounds like such a fun historical murder mystery with supernatural elements, and I can't wait to read! For readers unfamiliar with your debut, could you tell us a little bit about Spectacle and its story?
Thank you, Vicky. I'm delighted to be taking part!
Aaah…why is it so hard to be succinct about your own novel? Here we go: Spectacle is set in 1887 Paris and features Nathalie Baudin, who writes a daily newspaper column about the bodies on display the public morgue. She's only a few weeks into the job when she has a vision of a murder from the perspective of the killer. More murder and more visions follow, and the intensity of the mystery heightens as her understanding of the ability—and its source—deepen. There are plenty of secrets, distinctive 19th-century cultural details like pseudoscience and hypnotism, and a trip through some of Paris' darkest but most intriguing sites. (And pastry, and cats, and chats at cafés…we can't be all intensity all the time!)
Paris 1887 sounds so interesting, and I love reading historical fiction for the glimpse into the past it brings. And I'm always so curious about anything requiring research (and 1887 Paris is definitely research-worthy), but what was the most interesting/unique/crazy thing you learned while looking up info for Spectacle?
This was a lot of fun to research. I have a background in history, so that was my baseline, but I found a lot of great details as I dug deeper. The most interesting thing, for sure, is part of the premise: the notion that people went to the Paris morgue not simply to help identify bodies, but for entertainment, for something to do. People today seem horrified when I mention that, but I imagine Nathalie would be equally taken aback by some of the things we watch for fun.
Another interesting detail: Nathalie dresses as a boy to fit in at the newspaper, under the advice of her editor, because there are no other female reporters at Le Petit Journal. Back then, women in Paris needed official permission to dress in masculine clothing. That's why there's a passing reference to Nathalie getting permission from the Prefect of Police to wear "boy clothes."
To me, Spectacle sounds similar (but still unique in its own way) to mysteries like Stalking Jack the Ripper and Girl at the Grave! I love a good historical fiction + murder mystery mash up, especially if there's a bit of the supernatural mixed in. Do you think readers of the aforementioned books will enjoy Spectacle, and what elements do you feel all three share?
I actually haven't read any of the Stalking Jack the Ripper books or Girl at the Grave. I was in the midst of revisions with my agent when the SJTR deal was announced, and when it came out, we were already on submission. Once I embarked on Spectacle, from initial idea to first draft to line edits, I made a conscious decision not to read anything in the same vein. I just turned in a draft of the sequel, so that's still the case.
Now, that's me. I've already heard some readers and reviewers liken Spectacle to those books, as well as the Jackaby and Diviners books (which I also haven't read—on purpose—but will). I do think fans of any of those will enjoy Spectacle because, from what readers have said, it shares the atmospheric, darkly thrilling, and of course historical feel of those novels.
I love genre-mixing novels, and Spectacle seems like another amazing read mixing multiple traditional book genres to make something unique! How did you mix the historical, murder mystery, and supernatural elements together in Spectacle to make it read smoothly?
This was quite a challenge! In terms of how I conceived of the book, the first two pieces to come to me were the historical setting and the serial killer aspect (aside: the term "serial killer" didn't exist in the late 19th century). It still didn't feel like "enough"; somehow there was something missing, so I explored the idea of bringing in a supernatural element. I've always enjoyed the mood of spooky Victorian-era stories; I read a lot of 19th-century horror and supernatural short stories growing up.
Initially my focus was going to be more about Nathalie coming of age with this ability and less about the thriller and whodunit side of things, but that, too, evolved over time. In terms of bringing it all together, well…458 hours of agent and editor revisions later and, voilà! (Yes, I kept track of my time.) There's a lot of logic in a murder mystery/thriller, logic imposed by historical necessities (e.g., how people got around, communicated, solved murder cases, etc.), and the world-building, parameter-setting logic of the magical component (which, without spoiling anything, is very much rooted in the era). Once all that logic was in place, I tapped into the creative, artful side of novel-writing to breathe life into it and smooth it all out.
Nathalie sounds like such an interesting protagonist–it takes a lot of guts (no pun intended) to summarize morgue findings. What would you say is Nathalie's strongest trait, and how would you describe the way she handles herself in difficult situations?
Good question! Nathalie's strongest trait is her tenacity, combined with her intelligence and curiosity. She's not easily intimidated, is confident (sometimes to a fault), and remains level-headed under duress. Her emotions catch up with her at other times and sometimes in other ways, but in the moment, she's able to think quickly and rationally. She asks a lot of questions of both herself and the world around her, so this equips her with knowledge and perspective when it comes to problem-solving. (That doesn't mean she always gets it right.)
Oh my gosh–weren't those tidbits about the research so cool?! And I can't wait to meet Nathalie when I read; she sounds awesome!
(I know I definitely wouldn't be able to handle what she does.)
I'm absolutely itching to get my hands on a copy of Spectacle once it's out! What about you?
And if you liked the post, make sure you let Jodie know on her social channels!
By the way, the back cover touches on the darker facets of the novel, so potential readers can review that to see if they're comfortable engaging with the material!
More About the Book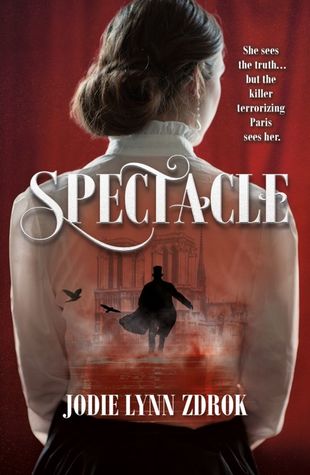 Spectacle by Jodie Lynn Zdrok
Hardcover, 368 pages
February 12th 2019 by Tor Teen
A YA murder mystery in which a young reporter must use her supernatural visions to help track down a killer targeting the young women of Paris.
Paris, 1887.
Sixteen-year-old Nathalie Baudin writes the daily morgue column for Le Petit Journal. Her job is to summarize each day's new arrivals, a task she finds both fascinating and routine. That is, until the day she has a vision of the newest body, a young woman, being murdered–from the perspective of the murderer himself.
When the body of another woman is retrieved from the Seine days later, Paris begins to buzz with rumors that this victim may not be the last. Nathalie's search for answers sends her down a long, twisty road involving her mentally ill aunt, a brilliant but deluded scientist, and eventually into the Parisian Catacombs. As the killer continues to haunt the streets of Paris, it becomes clear that Nathalie's strange new ability may make her the only one who can discover the killer's identity–and she'll have to do it before she becomes a target herself.
Goodreads | Amazon | Barnes and Noble | Book Depository
More About the Author
Jodie Lynn Zdrok holds two MAs in European History and an MBA. In addition to being an author, she's a marketing professional, a freelancer, and an unapologetic Boston sports fan. She enjoys traveling, being a foodie, doing sprint triathlons, and enabling cats. Spectacle is her debut.
Photo credit: Scott Erb and Donna Dufault
Website | Goodreads | Twitter | Instagram
Preorder Incentives!
By the way–did you know that if you preorder Spectacle or request it from your local library, you'll receive a

– personalized bookplate or bookmark
– Paris-themed notecard or post card

and one random winner will receive violet candies!

Submit your proof of purchase or request to jodielynnzdrok(at)gmail(dot)com by February 11th! Open internationally!
Giveaway!
Want to try your luck and see if you'll win a copy of Spectacle? Check out the Rafflecopter button below where one lucky winner will receive a hard copy of Spectacle! (US only–no P.O. boxes).
More information on rules in the giveaway, and if you don't want to leave things up to chance, check out the buy links in the "More About the Book" section to purchase your own copy!
Are you excited for Spectacle?
I LOVE the sound of a supernatural-ish historical murder mystery and am SO excited to read!