Really. It's true.
I am The Worst™ at resisting library books, and I'm fortunate enough to be one of those people who live near a well-stocked and well-updated library. (So I can support authors! For free!)
This is why I have almost 30 books checked out from the library, and also why I have to read all almost 30 in the order I checked them out in, or else they'll need to be returned before I read them! *gasp*
Which is why it takes me ~5 weeks to actually read a book I checked out. BECAUSE I HAVE A QUEUE. All of my library books are lined up in stacks of when I borrowed them.
(In the end I usually only read half of what I check out, BUT at least I'm supporting the author by checking it out in the first place!)
Anyways, here's a lengthy list with short-ish descriptions of why I picked them up from the library! Yes, some (most) of these reasons are shallow, but they do look like genuinely good books, and you might find an interesting new read on this list!
(Also, note that I didn't mean for this rec post to be a response to that one author on Twitter that was like "Don't ever tell me if you checked my book out from a library" but now I'm realizing how fitting this is & I didn't even mean to do it!!! So enjoy some #librarylove, too.)
(Also ALSO, note that I didn't mean for this rec post to be a response to that one publisher who was like "blog tours are dumb because they don't help at all and bloggers all have no influence" since a majority of these are recommended by bloggers. But it just so happens that this is also fitting, and I honestly don't know what to say other than coincidences are great.)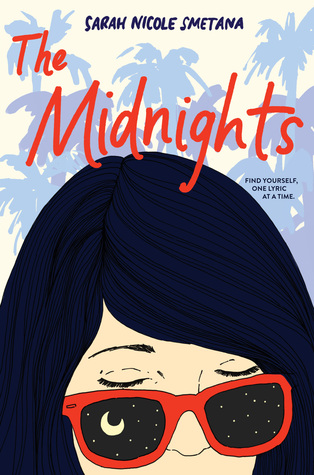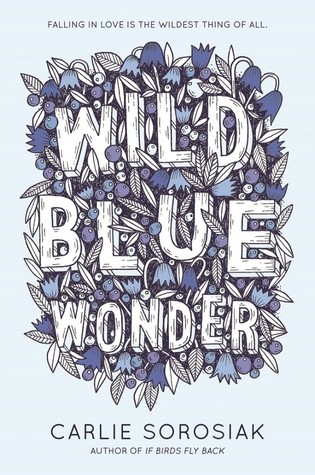 Short reason: The cover was cute.
Long reason: I like unlikeable main characters, want to read more books about mental health, and I've heard really good things about this from some people! So, I'm definitely going to try and read this before it is called back (which, not gonna lie, has a 99% chance of being called back This Saturday so fingers crossed)!
2. The Midnights by Sarah Nicole Smetana
Short reason: It's a debut. I try and read as many debuts as possible.
Long reason: Not only have I heard so many great things about this (and I'm in love with the cover), I also love stories about music and grief and am very ready to read where this goes! Also, the debut thing. My debut challenge is off the charts and I'm hopefully going to get to a decent number more before the year ends! My debut count is in the 70s right now.
Short reason: I heard a lot of buzz about this around its release, and wanted to grab a copy.
Long reason: Not only did I fall into the buzz, I also love the cover and the summary, and I usually do very well with most contemporaries, especially diverse ones, so I'm excited to pick up Safi's debut. (Also, yes, it is a debut and that definitely factored into my decision).
Short reason: I won a giveaway for the author's debut, and wanted to also support her by checking out her sophomore novel.
Long reason: This was definitely part of the reason why I picked this up, but I also adore the cover, heard great things about it, love YA contemporary, and I am always big fans of grief themes. Similarly, Maine is so atmospheric, I can't imagine not getting sucked into the luscious setting!
Short reason: THAT COVER.
Long reason: Besides the fact that I obviously have a type of taste with regards to covers, contemporary romances are some of my fastest reads, especially when they're 24 hour, and I'm always down for a sort of relaxing read that these stories bring, so I try to pick them up as much as I can!
Also, my grandma who lives up north likes to tell me about all the stories of why trains get delayed.
Short reason: The title. It just sounds like my kind of book.
Long reason: Not only have I heard great things about this from a lot of people, and I like the sort of sketch-y, illustrated US cover, I also love reading contemporary romances and mental health books! So this totally ticks both of those boxes. Something about this book really appeals to me, especially because I'm a strong believer in the idea that silence can be just as strong as speaking out loud.
Short reason: I read book 1 and liked it.
Long reason: I know there was some controversy over the first book, and not only do I want to know if these issues were rectified, I also admittedly did enjoy the magic-less romantic fantasy nature of this book. Something about the premise felt very Winner's Curse, to me, and I adored that book series!
Short reason: It was a local Tampa book club pick.
Long reason: Even though there's no chance of me actually making it to Tampa for the book club, I still do want to read this, even though I barely know what it's about. I like cows. I like Jane Doe. I think this could be a good mixture of odd and funny and poignant that could potentially be a new favorite. Oh! Apparently it's also a debut.
Short reason: It's a debut.
Long reason: It's a debut by a black author, and I really wanted to support that! Also, apparently it's a Wuthering Heights retelling and I also adore the sort of collage look of the cover. Shallow, but true. And more contemporary. Lots of contemporary.
Short reason: The hype got to me.
Long reason: I'm increasingly enjoying mystery and thriller novels, and I definitely want to find an addictive mystery that feels modern, and this is hopefully going to satisfy that craving! I've heard a lot of great things about its bingeability, and so I have high high hopes for this!
Short reason: It's a debut.
Long reason: I actually requested it on Edelweiss, but it's from Blink, one of the only Harper Collins imprints that doesn't approve me, so I didn't get the chance to read. No worries, because I'm still excited for the King Midas retelling, and can't wait to pick this up!
12. Nine by Zach Hines
Short reason: I saw this on Jenn's Instagram.
Long reason: I still don't really know anything about this, but it looks cool and it's a sci-fi dystopia, and that's enough for me to want to pick this up! Also, I may have picked it up to spite anyone who has ever said book bloggers aren't important for books, because I picked this up solely from seeing it on a book blogger's stories, and have literally never seen it before or after, except at the library.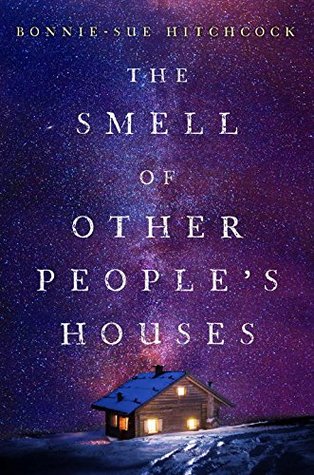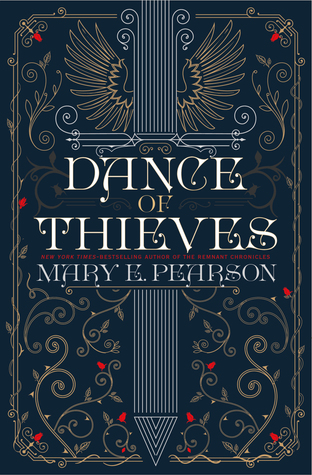 13. Contagion by Erin Bowman
Short reason: The buzz.
Long reason: The fact that it's sci-fi is enough to make me want to read this, but even more than that, I got hooked on the buzz and all the good things being said about it, and I am hands down so ready for more sci-fi murder mystery contagious disease circumstances! It sounds so chilling, I can't wait!
Short reason: I saw a post about this on BN Buzz.
Longer reason: Not only did I read a post about this, I also really related to the concept as I am applying to college. I'm saving this until after decisions come out, though, because I feel like it's taboo to read about this before I am (hopefully) accepted. So, haha, it's another one of those OMG COLLEGE books I'm excited for (along with 500 Words or Less).
(Also, I find it ironic that the author's last name is Kaplan when Kaplan is a huge SAT-prep company.)
Short reason: Elise @ The Bookish Actress. (That's it. That's the tweet.)
Long reason: Yes, Elise was a HUGE factor in why I picked this up, seeing her rave review of this, but I also love starry space covers and the title is really intriguing. Because, what do other people's houses smell like? How are they important? I just want to know so many things, just from the title alone.
Short reason: Hype.
Long reason: My mom pointed this out at the bookstore and she usually has good cover instinct, so that was an extra push for me to check this out. (Also, because I knew she wouldn't be like "more books?" when she saw a book she pointed out.) And the hype was a huge factor! A lot of people posted about this, so I thought I'd check it out.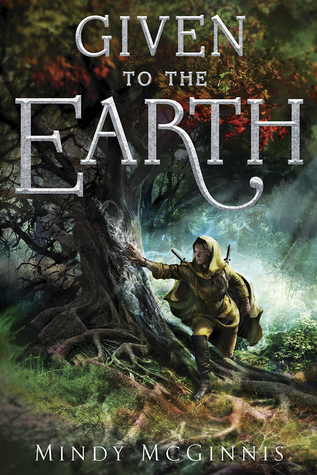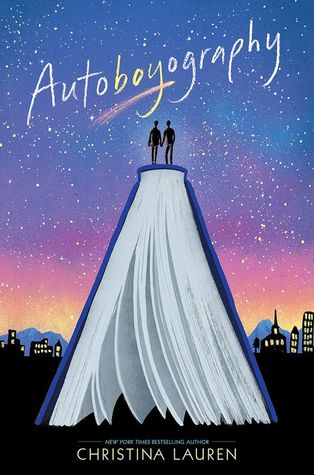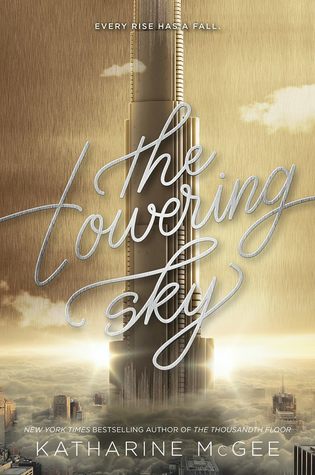 Short reason: Honestly I have no idea.
Long reason: I wanted to request this on Edelweiss, but I knew I wouldn't have time to, so I waited till it released to check it out from the library! I know I definitely want to support POC creators, so that was a big part of why I picked it up, and also just because the cover is cool and I love the movement of the font!
Short reason: I need to finish this book.
Long reason: This is the third time I'm checking this out (first time it was called back, second time I had to go on vacation) and I swear I'm finishing this before it's called back. I really enjoyed book one, and definitely can't wait to see how the duology ends!
Short reason: Simon vs. x Fangirl comps!
Long reason: Not only do I think we need more queer rep, I've also heard amazing things about this book from bloggers and am definitely excited to read and see what the hype is about! Plus, I'm hoping this turns out to be an adorable romance that I will fall in love with!
Short reason: I read the first two books.
Long reason: This is another series that has its controversy, but in the end, I want to see how it wraps up. I can't help but enjoy the sort of trashy, Gossip Girl drama in this series, and I want more of the murder mystery and glamorous life for a few hours!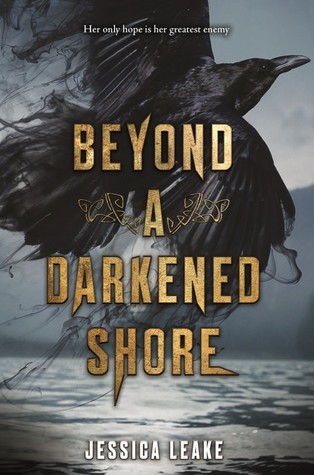 Short reason: I enjoyed the first book and want to see how it ends!
Long reason: I enjoyed the first book and want to see how it ends! Also, because I love Sal and I think they're a great character. I definitely can't wait to finish this series and pick this up, because Linsey is an awesome writer!
Short reason: It's a debut.
Long reason: I like the cover? I think it has potential? I'm honestly a little iffy as it feels like one of the systematically white fantasies I haven't enjoyed in the past, but I want to give this a chance (and count it towards my debut count) so here we go!
Short reason: So many good reviews from friends.
Long reason: Besides the fact that basically all my friends have given this 5 stars, I also am seriously attracted to that cover and I enjoy seeing K. Ancrum on Twitter and the premise sounds amazing. So yeah, I'm definitely picking this up.
Short reason: I liked reading Mechanica!
Long reason: I actually picked this up to move to my other library that was closer, but never did so. I might read it, but there's a good chance this will be part of the half that is returned, especially because I want to read Venturess before I read this!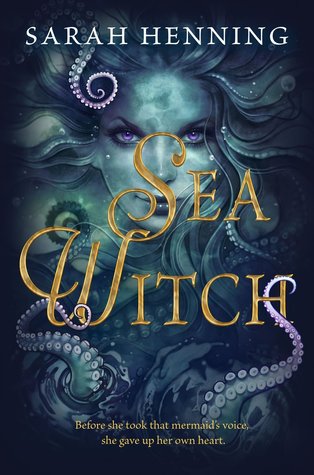 25. Sea Witch by Sarah Henning
Short reason: Buzzity buzz buzz.
Long reason: Not only did I see a lot of hype for this around when it released, I also like retellings and think this could be a cool villain retelling! Plus, the cover is gorgeous, so that's definitely an added bonus!
Short reason: I've been reading a lot of Melville lately and wanted to read all about Moby Dick from the whale's perspective.
Long reason: I have been reading Melville's short stories lately for AP Lit and I want to read Moby Dick eventually, so I thought this would be a nice introduction! Plus, illustrated novels are so cool and that's definitely something I wanted to try out, along with the whole whale's perspective.
What books do you have checked out from the library? Or, if there's not one near you, what books do you wish you could check out & try?