Are you excited? Because I am.
Deb Caletti's A Heart in a Body in the World is such an awesome novel that I wholeheartedly recommend! And not only do I have an awesome guest post on why you should read it, straight from the author, there's also an international giveaway with five winners!
Despite my lack of passion for running, this novel was surprisingly riveting, and reading Annabelle's journey on foot from Seattle to Washington, DC ended up being really exciting.
Annabelle may not be thinking about the why yet, just the how, but no matter how hard she tries, she can't outrun the tragedy from the past year, or the person—The Taker—that haunts her. She'll becomes a reluctant activist as people connect her journey to the trauma from her past and her cross-country run gains media attention.
In the end, she'll finally face what lies behind her—the miles and love and loss…and what is to come.
Top Ten Reasons to Read A HEART IN A BODY IN THE WORLD
by Deb Caletti
1. It's timely. With its feminist themes and discussions of gun violence, it is sadly, unfortunately, and, I hope, powerfully timely.
2. It's inspiring. In order to process her grief, Annabelle Agnelli attempts to run an impossible 2,000+ miles across the country.
3. It's relatable. I'm guessing that many, many women and girls will relate to what the book says about being female in our world. And some readers will find it even more relatable if they've experienced intense things done in the name of "love."
4. It's empowering. Annabelle is at first a reluctant activist, but a part of her experience is finding – and using – her own voice.
5. It's hopeful… In spite of the tragic events in the story.
6. It's funny. Annabelle's Italian family, her Grandpa, her mom, her little brother, and her friends, all support her with warmth and humor.
7. The book includes lots of intriguing facts about the heart. For example, did you know that the small, withered heart of Marie Antoinette's ten-year-old son is kept in a crystal jar in a French church? Or that A hummingbird's heart zooms at 1260 beats per minute? You do now!
8. There's lots and lots of Italian food in the book. Enough said.
9. If you are a regular reader of my novels, you will finally, finally discover the identity of the mysterious Captain Ed, whose RV can be spotted in some location in nearly every one of my books. Yes, readers, Captain Ed gets his moment in the spotlight.
10. According to the people who've read it so far…. It will make you cry.
4 stars
For someone who doesn't like running, I ended up really enjoying this book about a girl running.
Lesson learned: you don't need to a fan of a book's topic to like said book. I don't like mass murder, but it doesn't mean I don't like reading about it.
Luckily, Annabelle's journey isn't as deadly as mass murder, and you don't need to like running to like this book. I was really invested in her story of running across the United States and, most of all, why she was running across the United States.
This book is extremely riveting. When I opened it, I just got sucked up into Annabelle as she starts her run across the United States with zero planning, and this book never spit me out.
I never knew running could be so exciting, but the way Caletti tells it–not only with Annabelle's media attention etc., but also with the flashbacks of The Taker interspersed in the narration–makes it something you want to read, and definitely not a chore.
I was there cheering Annabelle on the whole time, and really wanted her to succeed and most importantly, face her fears and her past and her future.
I guess what I didn't really like was just some of the backstory. Although Caletti builds it really well, I did find some of the flashbacks about The Taker and parts of Annabelle's past to be…kind of confusing.
It paid off in the end, but I wish it worked a little harder in explaining to the reader. Although the mystery was a great motivator for me to read this book, I also wanted a little more satisfaction during the beginning, just to keep me going with this book.
I think Annabelle's story is very powerful, and I definitely got teary during some parts (although no spoilers!!). Plus, I learned a bunch of cool facts not only about hearts, but also about running cross country!
Deb Caletti turns something as mundane as a run into both an exciting and intriguing story that keeps readers hooked until the very last page. Discovering Annabelle's backstory did end up being my favorite part of this novel, despite me complaining about how I wish we got a little more info in the beginning.
It's not only that the writing is good–it's also that it's engaging. I felt like I was right there with Annabelle, feeling this intense desire to run, feeling the emotions rushing through her body as she ran and ran and ran. Right from the start I was sucked in, and although I might have been a little confused, I was also very engaged and feeling what was happening.
It's even told in third person, where it's much harder to have an engaged reader, but I ended up getting sucked into the story and the mystery behind it.
Overall, I enjoyed reading A Heart in a Body in the World and would definitely recommend this read to contemporary lovers–whether they're running enthusiasts or not.
More About the Book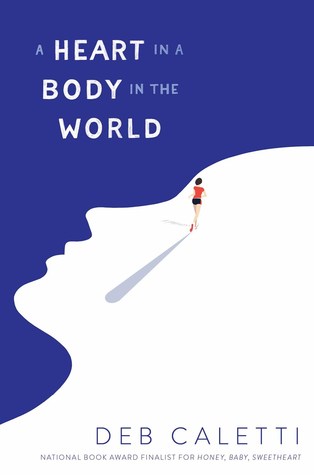 When everything has been taken from you, what else is there to do but run?
So that's what Annabelle does—she runs from Seattle to Washington, DC, through mountain passes and suburban landscapes, from long lonely roads to college towns. She's not ready to think about the why yet, just the how—muscles burning, heart pumping, feet pounding the earth. But no matter how hard she tries, she can't outrun the tragedy from the past year, or the person—The Taker—that haunts her.
Followed by Grandpa Ed in his RV and backed by her brother and two friends (her self-appointed publicity team), Annabelle becomes a reluctant activist as people connect her journey to the trauma from her past. Her cross-country run gains media attention and she is cheered on as she crosses state borders, and is even thrown a block party and given gifts. The support would be nice, if Annabelle could escape the guilt and the shame from what happened back home. They say it isn't her fault, but she can't feel the truth of that.
Through welcome and unwelcome distractions, she just keeps running, to the destination that awaits her. There, she'll finally face what lies behind her—the miles and love and loss…and what is to come.
Amazon | Barnes & Noble | Book Depository
Praise for A HEART IN A BODY IN THE WORLD
"Masterful… This is one for the ages." ―Gayle Forman, New York Times bestselling author of If I Stay
"Caletti's novel dazzlingly maps the mind-blowing ferocity and endurance of an athlete who uses her physical body to stake claim to the respect of the nation." ―E. Lockhart, New York Times bestselling author of Genuine Fraud and We Were Liars
"More than bittersweet… It will nestle inside your brain as well as your heart." ―Jodi Lynn Anderson, award-winning author of Midnight at the Electric
"Remarkable." ―Booklist, starred review
"A timely novel." ―Kirkus Reviews, starred review
"Powerful." ―Publishers Weekly, starred review
"A moving novel centered on timely issues." ―School Library Journal
More About the Author
Deb Caletti is an award-winning author and National Book Award finalist. Her many books for young adults include The Nature of Jade, Stay, The Last Forever, Essential Maps for the Lost, and Honey, Baby Sweetheart, winner of the Washington State Book award, the PNBA Best Book Award, and a finalist for the California Young Reader Medal and the PEN USA Award. Her books for adults include He's Gone, The Secrets She Keeps, and her most recent release, What's Become of Her.
Deb grew up in the San Francisco Bay area, and now lives with her family in Seattle.
PHOTO CREDIT: © SUSAN DOUPE
Website | Twitter | Goodreads | Facebook | Instagram
Giveaway!
Try your luck at winning a copy of A Heart in a Body in the World by entering through the Rafflecopter button below where five lucky winners will receive a copy of A Heart in a Body in the World! (Open INTL, 13+)
Thank you so much to Jean Book Nerd and Simon Pulse for sending me an early hardcover of this novel in exchange for an honest review! Don't forget to check out the other stops on the tour!
WEEK ONE
Have you ever read a novel that focuses a lot on a subject you're not super passionate about? How did it turn out?