Are you excited? Because I'm excited.
Today I've got the wonderful Lisa Maxwell on the blog talking about her New York Times Bestselling historical fantasy series, The Last Magician! I loved reading this book last year, and thought this time-traveling magical fantasy read was SUCH A BLAST. The twists and turns were KILLER.
And not only are there awesome books involved with this post, but we also have MULTIPLE amazing international giveaways and an exclusive interview!
If you like the sound of a historical fantasy, magicians, time traveling, evil Orders, thieves, magical artifacts, and 1920s New York, definitely check out this series!
And so, without further ado, here's Lisa Maxwell on The Devil's Thief, the sequel to The Last Magician!
(Also, it's spoiler free!)
1. For those out there who aren't familiar with your latest historical fantasy series, could you describe The Last Magician in a haiku? 
Magic is dying
A thief waits in darkened streets
The Book holds the key
2. I want to keep this interview relatively spoiler free for anyone who hasn't read The Last Magician or The Devil's Thief yet, but what part of this series was your favorite to write so far?
I've really enjoyed writing the romantic tension between Harte and Esta. They're so good together, and yet they are constantly at odds. Keeping that tension between them, while also trying to keep their relationship entertaining for the reader has been a fun challenge. I just really like them together, even if they're both fighting to not be together 😀
3. I love the setting of The Last Magician—1900s New York is so cinematic and nostalgic. Why did you choose this setting compared to other periods in history? How did you research in preparation?
It took me a long time to figure out where my thief book was going to be set. Originally, it was going to be a more modern story, set in DC…but that never felt right. I was watching Newsies with my kiddos when I realized how much I loved that movie and started considering that time period. But even then, it took me a long time to pick a specific year to set the story in. Between 1890 and 1920 NYC went through massive changes in the way it looked and the infrastructure of the city. A year here or there and it would have changed a lot with the setting and even with what characters would have been able to do. 1902 was the year I hit on because 1) the Brooklyn Bridge was built, but no other bridges were up yet, 2) there was electricity, but there was also still some gas lights—it was a good split between old New York and modern New York, and 3) it worked in terms of what was happening politically and historically in the city. I wanted a point where the world was moving into the modern age, and there was still a possibility that things could change in big ways.
I researched up, down, and backwards for the book. I'm a researcher by trade, so I know my way around a library. I used contemporary sources and tons of history, went to the city to research the area where everything is set, and looked at a ton of maps to make sure I had the streets and streetcar lines right.
4. There are so many awesome twists and turns in The Last Magician (and hopefully The Devil's Thief!) that totally kept me on the edge of my seat—for any aspiring authors out there, what advice would you give to them in creating intricate and twisty plots?
I think the biggest thing is that the twists have to be organic. One of the biggest twists (no spoilers) has to do with why Esta is a time traveler. That was really important to me, because I didn't want time travel to just be a plot device. I wanted it to be intrinsic to who she was, so the plot twist was organic to the plot, even if it feels like something completely out of the blue to the reader.
You also have to really map everything out. Twists don't work unless you lay the groundwork for them. The hints have to be so subtle that the reader doesn't register them until after. But that takes real plotting work. If the writer is a "pantser," it means going through and outlining after the fact, so they can make sure that everything is anchored in the text.
And the big one, never end a chapter without leaving a reader hanging. If your reader can put the book down at the end of a chapter, you risk them not picking it back up. So for individual chapters, the twists have to really come at the end—to make the reader want to keep moving on.
5. Lastly, a fun one: if you could bring one of your characters to life for a day, who would it be, why, and what would you do?
Viola. I'd love to see her in the present day, in a pair of jeans and driving around with all the freedom she wants in the book.
How Is It So Far?
(Spoilers in this section! Speed to the giveaway if you haven't read book 1!)
This is a big book (it's like 2+ pounds and more than 600 pages), and unfortunately my review is still a little ways off as I work through this book. But I'd rather write an update-review for this blog tour rather than speed through The Devil's Thief and not savor it, so here's my update on what I've read so far! (Like a half-book review, of sorts.)
LOVE ALL THE CHARACTERS COMING BACK! I totally forgot how much I love the characters in this series (even Nibs, the bastard) and I'm loving how much change we're getting in each of them. Nibsy really is a favorite, especially with how smart and devious he is (even though he's kind of terrible).
The way Maxwell is setting up the ending is making me tingle! I absolutely adore how she's setting this whole book up, and the plotting that went into this must have been KILLER. I can tell that foreshadowing is happening and that BIG THINGS are coming my way, so I'm very excited!
The history is bomb! I adore this time period, and Lisa Maxwell writes it all SO WELL. It's both dark and magical, and 1920s atmospheric at the same time. LOVE IT LOVE IT LOVE IT.
More is always better. Or at least, in this case it is! Because I'm absolutely hooked and 700 pages is feeling like nothing to me, since I'm completely devouring this book! I can't imagine the wait for book 3 once I finish…
Giveaways! (Plural!)
Not only is there the INTL swag pack giveaway (open INTL, ends Oct. 9th, 18+ or with parental permission) that I'm hosting on Twitter, but there's also an INTL tour-wide giveaway (find it here!) for the amazing prizes that follow:
Grand Prize for the Tour Participants:
Signed copy of The Devil's Thief
pavé snake bracelet
character art
signed swag
Runners Up (2)
Character art
signed swag pack
Terms & Conditions found here.
More About the Book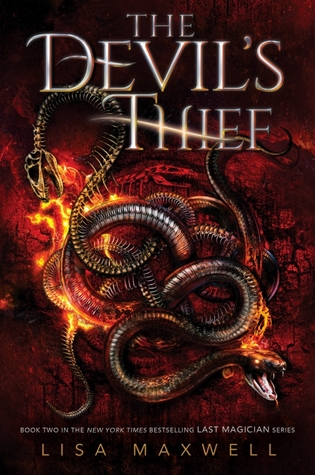 In this spellbinding sequel to the New York Times bestselling The Last Magician, Esta and Harte set off on a cross-country chase through time to steal back the elemental stones they need to save the future of magic.
Hunt the Stones.
Beware the Thief.
Avenge the Past.
Esta's parents were murdered. Her life was stolen. And everything she knew about magic was a lie. She thought the Book of Mysteries held the key to freeing the Mageus from the Order's grasp, but the danger within its pages was greater than she ever imagined.
Now the Book's furious power lives inside Harte. If he can't control it, it will rip apart the world to get its revenge, and it will use Esta to do it.
To bind the power, Esta and Harte must track down four elemental stones scattered across the continent. But the world outside the city is like nothing they expected. There are Mageus beyond the Brink not willing to live in the shadows—and the Order isn't alone in its mission to crush them.
In St. Louis, the extravagant World's Fair hides the first stone, but an old enemy is out for revenge and a new enemy is emerging. And back in New York, Viola and Jianyu must defeat a traitor in a city on the verge of chaos.
As past and future collide, time is running out to rewrite history—even for a time-traveling thief.
Goodreads | Amazon | Barnes and Noble | Book Depository
More About the Author
Lisa Maxwell is the New York Times Best-Selling author of THE LAST MAGICIAN. Also of UNHOOKED, SWEET UNREST, and GATHERING DEEP. When she's not writing books, she teaches English at a local college. She lives near DC with her very patient husband and two not-so patient boys.
Goodreads | Website | Twitter | Instagram
Thank you so much to Lisa Maxwell for letting me interview her and Simon Teen @ Book Con for the advance reader's copy! Don't forget to check out the rest of the stops on the tour below!
9/17 – Crossroad Reviews
9/19 – Reading Teen
9/21 – Vicky Who Reads
9/24 – The Novel Knight
9/26 – Alisha @ Reality's a Bore
9/28 – Torre De Babel & Book Briefs
10/2 – Book Cat Pin
10/3 – Library Luv Reviews
10/10 – Dicas Dimalu & Holed Up in a Book
10/12 – Rawr Books & The Read It and Weep Girls
Have you read The Last Magician? What did you think?