Your destination is most certainly not on the left. Why? Because you're exactly where you need to be!
Congrats, you've arrived at your destination: my stop on the blog tour for Lauren Spieller's wonderful debut, Your Destination Is on the Left! Make sure to park your RV, clean it of bugs, and get rid of your waste while you're here. And save the walk for later, because you sure don't want to miss what's ahead of you…
Lauren Spieller's debut revolves around modern day nomad Dessa Rhodes who travels across the country with her family and friends in an RV. It's not the easiest life ever, especially when you're crushing on the son of one of the other families traveling with you, and Dessa hopes that the future will bring her success in a new life as an artist in college.
Yet, when Dessa isn't accepted anywhere, her future looks like it's going to be stuck in a cramped RV. But when the opportunity of a lifetime to work with one of her favorite artists comes across Dessa, she knows she can't resist, and this brings more struggles ahead of her that she'll have to solve, both with her family, way of life, and who she wants to be as an artist.
3.5 stars
There are a lot of things to love about Lauren Spieller's debut, Your Destination Is on the Left.
The first thing is super evident, and it's how skilled of a writer Spieller is. She's fantastic, and you know that even though this is her debut, she really knows how to write a story for young adults.
Seriously, she understands the things that make YA books so great, and she's managed to seamlessly incorporate them in her writing. Things like romance that isn't invasive, characters really growing throughout the novel, and just interesting details that are happening without you realize it's description.
Your Destination Is on the Left was really easy to read, and it's not just because of how this falls just at the 300ish page mark. Dessa's voice was really relatable and I loved reading her narration. It was just so easy to read and the way Spieller wrote her narration really incorporated everything naturally and I just sped through the whole novel.
I think conceptually, this book was wonderful. I mean, Dessa has a bunch of character development to go through, and she's struggling with art and college and family and romance and her nomadic life. I think the nomad aspect of her life gave a really unique aspect that differentiated this book from other similar contemporaries, while also providing plot points.
But, despite all the positives, I did find something that fell a flat for me and made this not as enjoyable as it could have been.
The plot felt a little bit underdeveloped. I like how much Dessa learned throughout the novel, but sometimes it felt a bit like people were always telling Dessa what she should think. Her new friend Taryn helps her realize something, her mentor Fiona helps her realize something else, her romantic interest Cyrus lets her know something else.
All of it felt like it kind of contributed in people telling Dessa about how she need to look at things differently rather than her gleaning this from her own experiences, and this wasn't ideal for me. I wanted Dessa to learn of her own volition throughout the story, and I feel like a majority of her change wasn't actually because of her own experiences, but because other people told her things.
This was a really quick read and I loved that about this book, but it also felt like there just wasn't enough plot. Or maybe there was enough plot, but not enough emphasis on what was happening. I feel like certain critical scenes to Dessa's journey were kind of underemphasized, which might have contributed to me feeling like Dessa didn't grow of her own volition, because the emphasis was in the wrong place.
I just wish the emotional weight of this story was a little heavier and contributed to that rise and fall feel a little bit more.
But, probably the most surprising part of this book was the romance. Y'know, I really disliked the romance at first, but by the end, I was nodding along with what was happening. This almost never happens to me in YA, and I was so surprised at how much my opinion on the romance changed. I didn't expect it to go in this direction (no spoilers!!!), but I really appreciate what Spieller did with Dessa and Cyrus and their decisions about their relationship.
They were smart yet enamored, and although I wish there was more buildup to the L-word, because a lot of their romance happened in a time we don't get to see narrated (aka in the years they traveled together), I really agreed with the direction their romance went in by the end of the book.
Overall, I did enjoy reading Your Destination Is on the Left and it was a light, quick, and character-focused contemporary that will appeal to lovers of Stay Sweet and other lighter contemporaries.
Thank you so much to the Fantastic Flying Book Club, Simon & Schuster, and Netgalley for providing me with a digital review copy in exchange for an honest review!
More About the Book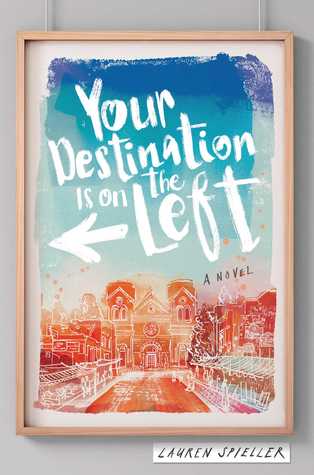 Your Destination is on the Left by Lauren Spieller
Publisher: Simon & Schuster Books for Young Readers
Release Date: June 26, 2018
Genre: Young Adult, Contemporary
Dessa Rhodes is a modern day nomad. Her family travels in an RV, their lives defined by state lines, exit signs, and the small communal caravan they call home. Among them is Cyrus, her best friend and long-time crush, whom she knows she can never be with. When your families are perpetually linked, it's too dangerous to take a risk on romance.
Instead, Dessa looks to the future. She wants to be a real artist and going to art school is her ticket to success and a new life. There's just one problem: she hasn't been accepted…anywhere. Suddenly her future is wide open, and it looks like she's going to be stuck traveling forever.
Then an unexpected opportunity presents itself: an internship working with a local artist in Santa Fe. Dessa struggles to prove to her boss—and herself—that she belongs there, but just as she finally hits her stride, her family suffers an unexpected blow. Faced with losing everything that she has worked for, Dessa has a difficult decision to make. Will she say goodbye to her nomadic lifestyle and the boy she loves? Or will she choose to never stop moving?
Goodreads | Amazon | Barnes and Noble | iBooks | Book Depository | Kobo
More About the Author
Lauren Spieller is a literary agent who lives in New York with her husband. When she isn't writing, she can be found drinking lattes, pining for every dog she sees, or visiting her native California. YOUR DESTINATION IS ON THE LEFT is her debut novel. Follow her on Twitter @laurenspieller.
Website | Goodreads | Twitter | Instagram | Tumblr
Giveaway!
Want to try your luck at winning a copy of Your Destination Is on the Left? Check out the Rafflecopter button below to enter in a giveaway where one lucky winner will receive a copy of Lauren Spieller's Your Destination Is on the Left! (US only) Or, you can guarantee your copy by using the buy links in the "More About the Book" section! Best of luck!
Don't forget to follow along with the rest of the blog tour at the stops below!
June 20th
June 21st
June 22nd
June 23rd
June 25th
June 26th
Which light-hearted contemporaries do you love? (Send me recs!!!)