Hello! Welcome to my stop on the blog tour for Adele Griffin's Tell Me No Lies!
I wanted to do something fun and a little bit silly for this blog tour. This is a book about fitting in and the pressures of high school, and even though it's set in the 80s, which feels like a long time ago for 2000s kids like myself, the struggles Lizzy goes through in this novel are super relatable.
She's finally a senior in high school, and she's emerging from her nerd status with a popular boyfriend, a bold and reckless new best friend. Living with the fear of an epileptic seizure is hard for Lizzy, and with this new self, Lizzy feels like she can let go of her fears–and also her Ivy League ambitions.
But this new life is clouded by doubts and decptions with romance problems and the secrets her new best friend carries.
So, for my blog post today, I wanted to tell the first three chapters of Tell Me No Lies through GIFs! (Also, because I have Footloose stuck in my head and for some reason that song makes me think of GIFs).
I think Lizzie is a very layered character, and I wanted to do a little sneak peek of what you're in for if you pick up this book (PICK IT UP!!!). I'm really enjoying reading, and I think a lot of people will be able to relate with Tell Me No Lies.
Without further ado, here's the prologue and chapters one through three, told through GIFs!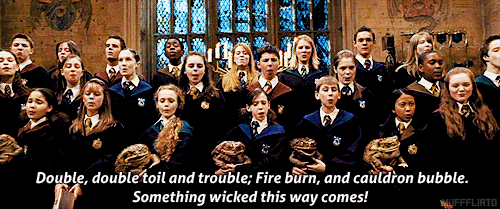 1. Lizzy is singing in her school choir.
Okay, maybe the story doesn't start at Hogwarts, but it does start with a school choir! And Lizzy is singing with her school choir when something unusual begins to happen. Front and center, Lizzy is in view of all the girls behind her.
This being an all-girls school, at least she isn't embarrasing herself in front of a crush, but other girls' words can be just as vicious. Lizzy will find this out for herself soon.
[GIF redacted]
2. Lizzy has a seizure & finds out it's from epilepsy.
I thought for at least 30 minutes what I should do about this part of the book. On one hand, I could go with one of those seizure GIFs that are super flasy, or on the other hand, I could go with one of those GIFs of someone (probably an actor) having a seizure.
I decided to go with neither. I thought the first would be extremely counterproductive, as bright flashy things like that trigger epilepsy and is just a stupid thing to do in general, and I found the second option to be insensitive. Even if an actor in the GIF was having a fake seizure, I was worried that they wouldn't be portraying it accurately (like those jokey seizures) and that it was also just plain insensitive to show it if it wasn't an actor.
But this is a critical point in the novel, so I had to include this. Lizzy's seizure is the start of her epilepsy diagnosis, and it turns her entire world upside down.
3. Enter new girl: Claire Reynolds.
Janis from Mean Girls might be a little of an exaggeration, but Claire Reynolds, the new girl in senior year-Lizzy's AP Art class, is a little bit punk and a little bit mysterious and a lot intriguing.
Claire says she's bad news, but Lizzy can't help but be drawn by her rebellious nature, so completely different from Lizzy's own do-gooder nerd status. Claire's someone who wears a lot of eyeliner, listens to non-mainstream music, defys the dress code at every chance she gets, and is thoroughly unaffected by everything. Lizzy can't get enough, but what does this mean for Lizzy's other two best friends?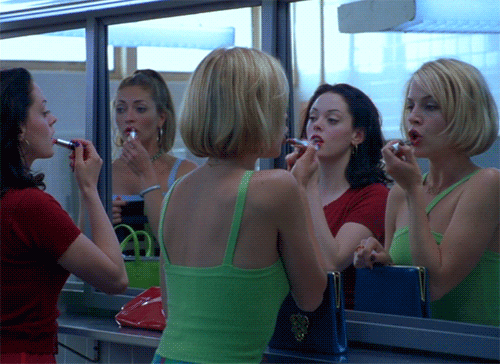 4. OMG! What a coincidence? Lizzy and Claire run into each other at the bathroom.
But wait–what's that? Claire is crying, and Lizzy has no idea why. This bathroom run in was completely unexpected, but it's only drawing Lizzy into Claire's system further.
Lizzy's curious–with only AP Art in common, she doesn't know a lot about Claire, but it's not from a lack of trying. Lizzy wonders why Claire doesn't join the popular girls in school, aka the Nectarines, and she just wants to know more.
5. Claire chats with Lizzy.
Claire's gotta say something, especially with them both in the bathroom as she tries to stop crying. And she ends up remarking on Lizzy's…hair?
Maybe it's not the deep dark secrets Lizzy is hoping for, but it's a start right? And as Claire fixes her eyeliner, and also does some for Lizzy, she catches a glimpse of a different girl–someone older, wiser, more mature.
And when Claire invites Lizzy to go with her somewhere, how can she resist?
If you want to find out more about Tell Me No Lies, you're gonna have to read the book! It's out June 12th (next Tuesday) and you can find out more below and also enter in the giveaway for a copy!
More About the Book
Tell Me No Lies by Adele Griffin
Publisher: Algonquin Young Readers
Release Date: June 12, 2018
Genre: Young Adult, Contemporary
A riveting novel about secrecy, complicated friendships, and heartbreak, set against the iconic backdrop of the late 1980s.
Lizzy Swift is a senior in high school, emerging from her nerd chrysalis to become a social butterfly. She starts dating popular Matt Ashley, whom she's been pining for since freshman year. She's delighted when rebellious new girl Claire Reynolds introduces her to Center City Philadelphia—clubs, street life, and the eye-opening art scene. As Lizzy begins to question her own long-held dreams, the changes in her life mirror the upheaval of a decade marked by a drug epidemic and the AIDS crisis. She's no longer sure of her Ivy League ambition. While she has a special connection with Matt, something's missing. And Claire carries around a mysterious sadness and talks about a breakup so bad she changed schools—but she won't tell the whole story. Lizzy wants Claire to confide in her, even as she keeps her own embarrassing secrets.
Before too long, the heady thrill of her new life starts to crumble under insecurities and deceptions. When the truth emerges from the wreckage, will it be too late for Lizzy, Claire, and Matt to save their love and friendships?
Goodreads | Amazon | Barnes & Noble | iBooks | Book Depository | Kobo
More About the Author
Adele Griffin is the highly acclaimed author of almost thirty books for Young Adult and middle grade readers.
Her works include the National Book Award Finalists Sons of Liberty and Where I Want to Be, as well as the popular Oodlethunks series for younger readers. The Unfinished Life of Addison Stone was a YALSA Best Book of 2015, an Amazon Best YA Book of the Year, a Booklist Top Ten Arts Books for Youth, a Junior Library Guild selection, a Romantic Times Finalist for Book of the Year, and a School Library Journal Top Fiction pick. Her latest novel Tell Me No Lies is publishing in June 2018 with Algonquin Books.
Adele serves on the Board of Directors of the MacDowell Colony, and is on the advisory board of 826NYC. She lives with her husband, Erich, their two young children, and their dog, Edith, in Brooklyn, New York.
Website | Goodreads | Twitter | Instagram | Facebook
Giveaway!
Want to try your luck and enter the giveaway for a finished copy of Tell Me No Lies? Enter through the Rafflecopter button below where one lucky winner will receive a copy of Tell Me No Lies! (US only) You can also buy it through the buy links in the "More About the Book" section!
Thank you so much to Algonquin Young Readers & The Fantastic Flying Book Club for providing me with an ARC for this blog tour! Don't forget to check out the other stops on this tour below!
June 6th
June 7th
June 8th
June 10th
June 11th
June 12th
Have you read any books set in the 80s? If so, which ones?