It's almost summer, which means it's time to get into the mood of relaxing and enjoying the lovely weather ok, I mean the deathly hot weather in FL, the potential of all those vacations unless you mean sweating buckets at Disney, that's not too fun, and most importantly, all those books you now have a chance to read before they crush you, that is.
And with the coming of summer, comes all sorts of books that will really get us out of spring and into the mood for the new season! One of the books that I've loved and has totally gotten me into the summer mood (and basically spoiled any hopes I had of motivating myself enough to study for exams) is Jenna Evans Welch's Love & Luck.
A couple years back, Welch published Love & Gelato which was a summer romance in, you guessed it, Italy! And I was so excited to hear that she's finally back and rockin' it with a new Irish tale.
This book is a little bit different though. If anything, this is a book about sibling relationships, getting over the past, and making sure you're in the right mindset before even considering a relationship. It's not a summer romance, but more of a coming of age story. And I loved it!
In this post, you'll find my review, some sneak peek quotes, and an awesome giveaway! So get pumped!
But first, here's a little more about the book:
Addie's not having a swell time in Ireland. She's fighting with the brother she's supposed to be closest to, and her past actions are haunting her and making her miserable and she can't wait to finally leave her aunt's wedding and visit her best friend in Italy.
But when plans go awry and Addie ends up touring Ireland with her brother, who has more secrets than she could have expected, she, with the help of her brother's friend Rowan and the guidebook Ireland for the Heartbroken, may be able to mend her broken heart and her broken relationship.
A Sneak Peek to the Novel
The first part of the post I have here today are some truly iconic quotes from this book. Seriously, I could have just copy and pasted the whole manuscript here and called it a day because it's just that real.
Besides having tons of great advice, this book also really hooked me on the idea of Ireland. In my mind, everything is so…green. And so for the quotes, I wanted to really highlight the beautiful Irish landscape in the country and the thousand shades of green.
So, without further ado, here are some of my favorite quotes from the novel!
Please be aware that these are taken from the uncorrected proof and may not match the final copy.
"The cliffs were completely unimpressed with the fact that I'd spent the summer ruining my own life."
This sentence is basically the thesis of the whole story. Besides giving us a glimpse into that classic, quirky style of the writing, it also sums up Addie's situation pretty well. She's got trouble across the Atlantic back at home, and the cliffs, well, let's just say Irish cliffs aren't the most welcoming things.
All cliffs aren't, if we're going to be honest. *shoves*
"courage + time = healed heart"
This is just such great advice that I had to include it.
Even though it might sound a little cheesy, I think it's so true. Of course, I've never gone though a heartbreak before, but I feel like this is the recipe to healing any wound. You've just got to keep pushing forward and giving it time to heal–whether it's by keeping your distance or trying something new–so you'll be able to not carry a giant weight around with you all the time.
"I am the hero of my own story."
YASS QUEEN.
I mean, this quote is just so epic in general. This is part of such an empowering moment in the story where Addie recognizes how she is a strong and powerful young women who doesn't let other people's actions dictate her story. Addie might not start out as someone who comes off extremely sure of herself, but through the course of the story, she grows and becomes someone who she is proud of and I think this is really admirable.
"If a tree falls in a forest and your little sister isn't there to hear it, did it make a sound? I'm not really sure. I'm just glad we're in the same forest."
ISN'T THIS SO CUTE?
I love the sibling bond Ian and Addie have, and even though it's most certainly rocky at the start, it gets so much stronger and better as the story goes on and they work out their problems. For someone with three older brothers, Addie can definitely hold her own, but it's about if she's able to connect and work with them that makes the difference. And I think Welch does a great job of showing that sibling connection between them.
"What Guidebook Lady wants, Guidebook Lady gets."
This was just kind of a cute inclusion on my part, but Guidebook Lady is just the best character ever??? She has all these adorable pet names (i.e. pet, chickadee, and so many more) and I just love the voice of her character so much.
Plus, she gives out some really good advice and even though she's a bit…weird, I think she has a lot of great qualities and is a fun sort of comic relief.
Now onto my review!
4 stars
I really enjoyed this one! There was a lot to love.
A while back, I picked up Welch's Love & Gelato and really enjoyed that one too. There was so much fun in it–I loved seeing Italy, I thought the romance was really adorable, and I loved the themes about dealing with grief.
Love & Luck definitely has a lot of similarities, but it's also its own category, which is honestly a good thing. I was almost hoping that it would be really similar to Love & Gelato, just in Ireland instead of Italy, but it turned out to be different and this was really good.
The most notable difference was how little romance there was. There were maybe a couple of heart-twinges at a certain character, but overall, Addie wasn't spending the book falling in love, she was spending it getting over heartbreak.
And I actually really liked this. Addie's journey was very different because she's a different person from Lina and has different needs to succeed in life. And I loved seeing her get over heartbreak and all the things she left across the Atlantic, especially with the help of one quirky guidebook.
Speaking of the guidebook, it was basically the most adorable thing ever. I loved reading the short guidebook tourist entries because the voice was so quirky and adorable and used pet names like "pet," "love," "kitten," and even weird ones like "pettiest of pets." I really enjoyed these sections because they were so unique and individual and took on a distinct voice that wasn't too cringey.
What I didn't like so much was that the ending felt a bit rushed. Although a lot is happening and they only have three days in Ireland (making this whole book really short in general) and that the book ends during day three, it felt a little rushed at the end.
This is realistic because they only have so much time, but I did wish there was a little more resolution to really tie everything together, especially with the issue of Addie's heartbreak.
Also, I felt like Welch strung us along for a little too long. It felt frustrating not knowing what Addie was trying to get over and I think this almost prevented me from enjoying this storyline as much as I could have because Addie's growth in the time period that we were in the dark wasn't as impactful as it could have been if we knew what was going on.
I took a wild guess at page 37 about what was happening, and I was right, but I didn't get enough details that whatever happened could have been anything from a teen pregnancy to a soccer injury. I wish there were just a few more hints dropped along the way to make it a little more engaging because in the end, I was more frustrated than curious about this storyline.
Despite this, I really did enjoy Love & Luck and found it to be a quick, well-paced read with awesome themes about heartbreak and getting over heartbreak as well as family and friendship as Addie has some great connections with her family (three older brothers!) and her best friend in Italy.
If you loved the first book, I'd totally recommend this. If you didn't love the first book, I'd still recommend it because it's notably less romantic. Definitely check it out!
Thank you so much to Simon Pulse, Netgalley, and the Fantastic Flying Book Club team for providing me with a digital review copy in exchange for an honest review!
More About the Book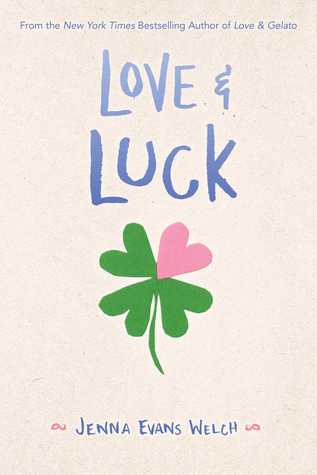 Love & Luck by Jenna Evans Welch
Publisher: Simon Pulse
Release Date: May 8, 2018
Genre: Young Adult, Contemporary, Romance
Addie is visiting Ireland for her aunt's over-the-top destination wedding, and hoping she can stop thinking about the one horrible thing she did that left her miserable and heartbroken—and threatens her future. But her brother, Ian, isn't about to let her forget, and his constant needling leads to arguments and even a fistfight between the two once inseparable siblings. Miserable, Addie can't wait to visit her friend in Italy and leave her brother—and her problems—behind.
So when Addie discovers an unusual guidebook, Ireland for the Heartbroken, hidden in the dusty shelves of the hotel library, she's able to finally escape her anxious mind and Ian's criticism.
And then their travel plans change. Suddenly Addie finds herself on a whirlwind tour of the Emerald Isle, trapped in the world's smallest vehicle with Ian and his admittedly cute, Irish-accented friend Rowan. As the trio journeys over breathtaking green hills, past countless castles, and through a number of fairy-tale forests, Addie hopes her guidebook will heal not only her broken heart, but also her shattered relationship with her brother.
That is if they don't get completely lost along the way.
Goodreads | Amazon | Barnes & Noble | iBooks | Book Depository | Kobo
More About the Author
Jenna Evans Welch was the kind of insatiable child reader who had no choice but to grow up to become a writer. She is the New York Times Bestselling author of LOVE & GELATO and the upcoming LOVE & LUCK.
When she isn't writing girl abroad stories, Jenna can be found chasing her children or making elaborate messes in the kitchen. She lives in Salt Lake City, Utah with her husband and two young children.
Website | Goodreads | Twitter | Instagram
Giveaway!
Want to try your luck (ba dum bum crash) at winning the giveaway where one lucky winner will receive a copy of Love & Luck? (US only) Then try the Rafflecopter button below to enter the giveaway now! Or, you can use the buy links in the "More About the Book" section to avoid leaving things to Lady Luck (or the Guidebook Lady).
Don't forge to check out the rest of the stops on the blog tour below! They've all come up with some really great posts!
May 9th
May 10th
May 11th
May 12th
May 13th
May 14th
May 15th
What's one of your favorite stories about getting over heartbreak?