I feel like mystery/thriller is one of those genres that I just don't read a lot of books in. Sometimes they border on horror and maybe that's why they scare me away (because I will run, horrified, at the sight of a horror novel), but recently I've been trying to read more mysteries and get better at solving them.
I might just try and take a stab at some classics soon, but for now, I tried out Amelia Brunskill's The Window and loved it! Besides just the mystery itself, I really enjoyed the introverted main character and the succinct writing style.
And so, to help you determine whether you might want to read The Window, I've assembled a list of some of my favorite (although, taken from a small pick of books) mystery novels that I've read that share similar elements to The Window.
Before we get into this list though, here's a little bit about The Window in my own words: (You can read the official summary at the bottom of the post.)
Jess is the introvert to her twin Anna's extrovert. Despite being identical on the outside, they're different on the inside, although it's much more different than Jess ever realized. Especially since Anna's dead.
Jess thought she and Anna told each other everything, but after Anna's fall from her bedroom window to her death, Jess begins to question what she knew about her twin. Her life begins to unravel as everyone says it was an accident but things don't add up for Jess, who's compelled to learn the truth.
As Jess digs deeper into her twin's secrets, she learns the answers may be the truths no one wants her to uncover. Because Anna wasn't the only one with secrets.
Further down is my review of The Window (look for the row of flowers), but right now, here are some comparable titles!
Little Monsters by Kara Thomas
This was the first book my mind jumped to when thinking about similar books to The Window. Kara Thomas has published a lot of popular mystery novels, and this is one of the ones of hers that I have read.
I find that there's a lot of similar themes shared between Little Monsters and The Window. In Little Monsters, the main character discovers that her tight friend group may have been keeping secrets from her, and in The Window, Jess discovers that her twin sister was keeping secrets from her too.
Both main characters share that same inherent curiosity to discover what really happened when some of the closest people to them turn out to be not who they thought they were.
One of Us Is Lying by Karen McManus
I can't say too much about how One of Us Is Lying relates to The Window because the comparison lies in the actual ending of the story. Although the endings are very different (hah! you didn't think I was going to spoil it for you, did you?), there's this overall idea that some people were able to do such terrible things under a time of duress.
These "terrible things" were something that happened at different times for both books–One of Us Is Lying had it happening during the actually search for the perpetrator, while The Window had it happen in the past. If you liked some of the people doing terrible things in One of Us Is Lying, then you definitely should check out The Window!
A Study in Charlotte by Brittany Cavallero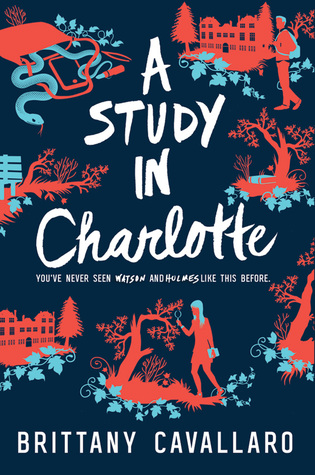 I've already raved across multiple social platforms how much I enjoyed the writing style in The Window, but I'll say it again, just to be safe. I LOVE THE WRITING STYLE. It's this succinct kind of storytelling that never dives within a ten foot range of purple prose, and it all fits really well with the introverted nature of our main story teller, Jess.
A Study in Charlotte is a Sherlock Holmes retelling and it's naturally told by the modern Watson counterpart. The way Watson tells the story really helps embody Watson, and this same fit in the writing style and the narrator applies in The Window as well. So, if you like your writing style and narrator meshing together well (don't we all?) then you should definitely read The Window! Run, don't walk.
S.T.A.G.S. by M.A. Bennett
S.T.A.G.S. is a more recently published YA title, but I think both it and The Window share one really big theme: a conspiracy.
There's a lot going on in both books that make the main protagonist question if what they are being told is true–Jess when she questions the police's findings not matching the toxicology reports and Greer with the whole…you know.
There's this similar mood of things going on behind your back that you just can't control in both of these books, and I think if you liked this element in S.T.A.G.S., then you'll like this element in The Window!
4.5 stars
Oooh this was so good!
I'm not a huge mystery reader just because the genre isn't as vast and there's not a lot of pure mystery-mysteries out there (compared to something+mysterious element). But The Window is definitely a new favorite of mine in the genre!
The thing that really captured my attention was the writing style and the protagonist.
I'm not usually super into the YA main protagonist, but I absolutely adored Jess. It's not often that we see very introverted introverts who don't have a solid best friend to rely on.
Jess had her sister and family, and that was pretty much enough for her. We normally see our introverted MCs still have a best friend or loose friend group, but Jess was very much introverted and I appreciated this. She's quiet and doesn't say a lot, but she wasn't apathetic like Claudia from Foolish Hearts was. Jess cares a lot; she just doesn't show it.
I found Jess to be a refreshing main character, and it wasn't like her introverted nature was holding her back. It just was Jess and it didn't make her any less of a character because of it, which was something that was awesome to see.
So often do we see introverts needing to change themselves in literature and become more extroverted, and seeing the idea that you can be introverted and still be a perfectly fine person was really reassuring to see in The Window.
Plus, the writing style is awesome.
It really captured my attention from the start because it was succinct without being curt or not telling the reader enough. It had such a Jess voice. I love how Brunskill shaped the narration to sound very Jess and it was short and sweet without being bitter to eat.
I definitely enjoyed the writing style a lot, especially after reading some more flowery and lyrical books. If you like more succinct writing styles, I'd definitely recommend The Window.
I'm not the best judgement of how predictable a mystery plot is–I honestly don't read enough of this genre to really predict the outcome of these stories. I'm pretty sure I've never guessed a mystery book's ending correctly, unless it was 10 pages from the reveal.
I did find this to be twisty and throw things at us time and time again. I definitely did not predict that ending, although in retrospect, I should have guessed, especially with some of the clues Brunskill left.
She throws some red herrings around, which I unfortunately always end up falling for, and it was like I could imagine Brunskill cackling about all the readers she tricked (great for her, terrible for my self esteem).
The part that I wasn't too fond of was the Mr. Matthews part of the novel. At first, my mind leapt to where Jess' was that Anna was having an affair with her teacher, but even to me, it eventually got obvious that this wasn't the case. I felt like this was too much of a focus for too long and ended up taking away from the storyline.
I found this to be a quick read, especially with the easiness of the writing style. I sped through this in a couple of hours and definitely enjoyed reading. I would recommend to anyone looking to read a mystery or delve into this genre because it's that sort of dark, twisty mystery that isn't too scary, but still keeps that vein of eeriness within!
More About the Book
The Window by Amelia Brunskill
Publisher: Delacorte Press
Release Date: April 3, 2018
Genre: Young Adult, Contemporary, Mystery, Thriller
Anna is everything her identical twin is not. Outgoing and athletic, she is the opposite of quiet introvert Jess. The same on the outside, yet so completely different inside–it's hard to believe the girls are sisters, let alone twins. But they are. And they tell each other everything.
Or so Jess thought.
After Anna falls to her death while sneaking out her bedroom window, Jess's life begins to unravel. Everyone says it was an accident, but to Jess, that doesn't add up. Where was Anna going? Who was she meeting? And how long had Anna been lying to her?
Jess is compelled to learn everything she can about the sister she thought she knew. At first it's a way to stay busy and find closure . . . but Jess soon discovers that her twin kept a lot of secrets. And as she digs deeper, she learns that the answers she's looking for may be truths that no one wants her to uncover.
Because Anna wasn't the only one with secrets.
Goodreads | Amazon | Barnes and Noble | iBooks | Book Depository | Kobo
More About the Author
Amelia Brunskill was born in Melbourne, Australia, but she grew up mostly in Washington state where she picked a lot of blackberries, read a lot of books, and failed to properly appreciate the epic beauty of the mountains and the Pacific ocean.
She earned her bachelors degrees in psychology and art from the University of Washington and her master in information studies from the University of Texas at Austin. She now lives in Chicago, where she eats as much Thai food as possible and works as a librarian.
The Window is her debut novel.
Website | Goodreads | Twitter | Instagram
Giveaway!
Want to see if Lady Luck favors you? You can enter the giveaway in the Rafflecopter button below where 3 lucky winners will receive a copy of The Window! (US only) Or, you can go ahead an buy The Window through any of the links in the "More About the Book" section, if you're not willing to risk it!
Thank you so much to Delacorte Press and the Fantastic Flying Book Club for providing me with an advance reader's copy in exchange for an honest review! Don't forget to check out the rest of the stops on the blog tour!
March 27th
March 28th
March 29th
March 30th
March 31st
April 1st
April 2nd
What are some of your favorite mystery novels? Are you going to check out The Window?