As a reader, do you ever worry that you'll be stuck in a wilderness or apocalyptic situation like the ones your read in books, and will be fully unprepared? Because I certainly do.
There are all these kick-ass characters in YA fiction and when I compare myself to them, at times I feel a little very inadequate. Do I know how to start a fire? Sure, in theory. These crazy brave characters almost always end up learning how to do real life things, and then there's me in my bunny rabbit pajamas cuddling under three blankets with a book and cup of tea.
And so, I've prepared a Reader's Guide to the Wilderness in celebration for Starry Eyes, by Jenn Bennett, because Zorie is me and I am Zorie and we are both very, very unprepared for the wilderness (and the hot guys that come a long with it).
But, before we get into all the nitty gritty, here's a little about Starry Eyes, plus what I thought of the story (spoiler: I loved it!):
Best-friends turned enemies Zorie and Lennon have avoided each other after a falling out between them. Especially with the resentment hovering between their families. But when a camping trip in the wilderness (because, where else would you go camping? a nice, gentle, civilized campsite?) goes awry, Zorie and Lennon are stranded in the wilderness. Alone. Together.
They now have no choice but to face their issues with each other as they try to make their way to safety. But fighting off the forces of nature makes it hard to fight each other, especially with the risk of not getting out of the woods in one piece.
Through Northern California's rugged backcountry, secrets and hidden feelings that have been shut down tightly in a bear canister will come spilling out. But will their rekindled connection survive the real world, or was it just a "we're about to die" sort of fluke?
4.5 stars
This book was exactly what I have been in the mood to read.
After reading so many fantasies, I've been in the mood for just a cute and romantic contemporary read that wasn't trashy-feeling but also wasn't super serious.
Starry Eyes satisfied every desire I had for this type of novel, and I couldn't be happier. I had enjoyed Alex, Approximately a couple months ago, and although it was a little cliché, this book fixed some of the things that Alex, Approximately didn't do as well with.
The plot felt a lot more unique and I really liked how quirky it was without being super extra. There's all these layers–Zorie finding out her father cheated on her mom, that feud with the family who owns the sex toy shop next door, the past between Zorie and Lennon, plus all sorts of friendship and "fitting-in" struggles.
Oh! And almost all of it takes place in the middle of the wilderness. So lots of camping scenes (bears, perhaps?).
I sped through this whole thing in one evening and even though it's on the longer side for a contemporary, it went by so quickly.
I was totally engrossed in the plot and I ended up staying awake for much longer than I was supposed to be just because I wanted to finish this book and revel in the satisfying ending. It was paced really nicely and you know you've found a great contemporary novel when all the subplots are not only present, but well balanced.
It felt really cohesive, and everything just worked.
I found Zorie to be relatable, much more than Bailey was in Alex, Approximately, because she struggles with that common teenage idea of "fitting in" and having friendship problems and dealing with mean friends and crushes.
But I also really liked how some elements from those guilty-read clichés were still present–the ex-best friend to lovers trope and a teensy bit of a love triangle (but not really). The romance was as hopeful and sweet as you would expect. And I felt like Zorie and Lennon worked really well together.
I do think it's good to realize what you're walking into when reading this.
Despite how many strides Bennett has made in adding more diverse characters in this when compared to Alex, Approximately, I would like to see it present in the main characters in her future works. There's a ton of awesome side characters who are POC or LGBTQ+ or something else–Zorie's stepmom is Korean and the family next door is a f/f couple–but I'm still waiting to see someone besides a white heterosexual person portrayed as an MC.
It doesn't have to be a super huge deal–even just being like "Hey! I'm half-Asian" and not making it the focus of the novel would be huge strides in that contemporary romance genre.
There is not enormous social commentary or extremely deep meaning in this. But that doesn't mean it's a bad book. It's an enjoyable romance that was engrossing and fun without feeling guilty for being trope-ridden.
Bennett manages to make her readers feel good about themselves–about themselves when they read this, about themselves with respect to their lives. It gives readers a chance to escape their problems and immerse themselves in someone else's story that turns out to be a success.
I found Starry Eyes to be a really enjoyable read, even more so than Alex, Approximately. So, even though it's not the epitome of literature, I think it's a book many people will enjoy for when they're looking for a sweet, romantic, but still entertaining and fun read.
A Reader's Guide to Surviving the Wilderness
Like I said before, sometimes, we readers feel a little inadequate about our survival skills after reading about so many awesome heroes and heroines who defy all odds and survive. But, I'm here to give you a few pointers for surviving your wilderness–whether that's school or somewhere else.
The apocalyptic wilderness in books is most likely not going to happen in our lifetime (global warming isn't that fast). We're not going to get tsunamis in Oklahoma (yet). Although this doesn't mean it won't happen, I want to dole out some more applicable advice, whether you go camping in the wilderness or are trying to navigate a personal issue.
1. Get a cute guide to help you.
Whether that cute guide is a potential love interest, or just someone to help you out with your problems, having someone to give advice/rely on is always great for any situation. Having a supportive friend by your side will almost always make things better.
For Zorie, she had wilderness expert Lennon to not only help guide her through the wilderness of North California, but also to sort out family and friend problems, that pesky backstory between them, and have some fun times, if you know what I mean *wink wink*.
2. Make sure to keep snacks on hand.
Seriously. Snacks make everything better. Stress eating is a thing, you know, even if I don't advise it. Comfort foods are made for a reason, so if you + the wilderness seems to be failing terribly, it might be handy to just take a step back and look at things from the bigger perspective, all while snacking on some chocolate.
For Zorie, she definitely had snacks on hand. Just secure snacks in a bear canister because it's a wilderness and you don't want the bears sniffing out your food stash and attacking you *cough cough* (you'll know who I'm referring to when you read Starry Eyes).
3. Try to be prepared.
Now, I'm not saying build an underground steel-lined bunker with enough peanut butter to last 200 years (that's exactly what I'm saying, who am I kidding?), but it's always good to try to be prepared (operative word: try). Whether it's by researching the wilderness or bringing a map or ten bear canisters, preparation is key to survival, and that's our end goal.
Zorie is great at being prepared and although she doesn't have everything she needs, Lennon (see cute guide from tip #1) will help make up for the rest! I mean, you've got Zorie bringing the astronomy equipment, and Lennon taking care of the practical stuff (like the bear canisters!!), and everyone will hopefully get back safe and sound!
More About the Book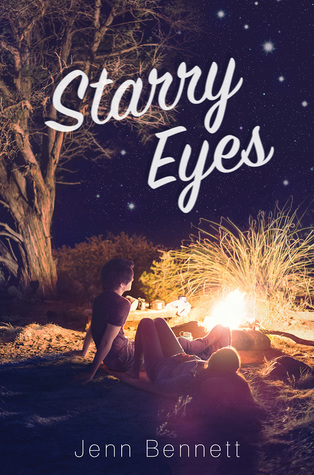 Starry Eyes by Jenn Bennett
Publisher: Simon Pulse
Release Date: April 3, 2018
Genre: Young Adult, Contemporary, Romance
Ever since last year's homecoming dance, best friends-turned-best enemies Zorie and Lennon have made an art of avoiding each other. It doesn't hurt that their families are the modern day, Californian version of the Montagues and Capulets.
But when a group camping trip goes south, Zorie and Lennon find themselves stranded in the wilderness. Alone. Together.
What could go wrong?
With no one but each other for company, Zorie and Lennon have no choice but to hash out their issues via witty jabs and insults as they try to make their way to safety. But fighting each other while also fighting off the forces of nature makes getting out of the woods in one piece less and less likely.
And as the two travel deeper into Northern California's rugged backcountry, secrets and hidden feelings surface. But can Zorie and Lennon's rekindled connection survive out in the real world? Or was it just a result of the fresh forest air and the magic of the twinkling stars?
Goodreads | Amazon | Barnes and Noble | iBooks | Book Depository | Kobo
More About the Author
Jenn Bennett is an award-winning author of young adult books, including: Alex, Approximately; The Anatomical Shape of a Heart (aka Night Owls in the U.K.); and Starry Eyes. She also writes romance and urban fantasy for adults. Her books have earned multiple starred reviews, won the Romance Writers of America's prestigious RITA® Award, and been included on Publishers Weekly Best Books annual list. She lives near Atlanta with one husband and two dogs. Visit her at www.jennbennett.net.
Website | Goodreads | Twitter | Instagram | Facebook
Giveaway!
Want to try your luck at winning a copy of Starry Eyes? Enter the giveaway below through the Rafflecopter button where three lucky winners will receive an advance reader copy of Starry Eyes! (US only) Or, if you're not willing to leave it to chance, you can purchase Starry Eyes through the links in the "More About the Book" section!
Thank you so much to Simon & Schuster, Netgalley, and the Fantastic Flying Book Club for providing me with a digital review copy in exchange for an honest review & letting me participate in this blog tour! You can check out the rest of the stops below!
March 28th
March 29th
March 30th
March 31st
April 1st
April 2nd
April 3rd
What would you suggest a reader does to help them survive in the wilderness? Let me know your thoughts in the comments below!