I know I said I discontinued Tuesday posts, but what I truly said was "I'm discontinuing Tuesday posts unless there's something I want to write about/have to tell you." I just, y'know, didn't include the strikethrough part. #sorrynotsorry
But I've got a super special surprise for you because I've recently been working with the lovely Jordyn from Rogue Treasure who's starting a book box, coming in April! (You can check it out here.) I was so honored to work with her to design the theme graphic for April and I think it turned out awesome (but I'm the designer, so my word doesn't really count).
It was revealed on the first weekend of March and I'm so excited to share with you the details of it's inception!
I like to be very transparent with how I make my graphics/where these things come from not only because I learned how to do this because of transparency in producing graphics (Henn/Lydia is the whole reason why I'm doing this. She's such an inspiration.), but because I want to continue the cycle and inspire others to make great things.
And also because, original artwork verification, yo'. (Graphic theft is a no-no.)
With commissions, I take a lot of care to make sure everything is 100% original whether it's by getting my friends to stand in weird positions & taking photos as reference, or sketching the design out by hand.
I have to say, I'm a mediocre "artist" at best when sketching designs out. A lot of the time it's just sloppy lines that may or may not be crooked. It's easiest for me to just snag a photo off the web & redraw it, but that blurs the line of "original" so for commissioned work, I make sure everything is original (despite my own faults).
Which is how we got to the point where I ended up with this monstrosity:
I hope you didn't faint with horror as you scrolled down to here. But if you did, I don't blame you.
After a lot of awkward fisting of my hand plus random stray lines, I sketched out a design, sent it to Jordyn, and got it approved.
And as an "artist" I'm probably supposed to make like 4+ thumbnails, but I've always been terrible at doing so (aka why I'm a mediocre sketcher). When I find inspiration, I just stick with it and hope something great comes out of it. (Skipping the in-between is what I do best, you can probably tell I was one of those kids who always skipped the in-between math on my hw.)
But anyways, I continued with the design by taking the aforementioned kind-of-blurry photograph with my not great phone (getting out my camera is so much work ugh), uploading it to Pixlr Editor (which is where I make my vectors because I'm a broke student who won't cash out the $$$ for Creative Cloud) and distorting it to fit the right dimensions.
And then came the fun part, which was the color blocking! I love cleaning up all those gross lines and making clean, solid color blocks and so I ended up with this:
Isn't this such a cute retro color scheme? I fall in love.
But, after sending the color block to Jordyn, I realized that this strayed from the idea of something super bold and unified because it was too pastel.
I also realized, that this color scheme might not have been my own invention after checking back with the cover of The Future Will be BS-Free. When I devised the fist in the air, my mind might have subconsciously linked it with this palette that was found on another fist-cover.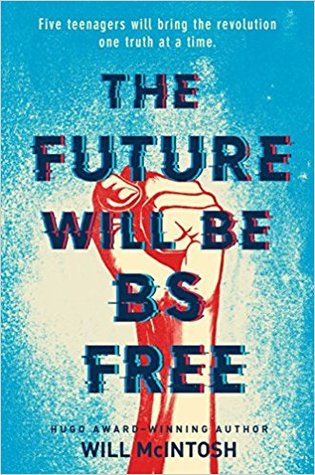 Good thing that disaster was avoided, or else things could have gone downhill really quickly.
I knew if I made the blue and cream to bright blue and yellow it'd be hell because then it'd be hard to see everything with the contrast, so I made a lot of edits to the color scheme so it was bold without detracting from the (soon to be created) details.
The other edit I made was doing custom text for the rest of the words because Century Gothic is a little boring.
I ended up with color block #2 which I sent to Jordyn & got the go-ahead for!
From here on out, it was just a lot of adding the details to the hand plus tweaking the colors.
The background seemed a little off to me (the colors felt discordant because one was so blue and the other was nearly green) so I fiddled with that until it all came together!
After adding the textures, final touches, and a few edits, we ended up with what you see as the Rogue Treasure April Theme Card! (which will be 5×7 not a square, but this is the full graphic)
I'm very happy with how this turned out and blue and yellow is one of my favorite color schemes, so I'm glad it ended up going in this direction!
I would love to hear your thoughts on the design below, and you should also check out Rogue Treasure because their first box is going to be hella lit. Each month's box contains a newly released hardcover book, a fabric item (T-shirt, Scarf, Pillowcase, Booksleeve, Tapestry, etc.), and 2-3 other bookish items.
Also, if you're looking for some insight about the nitty gritty of my design process, you can check out my tutorials on my YouTube Channel or my Wattpad Cover Shop (permanently closed).