This is a pretty short cover geek this week, but I wanted to talk about something I'm seeing pop up a lot in recent YA covers, and that is matches!
Technically, there aren't really any ashes featured in this week's Cover Geek, but I wanted something that rhymed, so play along with me, yeah?
So, here are some of the covers I've seen in YA that feature matches/burning themes in it.
Winner Take All by Laurie Devore
This is really the cover that inspired it all because I went on a whole rant over how I had no idea that there were matches on the cover I know, I'm a terrible person. But to my defense, it really does look like cowboy fringe, doesn't it? Once you see it, you can never unsee it. The cowboy fringe will forever haunt you.
But this is an example of matches on the cover, although I wish it would have been more match colored (aka pink to red and brown to tan) and the matchbox was more distinct bcause it would have made a lot more sense then…
Watch You Burn by Amanda Searcy
I absolutely LOVE this cover! Not only is it a hella cute shade of powder blue, but the matches are all so distinct which makes it really cool. I love how they bend, but not too much, to form the letters and the typography, and the flames at the end of some of the sticks and the burnt edges really draw your eyes to multiple places on the title.
I also love how it's really emphasized that these are matches and not random sticks on fire through the inclusion of a little matchbox under the title and its matches. Overall, I find that this is a very well composed cover and is very aesthetically pleasing to look at.
As You Wish by Chelsea Sedoti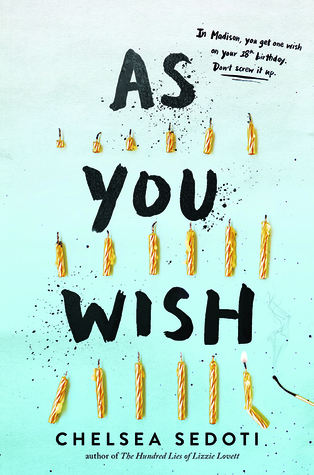 This one's actually got a pretty minimal number of matches (aka that one tiny one in the corner), but the candles are basically the same thing (just last longer) with the little wick in the center.
Although I loved the original cover for this series, I do admit that the new covers work really well and they fit the storyline much better. It gives a greater sense of what the book is actually about (on your 18th birthday, you get a wish) and it fits with the 18 candles on the cover. I just like the aesthetic of this, and although the colors could have maybe used a different balance, I really enjoy looking at this in general.
Suicide Notes from Beautiful Girls by Lynn Weingarten
This is the one non-recent example of a cover with matches on it. When someone says "match," this is totally what I think about (although they do look a little porous). Granted, I've never actually used a match before (isn't that what lighters are for?) but I assume that they end up warped and burnt after use.
I love the symbolism (I don't just like this because it has an odd number) behind matches and beautiful girls because after the pretty bright match is used up, it withers away, just like what may have happened in the book. It's just a very profound image in general, and I really like what was done on this cover.
What do you think of these covers? Which one is your favorite?