One of the things I love to see on a YA book cover is some good ol' representation of people from all over the world. And so, I decided to compile a list of some of my favorite book covers displaying POC loud and proud on the front of them.
Ember in the Ashes (Remake Covers) by Sabaa Tahir
Although I really enjoyed the old covers and found them to be so aesthetically pleasing, I really love all the POC representation on this one as Laia, Helene, and Elias's physical features and characteristics can be shown off loud and proud. This is such a fun book series and I would totally recommend you check it out if you haven't already! You can read about it in my post about the cover remake!
The Belles by Dhonielle Clayton
Ooooh work it girl! (I love how she's staring us all down over her shoulder). Although I'm not a fan of people on covers (see post here) just because I like seeing making my own picture of the characters in a book, I do love how this book isn't shy in showing off the FMC's brown skin in a non-contemporary setting! I can't wait for this novel to come out this year!
Before She Ignites by Jodi Meadows
This is one of the instances where I absolutely love how the person on the cover is used! Although she's there, this isn't one of those "pretty-dress" instances (although her dress is pretty) as Mira is standing on the cover, but she's subtle and kind of blending in as her skirt fades to black. I just love the composition and color scheme on this cover, and the POC rep on it is just an added benefit! You can read my review here.
When Dimple Met Rishi by Sandhya Menon
I found a photo of the full dust cover because I think the back is just so cute! I love how both Dimple's skin and her attire are shown off on this cover, and the moment on the back is such a perfect meet-cute that had me cackling. I also love how the henna on her hands is shown off, although I do wish the model on the front cover wore glasses to fit in with the character! But this was such a fun book and I'd totally recommend! You can check out my review here.
To All the Boys I've Loved Before by Jenny Han
This series is such a cute contemporary romance series and I love how Lara Jean stars in each of the covers. She's so aesthetic in general, and I love how pretty and girly these covers look without being pinksplosion. I feel like this was one of the earlier YA novels with POC on it which I very much enjoyed reading last year!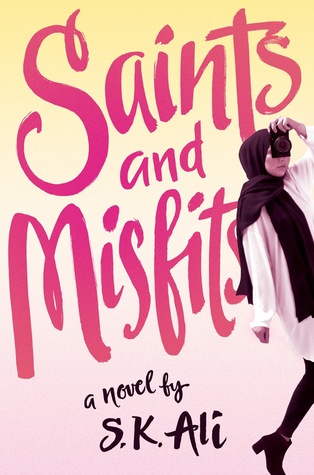 Saints and Misfits by S.K. Ali
I love how casual the model on this photo looks and I think this helps emphasize the book's subtle message that teenage Muslim girls aren't a weird other species. Instead of featuring someone dressed in an abaya which would scare off some of the less accepting portion of our population, the girl looks so casual as she sweeps past us in her heeled booties. I also love the pink and yellow theme and am so surprised at how it works nicely! You can read my review here.
There are a lot more awesome covers with POC on them than just this, what are some of your favorites?