Welcome to my stop of the 2017 Debut Authors Bash! If you haven't heard about this event, it's a super fun blog tour-like event where debut authors are paired with a blogger (hi, that's me!) to spread their general awesomeness (and trust me, Chelsea is 115% awesome).
This year, the bash runs throughout December & today (the 29th) is my post date! You can find out more about the other stops by clicking the official YA Reads banner!
I was lucky enough to have the freedom to do whatever crazy thing I wanted to do for this post (within reasonable guidelines), so I went with my second calling (after books) which is COOKIES!
I tested multiple baking recipes and decided on a topic of (drumroll please!):
Characters to Cookies
Now, this sounds totally vague, but I promise everything will make sense…maybe.
I love baking (mostly because I love eating the end product), but I'm not a good enough baker to produce anything that requires a good amount of skill (aka macarons or anything that's not flat), which is why my baking expertise is always limited to cookies.
Yet, I spent the weekend figuring out which cookie type would really represent the main characters of both Sedoti's The Hundred Lies of Lizzie Lovett and upcoming novel, As You Wish.
The female main character of The Hundred Lies of Lizzie Lovett is Hawthorn who is a little crazy and a lot fun. She likes to come up with all sorts of crazy solutions and is a bit flighty at time, which is why I spent a while coming up with a good cookie that would suit her.
It wasn't going to be the classic Nestle chocolate chip, that's for sure. I ended up deciding on the Linzer Tart because of a couple of reasons.
They're delicious (okay, all cookies are delicious, but these are really good).
They're made up of two cookies in one, with a little layer of jam in between (or a lot, if you're like me). You get twice the bang for your buck!
You can stick whatever crazy jam you want in them. Hawthorn is the type of person who will like action movies one day and romcoms the next, and so I thought it was fitting that you could stick whatever crazy spread you wanted into your cookie. Apricot jam? Sure! Nutella? Go for it! Speculoos (whatever that is)? If you want!
This seemed like the perfect cookie for Hawthorn, and I 100% swear that I had the perfect cookie made–jam in the middle, powder on top–but I may or may not have eaten it before I remembered to take a picture. Oops.
So instead, you'll have do salivate at this picture of Linzer Tarts that honestly looks so much better than my perfect cookie (how?! it must be witchcraft!). If you click on the link, it'll take you to the recipe I used (verified delicious by Vicky) so you know it'll work and you won't get floppy cookies (we don't talk about that. never again).
And now for Eldon, the male main character of As You Wish.
He was a toughie because he's kind of a jerkwad sometimes so how do you find the perfect cookie to represent a jerkwad? You don't…unless you do.
When I was cooking one of my other cookie types (the one I wanted to eat more so than I thought would represent Eldon), I may or may not have accidentally overcooked the first batch.
Nothing terrible like my house burning down happened, but the bottoms of the cookies were a tad dark.
Luckily, the second batch went smoothly and I ended up eating one cookie from each batch. (Ok fine, it was two from each.)
I ate the slightly burned one first and it was a little bitter (but still delicious overall) which I attributed to the overcooked bottoms. But then, I ate the second one, which was also bitter, but not overcooked.
And I have no idea what went wrong. I've made these cookies before, and my best guess is that I put in a tad too much cocoa powder?
Anyways, I had a revelation while eating my third and fourth cookie (of the hour). The cookie would be perfect for Eldon because of how temperamental it was.
Just as the cookie didn't turn out as right this time, Eldon is moody and grumpy (but a loveable character, nonetheless) and perfect for the Chocolate Crinkle Cookie. Which is how I ended up picking the least likely cookie for Eldon.
It all makes sense now because these cookies have cracks in them that represent Eldon's own character flaws and is a metaphor for how humans aren't perfect (I'm pushing it too much, aren't I?)
The Chocolate Crinkle Cookie is a delicious cookie to represent Eldon, and you can see a picture of them below. Again, not my picture (this time it's just because I'm too lazy to pick up my camera and plate cookies nicely) but these look so much better! And it's linked to a recipe (verified twice by Vicky) that will get you delicious cookie products.
NOTE: When using the recipe, I suggest cooling overnight, not just 4 hours. Happy baking!
I hope you enjoyed my cookie-filled post & managed to make it to this point without ransacking the pantry for something delicious to eat (I know I took at least 3 cookie-breaks when writing this)! You can find out more about Chelsea Sedoti's works below!
Note: I have no regrets about this post because I got to spend two days baking and stuff my face full of cookies before my New Year's resolutions came into play.
The Hundred Lies of Lizzie Lovett
Hawthorn wasn't trying to insert herself into a missing person's investigation. Or maybe she was. But that's only because Lizzie Lovett's disappearance is the one fascinating mystery their sleepy town has ever had. Bad things don't happen to popular girls like Lizzie Lovett, and Hawthorn is convinced she'll turn up at any moment-which means the time for speculation is now.
So Hawthorn comes up with her own theory for Lizzie's disappearance.  A theory way too absurd to take seriously…at first. The more Hawthorn talks, the more she believes. And what better way to collect evidence than to immerse herself in Lizzie's life? Like getting a job at the diner where Lizzie worked and hanging out with Lizzie's boyfriend. After all, it's not as if he killed her-or did he?
Told with a unique voice that is both hilarious and heart-wrenching, Hawthorn's quest for proof may uncover the greatest truth is within herself.
Find my review here!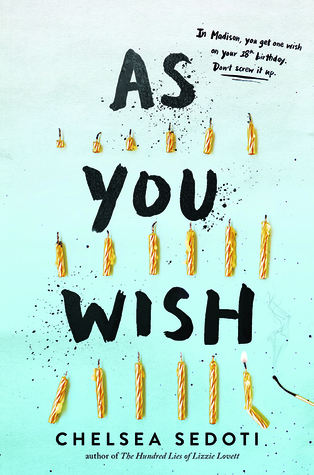 As You Wish (January 2018)
What if you could ask for anything- and get it? 
In the sandy Mojave Desert, Madison is a small town on the road between nothing and nowhere. But Eldon wouldn't want to live anywhere else, because in Madison, everyone gets one wish—and that wish always comes true.
Some people wish for money, some people wish for love, but Eldon has seen how wishes have broken the people around him. And with the lives of his family and friends in chaos, he's left with more questions than answers. Can he make their lives better? How can he be happy if the people around him aren't? And what hope is there for any of them if happiness isn't an achievable dream? Doubts build, leading Eldon to a more outlandish and scary thought: maybe you can't wish for happiness…maybe, just maybe, you have to make it for yourself.
Find my review here!
You can enter the giveaway to win either an ARC of her upcoming novel, As You Wish (Jan 2018), or a finished copy of her debut, The Hundred Lies of Lizzie Lovett! Open to US & Canada residents only until January 31st.
If you're not willing to take your chances on the giveaway & missing out in reading both of these books, you can buy The Hundred Lies of Lizzie Lovett at all major booksellers and also preorder As You Wish!
The Hundred Lies of Lizzie Lovett
Amazon | Barnes and Noble | Books-A-Million | Book Depository | Kobo
As You Wish
Amazon | Barnes and Noble | Book Depository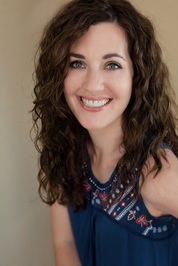 Chelsea Sedoti fell in love with writing at a young age after discovering that making up stories was more fun than doing her school work (her teachers didn't always appreciate this.) In an effort to avoid getting a "real" job, Chelsea explored careers as a balloon twister, filmmaker, and paranormal investigator. Eventually she realized that her true passion is writing about flawed teenagers who are also afraid of growing up. When she's not at the computer, Chelsea spends her time exploring abandoned buildings, eating junk food at roadside diners, and trying to befriend every animal in the world. She lives in Las Vegas, Nevada where she avoids casinos, but loves roaming the Mojave Desert.
Website | Twitter | Instagram | Goodreads
I hope you all enjoyed my stop of the 2017 Debut Authors Bash! Don't forget to check out the rest of the stops, which you can find here!
Have you read any of Sedoti's work? What did you think of the cookies? Feel free to drop any questions below!